WASHINGTON — Hospitals across the country face dire shortages of vital medical equipment amid the coronavirus outbreak — including testing kits and thermometers — and fear they can't ensure the safety of health care workers needed to treat patients with COVID-19, according to an internal government watchdog report released Monday.
The alarming findings, based on interviews conducted from March 23 to March 27, represent the first government assessment of how the country's hospitals are coping with the outbreak and confirm previous media reports and warnings from health workers that the medical system is under unprecedented strain.
Hospital administrators also said conflicting guidance from federal, state and local governments on how to use personal protective gear and other issues has led to "a greater sense of confusion, fear and distrust among staff that they can rely on hospital procedures to protect them," according to the report from the inspector general for the Department of Health and Human Services, or HHS.
Full coverage of the coronavirus outbreak
Despite the bleak outlook conveyed by the inspector general's report, President Donald Trump on Saturday said hospital administrators speaking to his administration were "thrilled" about their situation.
"Many hospital administrators that we've been in touch with, even in the really hotspots -- you know what they are — are communicating directly with us that their level of supplies are meeting essential needs. And at the current time, they're really thrilled to be where they are," Trump told reporters.
The report, which is based on interviews with administrators from 324 hospitals and hospital networks of varying sizes, said that equipment provided to hospitals from the federal government fell far short of what was needed and was sometimes not usable or of low quality.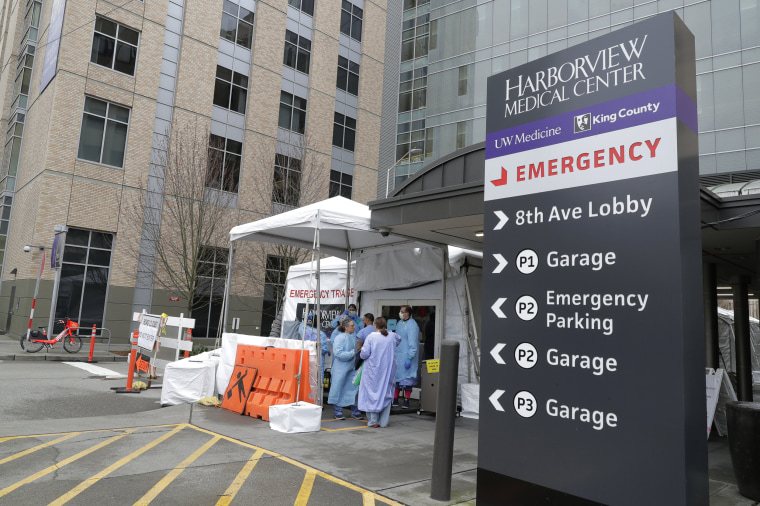 According to the report, one hospital received two shipments from the Federal Emergency Management Agency with protective gear that had expired in 2010. Another hospital system received 1,000 masks from federal and state governments, even though it expected a much larger delivery, and "500 of the masks were for children and therefore unusable for adult staff," the report said. Elastic on N95 masks from one state government reserve had "dry-rotted" and could not be used, it said.
NBC News found its own examples of problems with the federal government's emergency national stockpile similar to those detailed in the report.
State officials in Alabama, South Carolina and Pennsylvania said they had received expired medical supplies.
In Michigan, hospitals were surprised to have made orders with suppliers only to find that they were diverted to the national stockpile, according to Ruthanne Sudderth, senior vice president for the Michigan Health & Hospital Association. "Vendors have told us that they need to send whatever they have to the national stockpile," Sudderth said.
'Unable to take employee temperatures'
According to the inspector general's report, hospitals told investigators that thermometers were in short supply, undermining hospitals' ability to check temperatures of staff members and patients for indicators of the coronavirus.
One hospital resorted to screening patients, staff members and vendors at random because it did not have enough thermometers, according to the report. Another hospital with more than 700 staff members reported having one or two thermometers and therefore was "unable to take employee temperatures," the report said.
Ann Maxwell, assistant inspector general for HHS, said she was startled by what she heard from the hospital directors and the findings detailed in the report.
"It is unprecedented," Maxwell said in an interview.
"I think one moment that stands out for me is when I was talking to a hospital administrator and he told me that he had staff in the hospital out trying to procure masks and gloves from auto part shops, from home supply stores, from beauty salons, from art supply stores," Maxwell said.
"I was just taken aback."
In that example, she said, "you could see both the desperation of the challenges they are facing and the ingenuity they were putting forward in trying to solve these problems so they could provide good patient care and save lives."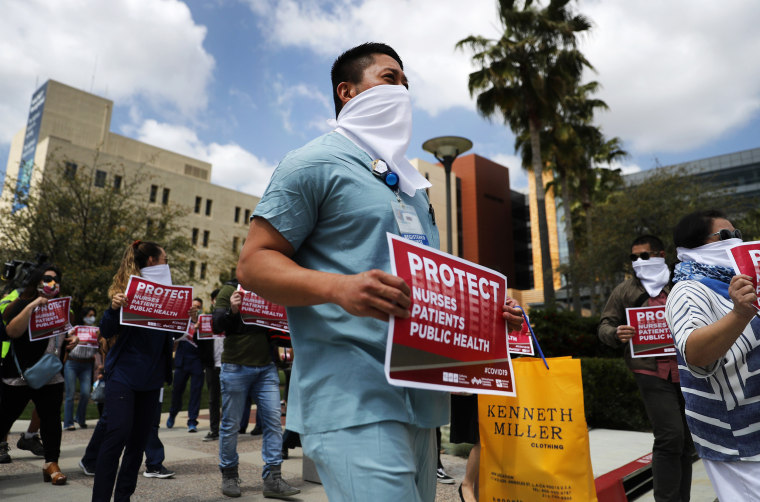 Diagnostic testing kits to identify patients or staff members with the virus were also in short supply, according to the inspector general. Hospitals said they were struggling with "a severe shortage of test kits," limiting their ability to monitor the health of patients and staff members, the report said. There were also problems with incomplete testing kits missing nasal swabs or reagents to detect the virus.
"Across the industry millions are needed and we only have hundreds," a hospital administrator was quoted as saying.
The shortage of testing kits was aggravated by delays in testing results, straining hospital resources and bed capacity as doctors waited for the results, the report said. One hospital reported test results' taking as long as eight days, it said.
Hospitals said that presumptive patients waiting for test results took up bed capacity needed for other patients, according to the report, and that staff members were forced to use personal protective equipment, or PPE, as a precaution because of the slow pace of test results, wasting precious resources.
"Hospitals reported that when patient stays were extended while awaiting COVID-19 results, this depletes PPE capacity by the same number of days," according to the report.
Hospitals said they were concerned that supplies of protective equipment would run out quickly if they faced a surge in patients. "One hospital administrator stated that before COVID-19, their medical center used around 200 masks per day and that they were now using 2,000 per day," the report said.
One of the biggest challenges, hospital officials told the inspector general, was securing ventilators, given the machines' necessity in treating COVID-19 patients. With the supply of standard ventilators uncertain, some hospitals reported jury-rigging other equipment — including anesthesia machines — to serve as makeshift ventilators. In other cases, ventilators were adapted to serve two patients instead of one.
Because of shortages of medical supplies, hospitals were "using new, unvetted, and non-traditional sources for equipment, but were concerned about quality, price gouging and fraud," it said.
Chaun Powell, vice president of preparedness for Premier, a group purchasing organization for hospitals, told NBC News that the federal government or another independent organization needed to help vet products sold to hospitals.
"Someone needs to say these have been tested and validated. They [sellers] request a material deposit on purchases frequently exceeding millions of dollars, and there is no current process for buyers to even know if the product that they are receiving is valid, fraudulent or faulty," Powell said.
The disruption in the global medical supply chain and a spike in demand meant health care providers and various government agencies were competing for a limited pool of resources, the report said. "We are all trying to pull from the same small bucket," said a hospital administrator cited in the report.
Apart from equipment shortages, hospital administrators also reported concerns about a lack of specialized health workers to meet the anticipated patient surge, including infectious disease specialists, respiratory therapists and doctors and nurses who can provide intensive and critical care.
"You can build thousands of ventilators, but you need an army to manage the equipment and care for those patients," a hospital administrator said in the report.
Lack of clear guidance from government
Hospital directors said federal, state and local authorities had failed to provide clear guidance on the criteria for testing, on defining which nonemergency or elective medical procedures to delay or on supplies from the national stockpile and the use of personal protective gear.
Hospital chiefs also told the inspector general's office that the federal government needed to offer advice on how to handle difficult ethical decisions about treating patients with limited resources and the potential legal liability for doctors.
"For example, one hospital administrator described concerns about the liability embedded in decisions regarding which patients would receive assistance from a ventilator and which would not," the report said.
Download the NBC News app for full coverage and alerts about the coronavirus outbreak
The administrator told the inspector general: "Government needs to provide guidelines on ethics if health resources are limited and decisions need to be made about which patients to treat. Are physicians liable for their decisions if that happens?"
Hospital directors voiced concerns about staffing for medical centers that already operate with stretched workforces with little or no surplus manpower, according to the report, and administrators at rural hospitals with small staffs are particularly worried.
"One small, rural hospital explained that if one of its patients had tested positive for COVID-19 they would have had to put 16 staff members in quarantine, which the hospital said would essentially halt its operations," the report said.
In a statement, an HHS spokesperson said: "HHS, alongside other federal agencies, has been working day and night to support local communities and take actions to help our healthcare system respond quickly and effectively. Secretary [Alex] Azar has already taken action on a recommendation in this report, requesting, among a series of proposals, that governors allow licensed healthcare providers to practice across state lines."
"We appreciate valuable feedback from those on the frontlines of this pandemic, and we will continue to support [hospitals and other health care providers] in every way possible to defeat it."
'A world of hurt'
In the aftermath of the Ebola outbreak in 2014 in West Africa, HHS required hospitals to submit preparedness plans for how they would handle the emergence of a serious infectious disease.
In a sign that the hospitals could not imagine the magnitude of what they are facing now, 86 percent of hospital administrators told the HHS inspector general in October 2018 that they felt "prepared" for an infectious disease outbreak. More than 90 percent had purchased additional supplies, including personal protective gear.
But hospital chiefs at the time said they were not focused as much on dealing with an emerging infectious disease because they were focused on the possibility of an active shooter or a natural disaster. One official noted the difficulty of "budgeting funds for the 'what ifs' when there is only so much money available and there are other priorities you know will happen."
Another administrator told the inspector general in 2018, "We are prepared and have our processes in place, but if we were really hit with the large-scale influx of an [emerging infectious disease], we would be in a world of hurt."