Governors in at least three states have lifted state-funded travel bans to Indiana after a "religious freedom" bill there was modified after blistering criticism from opponents who said it was discriminatory.
But protesters in Indianapolis on Saturday said the change to the law is not enough, and hundreds marched to Lucas Oil Stadium, home of this year's NCAA Final Four basketball tournament.
March organizer Dominic Dorsey II began Saturday's gathering on the city's Monument Circle by leading the crowd in chanting "Hoosiers don't discriminate! — No more Band-Aids masking hate!" Protesters called for the state to add protections for gays and lesbians to state civil rights laws.
The governors of Washington, Connecticut and New York all reversed bans they had implemented in protest to Indiana's Religious Freedom Restoration Act, which supporters said was intended to protect religious liberty, but critics argued could be used to deny service to gay customers.
On Thursday, Indiana Gov. Mike Pence signed a bill clarifying the act, which made clear that it does not allow businesses to refuse to serve any minorities.
"After reviewing the amendments made to Indiana's state law and consulting with LGBT advocacy groups here in New York, I believe the changes enacted by the Indiana Executive and Legislature should prevent the Religious Freedom Restoration Act from being used to discriminate against gay, lesbian, bi-sexual and transgender citizens and travelers," New York Gov. Andrew Cuomo said in a statement removing the travel ban on Saturday.
Connecticut Gov. Dannel Malloy said in a statement Saturday that "while the law even in its amended version remains divisive, I believe it is a step in the right direction."
On Friday, Washington Gov. Jay Inslee rescinded that state's travel ban.
Jason Collins, the first openly gay NBA player, on Saturday praised the NCAA for opposing the original law.
"The NCAA, they took a bold step," Collins said. "I think bold leadership is what's needed. I'm very proud of the NCAA taking such a stance and moving forward they definitely need to make sure the fans, the teams, the players, everyone involved with sporting events, when they go to these venues, when they go to these states, these cities, that all members of the community are protected by the laws there.
"The sports world is watching."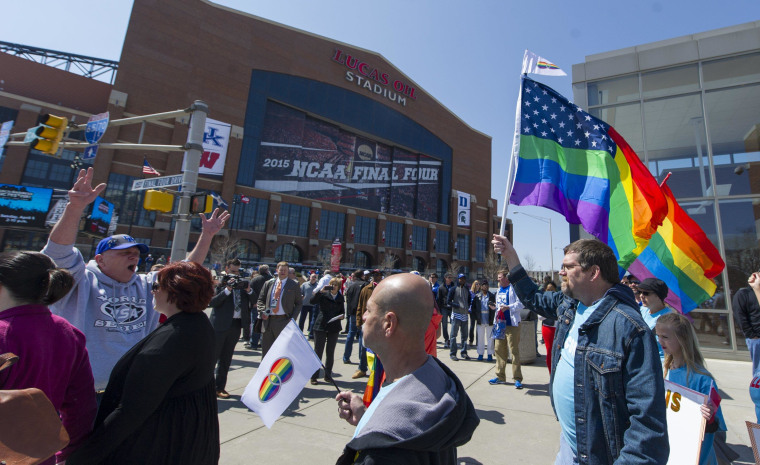 IN-DEPTH
SOCIAL
The Associated Press contributed to this report.
— Elizabeth Chuck