Federal immigration authorities were able to track an undocumented Guatemalan woman from the time she left her home in the morning and headed to work at a food processing plant in Mississippi, to the time she left work roughly 10 hours later.
They were able to do so because the woman had received an ankle monitor upon being released from ICE detention, and Immigration and Customs Enforcement officials used data gleaned from her monitor to target raids this month on her plant and six others that led to the arrests of nearly 700 people.
Unsealed search warrants from the raid reveal that immigration authorities have tracked such GPS data from dozens of undocumented immigrants with ankle monitors.
Lawyers and immigration advocates told NBC News they had not previously heard of ICE employing this tactic, which they called "troubling" and said raised concerns about immigrants' rights.
"It's troubling to us that people who are released are being tracked for reasons that have nothing to do with whether they're likely to appear for their court cases or abscond," said Judy Rabinovitz, deputy director of the American Civil Liberties Union's Immigrants' Rights Project.
The search warrants for the food processing plants in Mississippi said undocumented immigrants previously released from ICE detention facilities on electronic monitoring were found at plants operated by all five of the companies targeted in the operation. ICE targeted seven facilities operated by A&B, Koch Foods, Peco Foods, PH Food and Pearl River Foods.
"I think it raises questions about whether this is a proper use of the ankle monitors because taken to its extreme it means they can be monitoring every place this person goes, every person they meet with, and that raises various privacy concerns," Rabinovitz said.
Michelle Lapointe, senior supervising attorney with the Southern Poverty Law Center, said she questioned whether undocumented immigrants were being told "about the uses to which monitors can be put toward before someone agrees to that as a condition to their release."
"I would want to know if all of this is disclosed to people, particularly if it's going to be used as evidence against those people in a criminal proceeding down the road," she said.
ICE Spokesman Bryan Cox said in an email to NBC News that "no one is required to wear an ankle monitor; however, when a custody determination is made based on the totality of the circumstances in any specific case, GPS monitoring may be required as a condition of release from custody."
"Persons released from ICE custody subject to electronic monitoring are, in fact, subject to electronic monitoring," he said.
ICE Acting Director Matthew Albence said in a statement this week that worksite enforcement operations involve "complex criminal investigations of both employers and employees."
He said those who "oppose" such investigations were "siding with unscrupulous businesses."
"Our investigation in Mississippi continues, and all parties found in violation of law will be held accountable," he added. "This includes employers who profit off their crimes."
As of Saturday, there were more 99,349 people in ICE's Alternatives to Detention program, which allows some immigrants to be released from detention facilities during their deportation cases, according to ICE data. Of those, 43,233 were subject to GPS tracking devices, according to the data. For the New Orleans field office, which includes Mississippi, that number was 3,588 in total, with 2,770 subject to GPS tracking, according to the data.
Randy Capps, director of research for U.S. programs at the Migration Policy Institute, said that only in the last five years has the U.S. had such a large number of monitored, nondetained immigrants.
"The fact they have such a large monitored population now is something relatively new, as well as the phenomenon of ICE being able to track a substantial population of border crossers and figure out what they're doing,' she said.
In the search warrant for Peco Foods, ICE said that queries of immigrants enrolled in an alternatives to detention program showed 21 undocumented immigrants worked at its processing plants in Mississippi, 14 of which were at a plant in Canton.
The warrant goes on to list specific undocumented immigrants that it said were in the ankle monitor program whose movements were tracked to the raided site.
In one example, ICE listed the Guatemalan woman, who was first encountered by immigration authorities at the border in 2016 and was later released from custody with an electronic ankle monitor and went to live in Mississippi.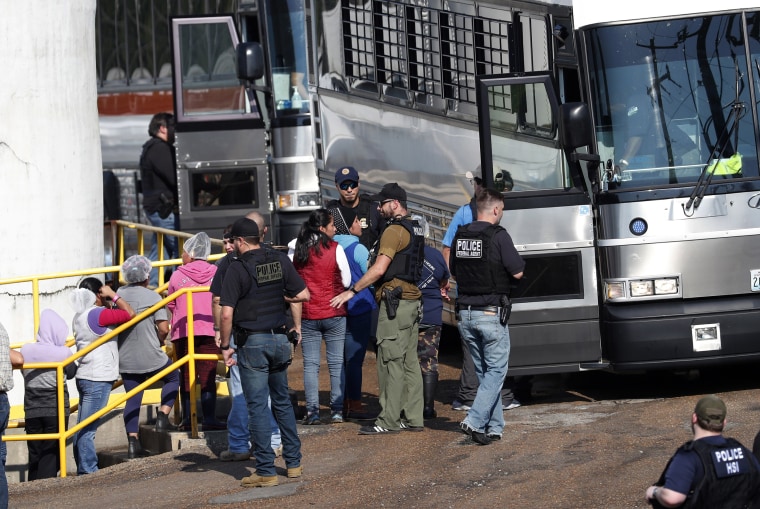 "Queries of historical GPS coordinates associated with" her ankle monitor "revealed numerous daily captured coordinates located" within the PECO Foods Canton processing plant. ICE added the GPS coordinate showed the woman went to the processing plant "multiple times a week" and remained on that property for about 10 hours on those days. The woman did not have employment authorization in the U.S., according to ICE.
In a search warrant for Koch Foods, ICE said queries of immigrants in an alternatives to detection program showed 16 undocumented immigrants who in 2018 were working at the company's processing plants in Mississippi and that as of late July, 21 immigrants have or were working at the plant in Morton.
In one example, the warrant lists a Guatemalan woman who was encountered by immigration authorities in June 2018 and was eventually released from ICE custody with an ankle monitor. GPS coordinates of the woman's ankle monitor "revealed numerous daily captured coordinates" with the Morton Koch Foods plant, according to ICE.
The warrant also said the woman traveled from her house to the plant "multiple times a week" and stayed at the plant for about eight to 10 hours. ICE said that the woman also did not have employment authorization.
In the warrants, ICE also listed some undocumented immigrants with ankle monitors who had previously told the agency they had worked at those companies.
Other tactics ICE used in the operations were confidential informants, workers who had told them they worked at the plants and evidence of false documentation.
Oscar Chacón, co-founder and executive director of the Alianza Americas, a Latino immigrant advocacy group, said such a surveillance tactic "further stigmatizes" immigrants who wear ankle monitors.
Chacón said he believed the use of the worksite raids and of tracking ankle monitor data as a tactic was "part of a larger effort to use fear as a way of promoting the idea that people may feel so trapped" they abandon their immigration cases or leave the U.S.
Marshall Goff, an immigration attorney in Mississippi representing some of the families affected by the raids, said people in their communities were still frightened.
"It's been scary," he said. "A lot of people are still frightened right now, and they're afraid to ever leave their homes, really to do anything."