GRAND CANYON, Ariz. — Victoria Gizhyrova stood on inches-thin rock ledges, grasping the top of a South Rim cliff with one arm. Her friend, Pat Shearer, 56, reached out and pulled on her other arm.
Click. Click.
The moment was captured Thursday on a cellphone for a photo that made Shearer appear to be saving Gizhyrova from plummeting.
"For Instagram," said Gizhyrova, 29, of Chicago, only partly joking.
Two days after Cynthia Ackley, 69, died from a 200-foot fall from the Grand Canyon's South Rim, park visitors still were edging as close as they could get to the open space.
Ackley's was the fourth death in the park this year and the third from a fall in the Grand Canyon over a span of almost four weeks. One of the three deaths was not in the national park but on the Hualapai reservation in Grand Canyon West.
Even though the string of deaths has grabbed headlines, the park teemed with visitors who lined up for shuttles to take them to the rim, several of whom left the trail and moved precariously close to drop-offs, usually to get a shocking photo. It wasn't clear if any of the previous deaths were related to people trying to take pictures.
But in the aftermath of the latest death, there are no new warning signs. On Thursday, park staff were not paying extra visits to Pipe Creek Vista — near where Ackley died — to warn thrill-seekers to back up from the rim's edge.
"People walk behind the railings, over the top of railings, hang their feet over the edge. So more signs is not necessarily going to encourage more safety," John Quinley, a National Parks Service spokesman, said.
Tourists who ventured close to the edge told NBC News they did not think they were putting themselves in danger, but did say they thought those who had fallen probably took stupid risks or weren't paying attention.
After Gizhyrova staged her "falling-over-the-rim" photo, she tried do a handstand a few feet from the rim's edge while her friend snapped photos.
She said she had measured how far from the edge, leaving herself room if she fell forward, toward the edge. She made no mention of momentum possibly carrying her further or off to the side.
"I am so scared," she said as she pulled her second leg off the ground and above her head. In the end, she couldn't push her legs up straight to complete the headstand.
"No," she said, giving up. "I'm scared."
Then she struck a one-legged standing yoga pose at about the same place.
She and her friends had stepped away from the paved path between Pipe Creek Vista and the turnoff for the Grand Canyon Visitors Center.
There are a few feet of dirt, trees and rocks spreading from the side of the path to the rim's edge. Parts of the path are lined with blocks of rock. But the majestic canyon, with its ribbons of red and green, layered rock extending to the horizon, draws hikers off the path and closer to the surreal landscape.
Daphne Chou, 28, dropped to the ground with nervousness as she watched her husband, Shen Zang, 25, step off a rim ledge to a ledge below for a closer look.
She yelled at him in Chinese that he better not leave her at the park by herself as a warning that he could kill himself. But Zhang ignored her anxious pleas.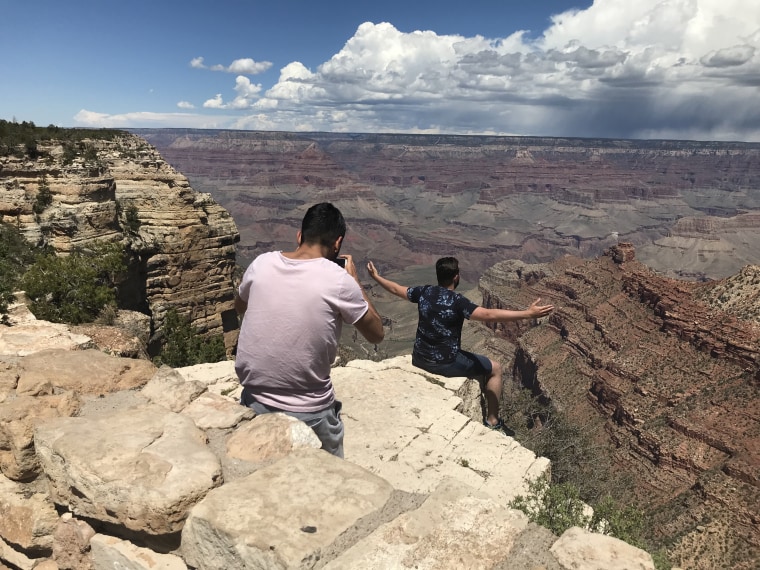 "I felt more wind," Zhang said when he returned. "The wind makes you feel more alive." It also made him a bit nervous, he admitted, but he said he kept going because of the adrenaline rush.
He wanted to move farther out to another ledge, but that would have required jumping over open space, which he decided would likely mean plunging to his death.
"It's really tempting because you see the way to go down and you want to go down there to get a better view," he said.
Earlier, Hachim Alkabere, 29, of Lille, France, had stepped over a short rock wall along Pipe Creek Vista and walked out to the narrow point of a ledge. He sat at the edge while his friend, Anass el Mesoudi, 29, took photos. Then, they switched places.
Mohamed Chettah, 30, refused to join his friends. He watched from behind the rock wall, admonishing the other two for their risk taking. "They should tell people not to do this. It's dangerous behavior!"
Alkabere and el Mesoudi, like others, said they weren't afraid to get close to the edge because they could see another ledge below. They reasoned they would not fall into open space, but would hit the ledge, a far shorter fall.
But even if the worst happens it would be worth it, el Mesoudi said. "If he dies, it's a beautiful death, because it's so awesome," el Mesoudi said, drawing groans from his friends.
Not all visitors carried such bravado. Some visitors reached out for tree trunks and branches as they apprehensively moved along paths or stopped several feet back from the rim's edge.
"Don't get too close!" 10-year-old Ethan MacDonald yelled at his father's girlfriend as she inched close to a ledge and posed for photos.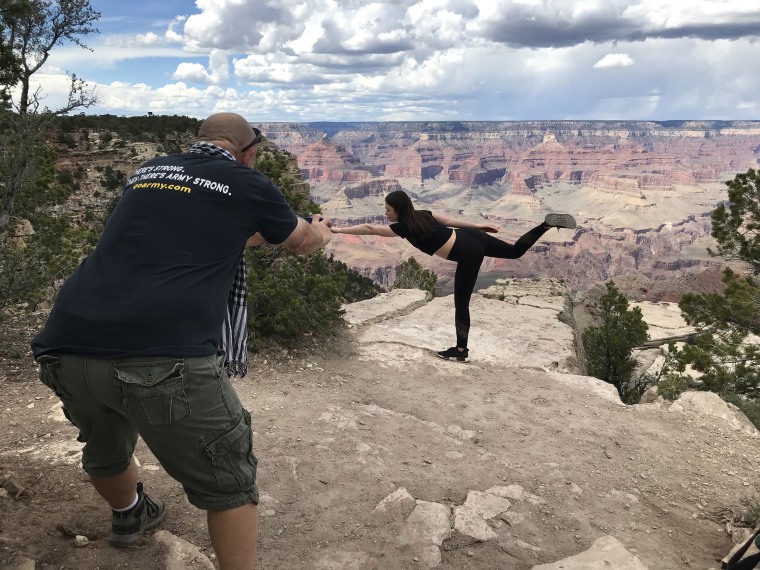 He refused to join his father, sister and his father's girlfriend who stood about a foot from the rim's edge for a photo. He had read about Ackley's death online.
"I looked up Grand Canyon and that's what came up," Ethan said.
Jeffrey Hoeper, 70, and Sue Hoeper, 68, were biking on the paved path. They said they would never think about crossing the short wall on the path.
The residents of Mountain Home, Arkansas, in the Ozark Mountains, said they knew better. A 20-year-old college student died in those mountains after falling 100 feet from a cliff. Jeffrey Hoeper is a volunteer with the Buffalo National River Search and Rescue team.
"When we see people taking pictures, it just creeps me out," Sue Hoeper said. "So many people are doing reckless things."
Visitors said they were horrified when they learned of Ackley's death and felt sympathy for her and her family.
"I don't think people are thinking about death when they take the pictures on the edge," said Paloma Diaz, who was visiting from New York. "They think they are making memories. But they are just pictures."