A Colorado court on Friday released a long-sealed 1999 grand jury indictment of JonBenet Ramsey's parents for child abuse resulting in death, but it gave no specifics and did not accuse them of killing her.
Prosecutors declined to act on the indictment and charge John or Patsy Ramsey at the time, and years later they publicly exonerated the couple and suggested an unknown intruder was the culprit.
Yet the Boulder Police Department — which put the Ramseys under an "umbrella of suspicion" soon after the 6-year-old beauty queen's slaying in 1996 — portrayed the belated document release as a vindication of their investigation.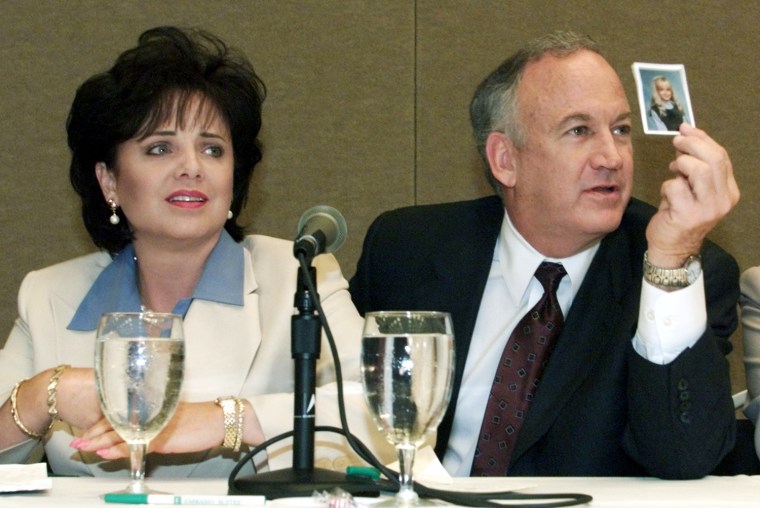 "The grand jury of 12 objective jurors ultimately agreed with investigators that probable cause existed for the filing of charges," the department said in a statement.
"Until this release, it was difficult to remain silent in reference to our knowledge of the true bills for so many years," Police Chief Mark Beckner said in a statement.
The Ramseys' lawyer, L. Lin Wood, however, called the unsealing of just four pages of the grand jury record a "miscarriage of justice" and noted that the panel did not have the benefit of DNA evidence that cleared the couple years later.
"John and Patsy Ramsey were not involved in her murder," he told NBC News.
JonBenet was found strangled in the basement of her home on Dec. 26, 1996 — the start of a murder mystery that would fascinate the nation for months and spawn books, TV movies and countless theories about who killed her.
A grand jury spent more than a year combing through a mountain of evidence before preparing charges. But they were never made public after the Boulder district attorney announced there wasn't enough evidence to charge anyone.
Fourteen years later, a local newspaper reporter who learned through sources that the grand jury had voted on an indictment convinced a judge to unseal part of it.
There were four pages released, two John Ramsey and two for Patricia, who died of cancer in 2006. Both were indicted on two counts: child abuse resulting in death and accessory to a crime.
But the documents were short on details, raising perhaps more questions than they answered.
On the child abuse count, the grand jury wrote that the Ramseys "did unlawfully, knowingly, recklessly and feloniously permit a child to be unreasonably placed in a situation which posed a threat of injury to the child's life or health, which resulted in the death of JonBenet Ramsey."
On a second count of accessory to a crime, it alleged that each parent "did render assistance to a person" with the intent to prevent their arrest or prosecution, knowing they had "committed and was suspected of the crime of murder in the first degree and child abuse resulting in death."
Although the Boulder DA had earmarked 18 indictment pages for possible release, the judge only put out those that were signed by the grand jury foreperson.
It's unclear if the other pages contained more details about the Ramseys' actions or named someone as the killer.
Wood argued that if the judge was going to release anything, he should have unsealed the entire grand jury record, to give the public a fuller picture of the evidence.
"You're talking about four pages out what is surely tens of thousands if not hundreds of thousands of pages of testimony and exhibits," he said.
"If you look at this record in its entirety, I am confident that it will not support there being a scintilla of evidence that would in any way justify criminal charges against the family, who just happened to be, unfortunately, asleep three stories above where their daughter was murdered."
He said that because the Ramseys were not allowed to testify before the grand jury, "they never had a chance to present their version of the truth."
And he said the most important evidence in the case did not surface until 2008, when prosecutors using new technology found DNA on JonBenet's pajama tops that matched DNA that had previously been found in her underwear.
The DNA did not come from a family member but has never been matched to anyone, but Wood said that John Ramsey still hopes that it will one day lead to the killer.
But, he added, "there are probably a number of people who, if the killer were to be identified through the DNA evidence…they will probably still believe that somehowJohn or Patsy Ramsey were involved."
The Boulder Police Department said in its statement that investigators were disappointed in 1999 when the DA decided not to bring charges and that "as a result, the opportunity to present the entire case to a jury may be lost forever."
"The status of the Ramsey investigation today is that of a cold case.  The case is still open, but is not actively being investigated and there are no new leads," it said.
"While we believe at this point it is unlikely there will ever be a prosecution, the Boulder Police Department still holds out some hope that one day the district attorney and the Boulder Police Department will be able to put together a case worthy of presenting to a jury."
The current Boulder district attorney, Stan Garnett, declined to comment on the release, saying he would make a statement in the form of an op-ed piece to be published Sunday in the Daily Camera.
NBC News' Mike Taibbi contributed to this report.