The grandfather of a 13-year-old middle school student who was shot and killed by a man who suspected him of breaking into cars in a Washington, D.C. neighborhood, called Wednesday for the shooter's swift arrest and conviction and said his grandson "didn't get a chance to grow up."
"He's too young — 13 years old," Sean Long told NBC News. "That's what's killing me, he's a baby."
Long's grandson, Karon Blake, was killed Saturday, Metropolitan Police said, after he was shot by a man who "heard noises and observed someone that appeared to be tampering with vehicles" in his Northeast Washington neighborhood. The shooting has spurred outrage from area community groups and others who have criticized the use of lethal force in response to an alleged property crime and demanded the release of the shooter's name and any visual evidence.
"He didn't get a chance to grow up," said Long, who described his grandson as a "nice, friendly little guy who liked to have fun" and "loved going to school."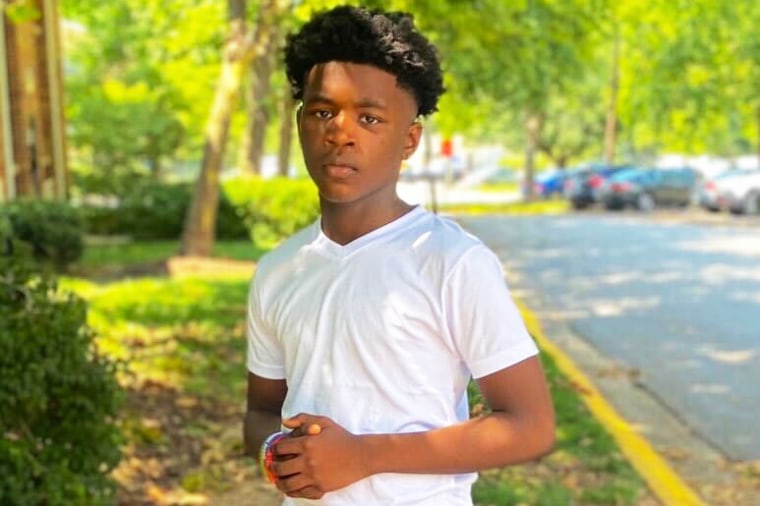 The man who shot Karon called police after the incident, according to authorities. When officers arrived, he was performing CPR and gave officers an account of what happened, police said.
Karon was taken to a hospital and died after lifesaving attempts, officials said. The man who shot him has not been identified or arrested. Police Chief Robert J. Contee III said Tuesday that the man, who is Black, has retained legal counsel.
Long criticized authorities and said the man who shot his grandson "should have been charged right there, the first day."
"He's just gone and it's like the system's not doing its job," Long said of his grandson, adding he wants justice for Karon.
Contee said detectives are gathering the facts and will present the case to the U.S. attorney's office for possible charges.
"A grand jury will determine if a crime occurred based on facts — and not mere speculation," Contee said.
Long said that even if the man suspected Karon was tampering with cars that day, he should have called police or confronted the boy without using lethal force.
Karon was a student at Brookland Middle School.
The school's principal, Kerry Richardson, said in a note to the school's staff, obtained by NBC Washington, that he was a "quiet and inquisitive scholar who loved fashion and football."
"Although he loved his neighborhood, he loved Brookland MS (the faculty & his peers) and the structure it presented to him even more," Richardson wrote.
He is survived by his mother and three younger siblings, Richardson said.
Long said he was "really proud" of Karon's mother, who has been devastated by her son's death, but also working hard toward planning his funeral.
"She just wants the burial, the funeral and everything to go right," he said.