It was probably the biggest bee heist in California history: on January 17, hundreds of hives vanished from Sutter County, north of Sacramento.
Now, authorities believe they've identified a Russian-Ukrainian suspect in the crime — along with a string of other bee thefts that they believe he carried out in California and possibly beyond.
Pavel Tveretinov, 51, was arrested on April 28 in Madera County on suspicion of possessing stolen property, Fresno County Sheriff's Detective Andres Solis told NBC News.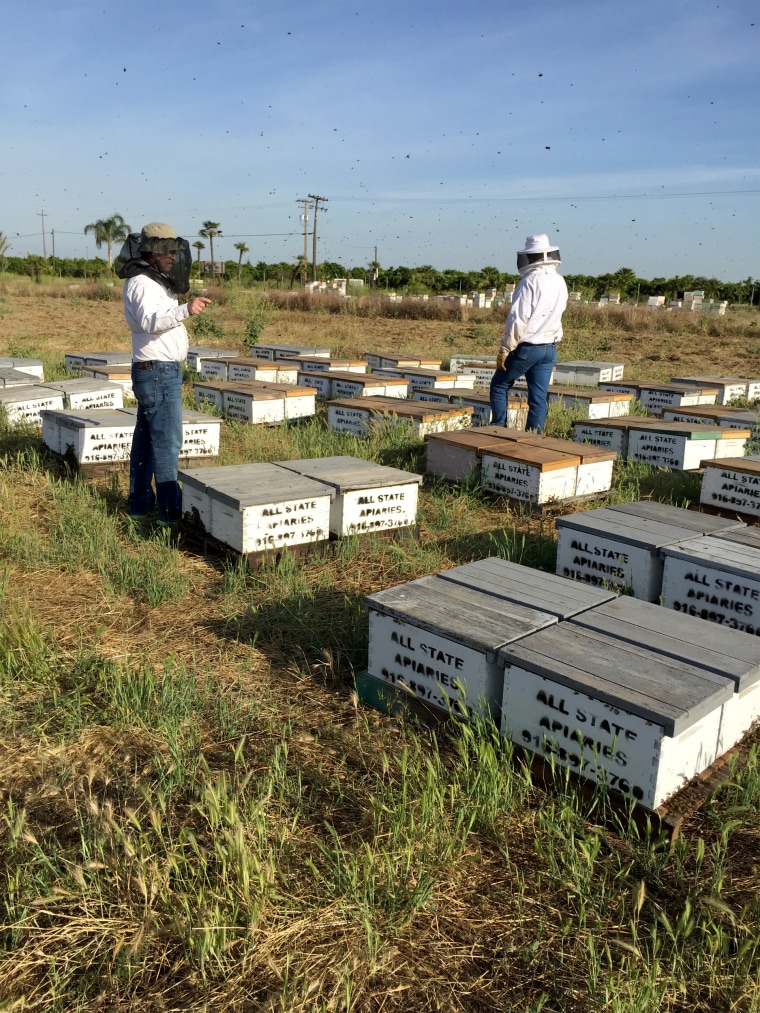 But the charge was never officially filed after Fresno County took over the case, Solis said. The sheriff's office has not pursued additional charges, he added, "because it's probably going federal."
An FBI spokeswoman would not confirm or deny an investigation. Messages left at phone numbers for Tveretinov were not returned Monday.
Thefts have so far been documented in six California counties, Solis said. Ten victims have put their losses at nearly $1 million, he said.
Often, they were working in a booming almond business that attracts beekeepers from across the United States.
The bees pollinate almond trees, helping to produce a crop that cleared two billion pounds last year. In a single season, Solis said, a beekeeper can earn $180,000 after expenses.
"They're coming with their bees from all over the country," said Ryan Coysns, whose family farm has been in the bee business for 12 years.
The case against Tveretinov broke in March, after he brought a beekeeper from Missouri to a nursery in Fresno County that has long catered to the profession.
A beekeeper's equipment is often marked with unique identifiers, and the man from Missouri noticed hives that looked like they belonged to his friends, a couple that offers pollination and other services back home.
Plus, Solis added, the beekeeper also noticed that the equipment at the nursery didn't look right.
"It looked like a chop shop for bee hives," Solis said. "They're everywhere. They scattered and different kinds are mixed with other kinds."
Using FaceTime, the beekeeper dialed the couple. After showing them what he'd found, Solis said, they hopped on a plane to Fresno.
Solis said authorities later identified two other areas in the county that were being used to store stolen property.
At one of them, they found hundreds of the beehives that were stolen in Sutter County.
One of those unlucky beekeepers, Lloyd Cunniff, of Beeline Honey in Choteau, Montana, lost 488 hives, or enough bees to pollinate 244 acres of almond trees. He put his losses at more than $400,000.
Coysns described the crime — and a second one that occurred nearby the same night — as "probably the biggest bee theft ever."
On May 7, Cunniff got back two-thirds of his equipment, which had been spray-painted with somebody else's name. On Monday, the bees that survived were quarantined and being fed antibiotics and treated for mites.
Did Cunniff plan to return to California?
"If I'm short on money," he said.