Muhammad Ali was remembered in his hometown of Louisville on Friday with a long procession through the streets where he grew up and learned to box, and then at a memorial service where mourners spoke of a greatness that transcended championships, battles over civil rights and religious freedom and a debilitating illness.
The ceremony, at a packed KFC Yum! sports arena on a stage decorated with bouquets of flowers and the American and Olympic flags, was done in Islamic tradition but featured speakers from a variety of faiths, races and backgrounds — a directive from Ali himself so that the final goodbye would reflect his advocacy of tolerance and respect.
GALLERY: Louisville Says Goodbye to Hometown Hero Muhammad Ali
The three-time world heavyweight champion, known around the world as "The Greatest," died last Friday at 74 after a three-decade struggle with Parkinson's disease.
His widow, Lonnie Ali, speaking with a wide-brimmed hat obscuring her eyes, said that her husband was more than a black man who spoke out against racism. As he traveled the world, he "saw the face of God" in the many religions and races, she said.
Related: Muhammad Ali, 'The Greatest of All Time,' Dead at 74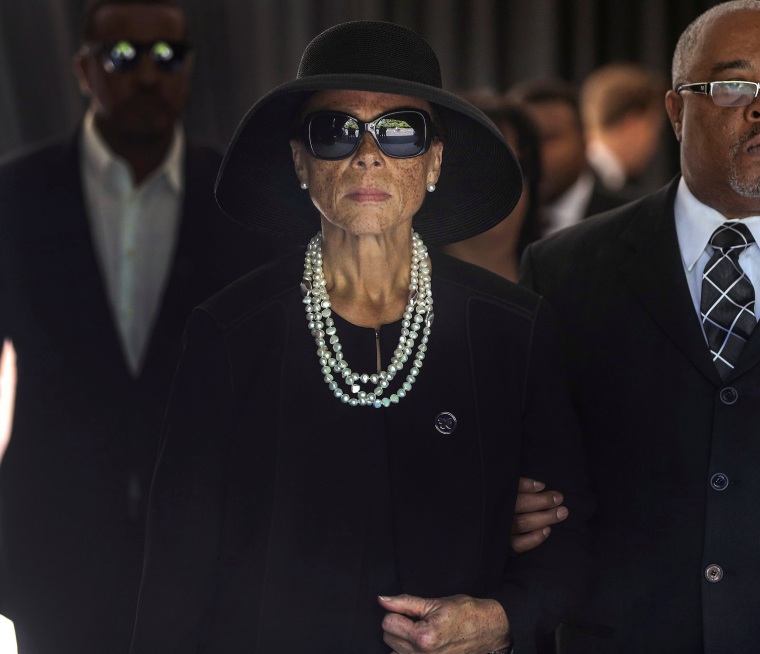 He saw that "the world really wasn't black and white at all, filled with many shades of rich colors, languages and religions," Lonnie Ali said. "The rich and powerful were drawn to him, but he was drawn to the poor and forgotten."
President Bill Clinton urged the masses who wish to honor Ali's life to do so by sharing their gifts — the way Ali did so fully.
"Before fate and time could work their will on him, he decided that he would not ever be dis-empowered. Not his race, not his place, not the expectations of others would strip from him the power to write his own story. He decided first to use these stunning gifts," Clinton said.
"He perfected gifts that we all have — gifts of mind and heart," Clinton said. "It's just that he found a way to release them in ways large and small."
When Ali was sidelined by Parkinson's "all of us said, 'would you look at that. Look at that. He might not be able to run across a ring anymore ... and he's bigger than everyone because he's a free man of faith sharing the gifts we all have.'"
Journalist Bryant Gumbel similarly highlighted Ali's resilience.
Ali "accepted and led battles on behalf of his race, in support of his generation, in defense of his religious beliefs and ultimately, in spite of his disease," Gumbel said.
Gumbel recalled meeting Ali when he was a teenager. "I was 17. I was awestruck. And man I thought he was the greatest," Gumbel said. "Half a century and a lifetime of experiences later, I am still awestruck and I am convinced more than ever that Muhammad Ali is the greatest."
Gumbel added how honored he was to be chosen by Ali and Lonnie Ali to speak at the service, calling the distinction "mind-numbing."
"The honor that Ali has done me today as he goes to his grave is one that I will take to mine," Gumbel said. Lonnie Ali responded by standing and blowing a kiss.
Kevin Cosby, pastor of Louisville's St. Stephen Church, chronicled Ali's force as a civil rights icon, bursting onto the boxing scene in the early 1960s with a boastfulness that went beyond braggadocio and encouraged fellow blacks to love themselves.
Paraphrasing Ali, Cosby said the three-time heavyweight champion gave blacks a desperately needed "sense of somebodyness."
"He dared to love black people at a time when black people had a problem loving themselves," Cosby said.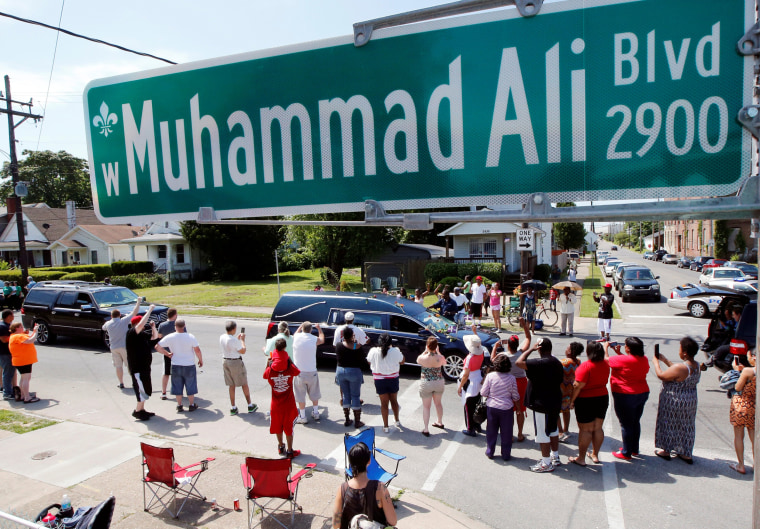 Michael Lerner, a rabbi and editor of Tikkun magazine who befriended Ali over their opposition against the Vietnam War, said Ali embodied cross-cultural understanding and speaking truth to power.
"The way to remember Muhammad Ali is to be Muhammad Ali today," he said.
Onondaga Nation Faithkeeper Oren Lyons, who advocates for indigenous rights, recalled Ali marching with his people in Washington D.C.
"He was a free, independent spirit. He stood his ground with great courage and conviction," Lyons said. "And he paid a price. And this country did, too. And we all did."
U.S. Sen. Orrin Hatch of Utah, representing the Mormon faith, recalled Ali joining him to see the Mormon Tabernacle Choir and visiting hospitalized children, signing autographs and making people smile.
Hatch recalled Ali telling him of his Parkinson's: "God gave me this condition to remind me always that I am human and that only he is the greatest."
Related: Intimate Photos Emerge of Muhammad Ali in His Prime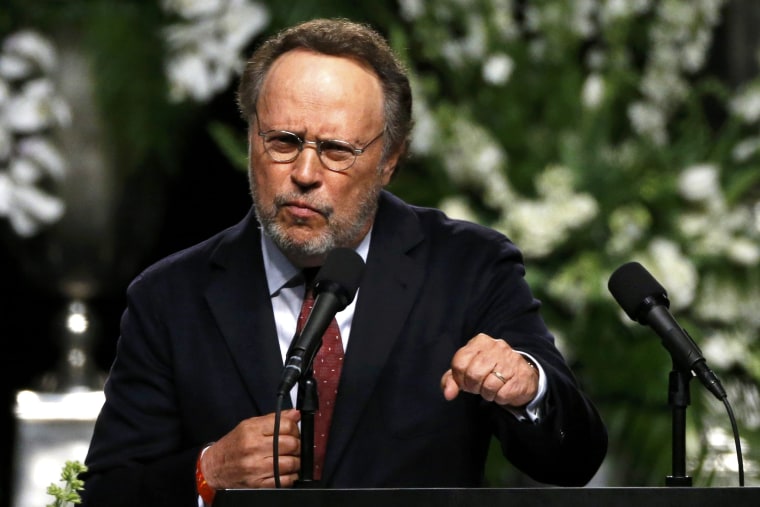 Comedian Billy Crystal told laugh-inducing stories of his relationship with Ali, which began in the 1970s, when he first performed a dead-on impression of the former champion.
"A white kid from Long Island imitating the greatest of all time and he was loving it," Crystal said. Ali gave him a bear hug afterward, and whispered in Crystal's ear, "You're my little brother."
"Which is what he always called me until the last time I saw him," Crystal said.