All over the country, a handful of fraternities are making headlines for all the wrong reasons — racism, an investigation into hazing, vandalism and a private Facebook page showing naked pictures of unconscious women.
Their national organizations have acted quickly to sanction the chapters involved, and schools have been quick to investigate and promise punishment.
"Now we must begin the task of seeking forgiveness and taking steps to make sure that this never happens again," Blaine Ayers, the executive director of Sigma Alpha Epsilon, told reporters this week about a racism investigation at its University of Oklahoma chapter.
He could have been speaking for others, too. Here's a look at where things stand.
Pennsylvania State University
Fraternity: Kappa Delta Rho
What happened: According to authorities, a former member came forward with evidence that the fraternity was running an invitation-only Facebook page that showed hazing rituals, drug deals and naked women who appeared to be passed out.
The response: The national fraternity suspended the chapter for a year and said it would be reorganized. The school president said he was committed to taking action against those responsible but won't rush to judgment. State police are investigating.
University of Houston
Fraternity: Sigma Chi
What happened: The national office said it was made aware in January of "inappropriate pledging activities" at the Houston chapter. The nature of the hazing was not made public, but the school president said it was "disturbing" and presented a risk to students' health and safety.
The response: The school suspended five students and the chapter launched an investigation. Police also opened an investigation, which they said could take two to three weeks.
University of Michigan
Fraternity: Sigma Alpha Mu
What happened: Some members of the fraternity helped trash two ski resorts during an alcohol-fueled weekend in January, causing hundreds of thousands of dollars in damage.
The response: The chapter president apologized in January. The national organization this week disbanded the chapter. In a statement, the executive director also criticized the chapter officers for not cooperating with the university's investigation.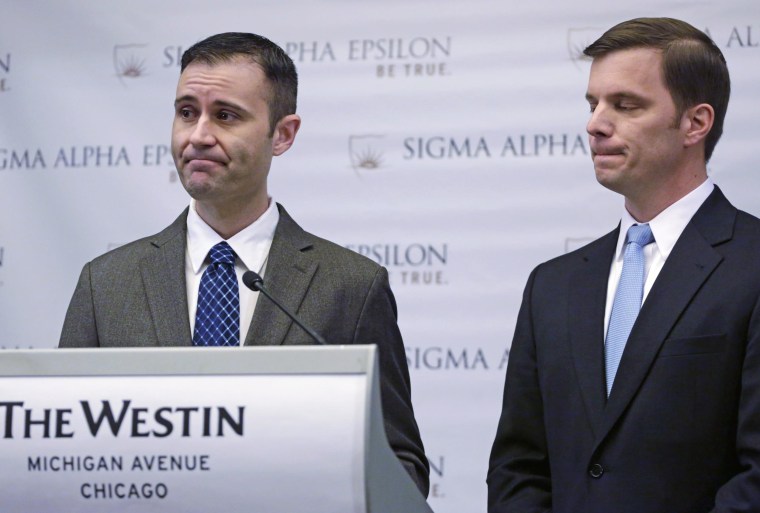 University of Oklahoma
Fraternity: Sigma Alpha Epsilon
What happened: In a video that surfaced earlier this month, fraternity members were captured singing a song that repeatedly used a racial epithet and suggested that the fraternity would never let in a black member.
The response: The national fraternity disbanded the chapter, and the school shut down the house. Two students were expelled. (One later apologized directly, and the family of the second apologized.)
Changes: The national organization said on Wednesday that it would put all its 15,000 undergraduate members through diversity training, hire a diversity director, establish a hotline to report inappropriate behavior and review all its chapters.
University of South Carolina
Fraternity: Pi Kappa Alpha
What happened: A fraternity brother was found dead on Wednesday at a home off campus. Authorities told NBC affiliate WIS that there were no obvious signs of foul play. An autopsy was scheduled Thursday.
The response: The national fraternity suspended the chapter and said that it is cooperating with investigators. A university spokesman said there are "a lot of rumors out there" but "we are focused on helping our community grieve and heal."
North Carolina State University
Fraternity: Pi Kappa Phi
What happened: A female student said she found a pledge book written by members of the fraternity that allegedly included racist, sexist and other derogatory comments. "The quotes in the book are reprehensible and unacceptable. We have sent staff to Raleigh to investigate the circumstances of the situation," Pi Kappa Phi's CEO, Mark E. Timmes, said in a statement Saturday.
The response: The university suspended Pi Kappa Phi on Thursday and the national organization is investigating as well. The school also banned alcohol at most fraternity events Friday in response to the allegations and to other alleged drug and sexual assault claims involving another fraternity.