Greg Zanis, the Illinois carpenter who spent almost 25 years constructing crosses and traveling the country to honor victims of mass shootings and other national tragedies, died Monday while battling bladder cancer, his daughter said on social media. He was 69.
"R.I.P. Dad," Susie Zanis wrote on Facebook, according to NBC Chicago. "I know you were ready to go but we weren't ready to lose you."
Zanis stepped back in November from his memorial project, Zanis Crosses for Losses, for which he built handmade white crosses that bore the name of each victim killed in a mass shooting, another act of terrorism or a natural disaster. He also made crosses with Stars of David or crescent moons, depending on the victim's religious affiliations.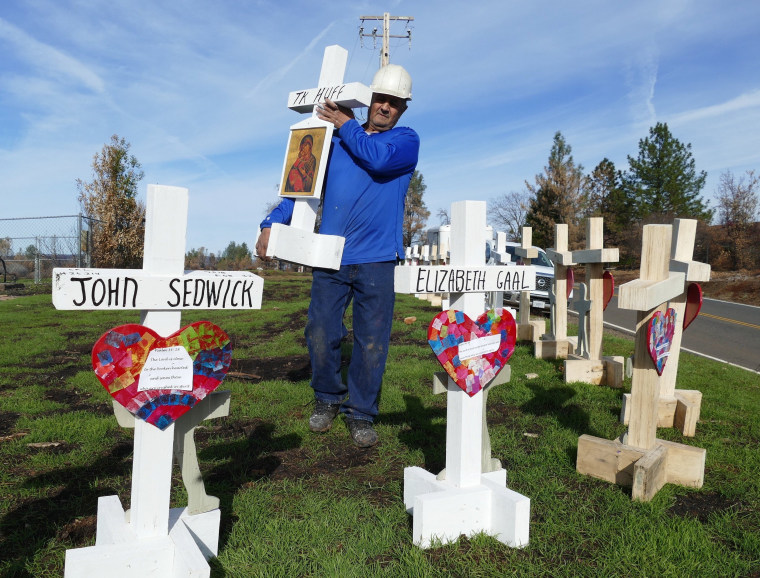 He told NBC News upon his retirement last year that the effort had been exhausting, and his task grew only more frequent in recent years with the increased scale of mass shootings, including 26 children and adults killed in the 2012 Sandy Hook Elementary School shooting in Newtown, Connecticut; nearly 50 people killed in the 2016 Pulse nightclub shooting in Orlando, Florida; and more than 50 people killed in the Las Vegas concert shooting in 2017.
In February 2019, gun violence hit home in his hometown, Aurora, a Chicago suburb, when a former warehouse employee killed five people and injured six police officers. He built crosses for all of those who died.
Download the NBC News app for breaking news and politics
Then, last summer, he made a long journey from Illinois to El Paso, Texas, where 22 people were fatally shot at a Walmart in August. Then he set off for Dayton, Ohio, the following day after another mass shooting.
"I just feel like it was a calling only I could have filled," Zanis said, estimating that he had built 27,000 crosses, each funded out of his own pocket and through donations.
Zanis' work began as a tribute to his father-in-law, who was murdered in 1996, he said.
He had been doing the work for so long, he said, that his phone would ring almost immediately after a mass shooting because people would look to him as an outlet. He became a recognizable figure at some of the most heartbreaking scenes of death in American history.
While some have criticized his crosses as being overtly religious in instances in which the victims or their families may not have asked for them, Zanis simply said he was trying to bring a measure of comfort and respect as he saw fit.
"This is all they have left," Zanis said of the families in an interview with NBC News' Lester Holt from El Paso after the mass shooting there. "I know it means the world to them."