LOS ANGELES — This was supposed to be a good year for 18-year-old Renee Lund.
The Southern California teen would graduate from high school in the spring and head off to college in the fall. After losing her mother to Lou Gehrig's disease, or amyotrophic lateral sclerosis, in June, Lund knew that Mother's Day would be hard but that her group counseling sessions would help her through the dark times.
Things unraveled when the coronavirus hit.
Lund's in-person support meetings turned into virtual Zoom sessions. Graduation festivities were canceled. She couldn't even visit the beach where her mom's ashes were spread because of the state's stay-at-home order.
With much of her support system disrupted, Lund now waits for her phone to buzz twice a week with a text from Grief Coach, a messaging service that sends personalized support to subscribers.
Full coverage of the coronavirus outbreak
The texts vary from week to week. Sometimes they serve as a reminder to practice self-care. Other times they prompt her to stop and think about the loss. Recently, Lund got a message on her birthday acknowledging that the milestone would be hard without her mom but reminding her that those who die never really leave us.
"It gives me a way to move forward," Lund said.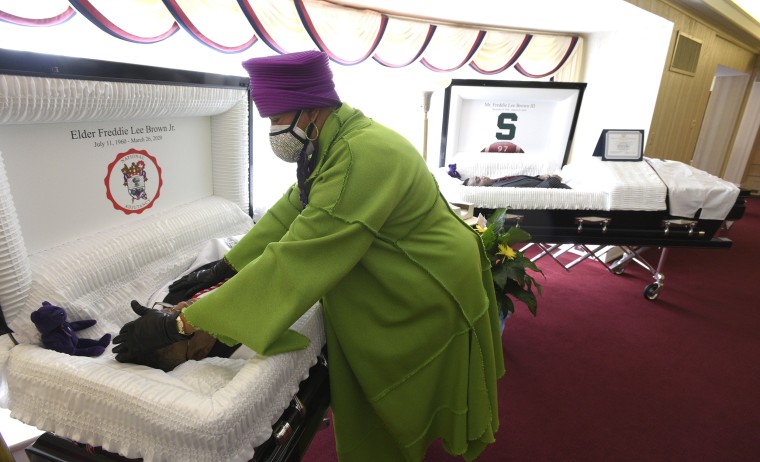 The coronavirus has forced millions of people to rethink mourning.
From Zoom memorials to drive-by interments, grieving during the COVID-19 pandemic rarely includes physical expressions of comfort. Instead, people must find new ways to mourn while remaining socially distant.
Emma Payne, a Seattle-based tech entrepreneur, founded Grief Coach in 2017, more than a decade after her husband died by suicide. At first, people called and wrote regularly, she said, but the messages slowly disappeared.
In 2015, she reunited with several of her husband's loved ones at the funeral of a mutual friend and realized that none of those people had forgotten her.
"I spent 10 years not hearing from people, and 100 people spent 10 years feeling badly ... wishing they knew what to do but genuinely not knowing," Payne said.
Grief Coach subscribers pay a yearly fee of $99 and provide basic information about their loved ones, including name, age, cause of death and important dates. Payne's team of grief therapists and mobile developers then send customized texts at least twice a week for a year, each message tailored specifically to the subscriber and the person who was lost. The texts will use names, sometimes include resources like books or podcasts, and commemorate birthdays or anniversaries.
Subscribers can add friends or family who want to offer support but don't know how. Those texts will also be customized, offering suggestions like reminding someone that today would have been a friend's wedding anniversary or encouraging a loved one to use the name of the person who died.
"The worst thing that can happen after a loss is for people to stay away," Payne said. "I created this so no one would grieve alone."
Payne recently added a new cause of death to her service: COVID-19. Messages to mourners will inevitably address people's feelings of guilt because they couldn't sit bedside with someone who is dying.
"There's already a lot of stigma, anger and frustration," she said. "There is also sadness at not being with your person at the end."
Even people grieving a decades-old loss can feel triggered by the pandemic as daily lives are disrupted and wounds are reopened.
Los Angeles resident Lori LoCicero lost her husband, Joe, to pancreatic cancer in 2008, but his death suddenly feels fresh. Joe was the cook in the family, always tinkering in the kitchen and making meals to feed his wife and two kids. With everyone forced to stay at home, LoCicero said, she is now experiencing the loss of the life she built after Joe died.
"It starts to feel like I'm back alone again," she said. "This is a big, huge life event, and I miss having that support."
Download the NBC News app for full coverage and alerts about the coronavirus outbreak
Understanding grief isn't an exact science. Loss can manifest itself in different ways depending on circumstances and experience. One notion of mourning popularized in the 1970s suggested that there are five stages of grief: denial, anger, bargaining, depression and acceptance. More recent research has largely debunked that theory based on a lack of empirical evidence and clinical observation.
Without a clear concept of grief, lending support to someone experiencing it can feel daunting.
"Grief is very individualized, and many people don't necessarily go through stages and graduate out of it," said Lisa Pahl, a Los Angeles-based hospice and end-of-life social worker.
Pahl spends her days offering comfort to families preparing to lose loved ones to terminal diseases. Recently, her work has become more immediate as she helps people cope with COVID-19 deaths and all of the unknowns that come with the coronavirus that causes it. Families question whether it's safe for loved ones to say goodbye in person, while others don't have clear end-of-life directives.
The unknown can add to anxiety and pain, Pahl said, which is only magnified by stay-at-home orders.
"Isolation triggers grief," she said. "Time has stopped, and we don't know what day it is."
Like many essential workers these days, Pahl can't easily escape her job. She is listed as a support contact on Grief Coach for Lori LoCicero, whom she befriended while Joe LoCicero was in hospice.
After he died, the two women remained closed and eventually developed a card game called The Death Deck. Marketed as "a lively party game about death," the game seeks to make planning for the inevitable less terrifying.
Despite her own comfort talking about death, Pahl said she doesn't always remember to ask LoCicero how she is managing her grief. A recent text from Grief Coach reminded Pahl to check in with her friend.
"When you've lost a loved one, it doesn't go away," she said. "You want to talk about them."
Grieving during the coronavirus hasn't been easy for Lund, but she's teaching herself to find joy whenever possible. She writes in her journals regularly and talks to her mom in those pages. When Grief Coach sends a text, she doesn't always look immediately. Sometimes it's just too hard.
Neither her sister nor her father use the service. They all have their individual ways of coping, Lund said.
Still, the three are deciding how to celebrate Mother's Day during California's stay-at-home directive. Perhaps they will drive to her mom's favorite beach or spend time outside in their backyard. Either way, the family of four will be together.