As grim new details emerged on Monday about the Arizona man accused of decapitating his wife, officials released a video of Kenneth Wakefield's first court appearance in which he appeared to interrupt the proceedings with a startling shriek.
According to a court document released Monday, Wakefield, 43, told police that he beheaded his wife, Trina Heisch, 49, because "he was trying to get the evil out of" her.
Police found several bloody knives in the apartment, the document says, and "Trina had multiple stab wounds to her torso along with defensive wounds to her hands and arms."
In the video of Wakefield's court appearance, the prosecutor says that at the time of alleged murder, Wakefield, who authorities have described as mentally ill, was "either not taking his meds" or was taking them with "marijuana and spice," as synthetic pot is known.
During the video, Wakefield stood behind at a podium wearing a striped jail outfit. His left arm, which the police have said he partly cut off, was wrapped in a white bandage. At one point, during a grisly description of the alleged killing, Wakefield bowed his head and let out a high pitched cry.
Wakefield was ordered held on $2 million bond.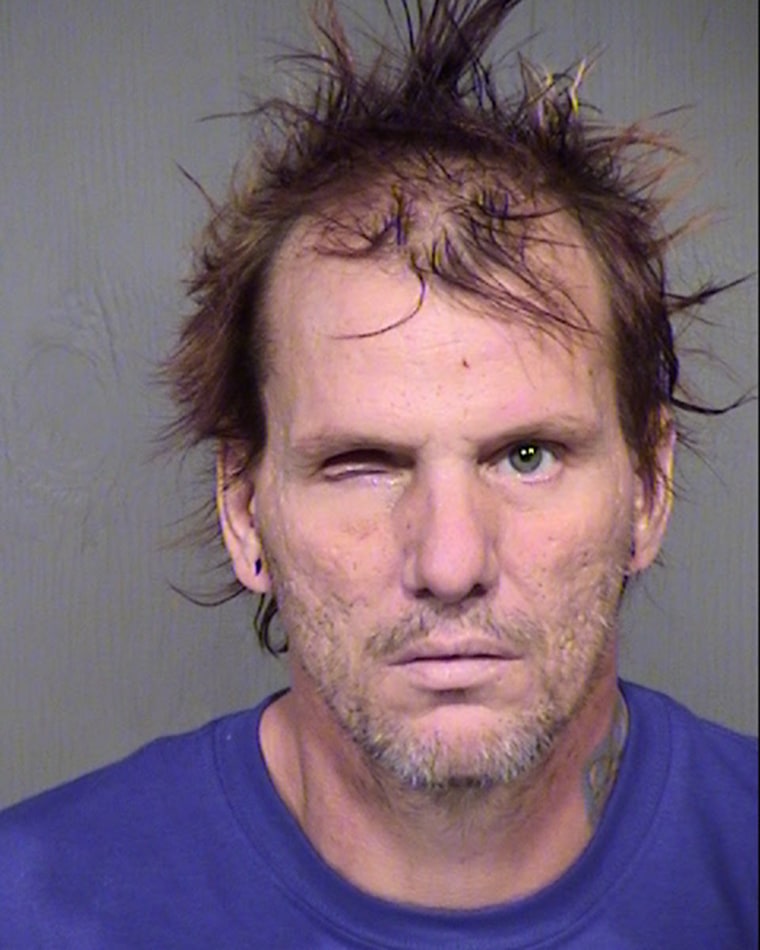 Police discovered Heisch's body in the couple's blood-soaked apartment on July 25, after a neighbor called 911. When officers responded, Wakefield answered the door naked, the Associated Press reported. In addition to missing part of his arm, he was also missing an eye.
Heisch was found in a bedroom closet along with two decapitated dogs.
Wakefield had been in a psychiatric hospital for just over 10 years for the attempted murder of his mother, NBC affiliate KPNX reported. He was released last November.