While cities like New York, Los Angeles and Phoenix champion gun buyback events and programs, a gun giveaway group, called The Armed Citizen Project, has launched in Houston.
The founder of the nonprofit organization, Kyle Coplen, 29, said he had a few reasons behind his idea to arm "residents in high crime areas" and especially single mothers with a free pump-action shotgun and training.
He said his first and foremost priority is "to train and arm residents in high crime areas and let criminals know that they're at risk if they break into their house."
His secondary goals are to get people more comfortable with guns by providing them with shotguns — what he called a "gateway gun" — and to conduct a study to find out if an increase in guns in an area results in a decrease in crime.
Founded in January, the Armed Citizen Project is currently based in the Houston neighborhood of Oak Forest, which does not have the highest crime rate in Houston but according to Coplen, the community of about 400 houses had 100 home invasions last year.
Coplen, who has a master's degree in public administration, is testing whether the crime rate will change if the gun handout works by "manipulating certainty of punishment and increasing severity" of consequences  for criminals.
Karen Clarke, 67, lives alone in Oak Forest and expressed that while she's had a "healthy fear of guns" all her life, she went out and bought one last year after her 92-year-old neighbor's house was broken into.
She practices shooting once a week at Shiloh Shooting Range, where the Armed Citizen Project conducts most of their lessons. She said she watches the people who are involved with the project go through training while she is there.
Clarke observed that they are watched as they learn, and that the volunteers that work for the Armed Citizen project "have pretty good intuition ... they are not going to turn these things loose to just anyone," but added, "This is a good idea if some nutcase doesn't get hold of one."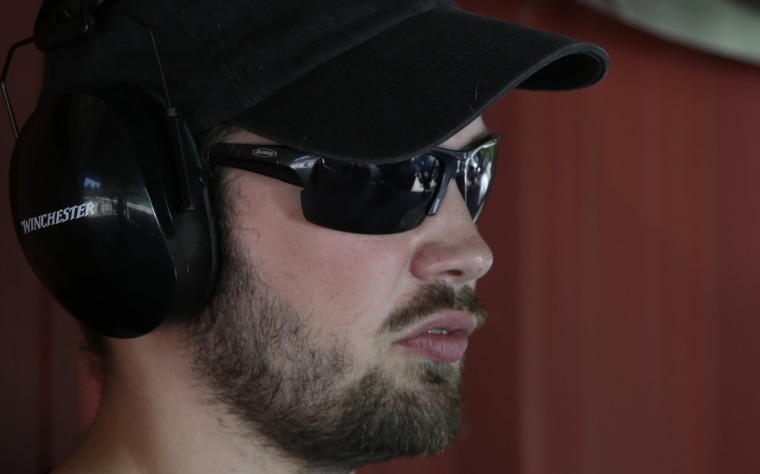 Coplen is not worried about a nutcase getting a hold of a gun through his program since every applicant is background checked and trained. The training takes one day. He said most are able to pick up a gun from the dealer within two to three weeks of applying.
Coplen also is not worried about lawsuits because, he said, "that is their weapon, we're simply removing the cost barrier. There is no liability on our behalf."
Sanford Levinson, an expert in constitutional law and professor of government at the University of Texas Law School said in an email that "efforts to promote 'armed citizens' are in no way illegal."
But, he noted, "even if one concedes that it (probably) deters some crime, that has to be weighted against the (probable) consequence that it also increases the number of suicides or gun accidents."
While Coplen may not have concerns about the legalities of handing out guns in Texas, he does have plans to expand the project to other cities including New York and Chicago, where gun laws are considerably stricter.
A professor of constitutional law and the courts at NYU School of Law, James Jacobs said that Coplen "might run into some problems as a straw purchaser in some states."
He added, "In New York, the law is written that you have to prove to the police that you are qualified to have a gun in your house," and explained that in Texas the opposite is true, because people have to prove they are not qualified to handle a gun before the firearm is taken away.
Coplen called the New York and Chicago gun laws "problems on paper."
He said New York City Police Commissioner Raymond Kelly "said they are going to use the permitting process to single us out. If they're going to deny folks their second amendment rights, that's a challenge I'm willing to go up against."
Besides, Coplen said his initiative "transcends politics" since he describes it as "Joe Biden's love of shotguns [mixed] with Obama's love of redistribution."