Ten teenage hikers who spent their Friday night lost on the trails of a Southern California canyon before a search and rescue team found them with the help of an iPhone feature "were not prepared" for their climb, officials said.
Members of the group — who are all 16 to 18 years old — spent about three hours Friday stuck on the trails of Santa Paula Canyon, in Los Padres National Forest, without proper hiking clothing, water and lighting equipment before they were rescued, Ventura County Sheriff's Deputy Mackenzie Spears said in a text message.
"Most had t-shirts and shorts," Spears said. She added that temperatures were in the 60s and that "there were multiple water crossings and they needed to scramble" in certain sections of the hike, or climb steep terrain by hand.
Spears said in a news release that "most of the hikers were not prepared" and that the search and rescue team supplied them with food, water and equipment to light the trail on their way back.
The teens reached out to the sheriff's office around 8 p.m. Friday when they found themselves lost on the trails, the news release said.
The group made contact with emergency officials using Apple's emergency SOS feature, which allows iPhone users to call or text local emergency services, sometimes even without cell service or Wi-Fi access. The feature allowed them to share their possible location and conditions with emergency personnel, said the sheriff's office, which added that the teens' parents also reported them missing.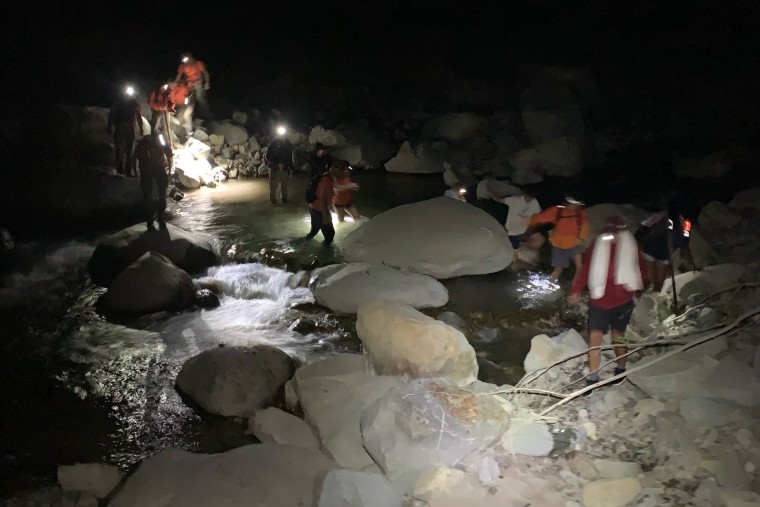 More than a dozen members of the Upper Ojai Search and Rescue team, a group of local volunteers, headed out to look for the hikers within 30 minutes of having received their plea for help, the sheriff's office said.
After an approximately three-hour, 4-mile hike into the canyon that included "low visibility, multiple stream crossings and trails that had been previously damaged from the heavy rains," the rescue team found the missing teens on the so-called Last Chance trail around 11:15 p.m., the sheriff's office said.
The hikers and the search and rescue team returned to the Santa Paula Canyon Trailhead around 2:40 a.m. Saturday, it said.
The search and rescue team tweeted that the teens were the "biggest group we've rescued in a while." None required medical aid, the sheriff's office said.
The search and rescue team recommends that hikers and campers always take essentials, including navigation, light sources, first aid supplies, food, water and a smartphone. It also recommends that hikers fill out hiking plans detailing where they plan to travel and what equipment they plan to take with them and leave them with someone not accompanying them in case of emergencies.
Over half of the 990 deaths in national parks from 2014 to 2016 — the most recent years for which data is available — were due to unintentional causes, according to the National Park Service. Drowning, motor vehicle crashes and falls were the leading causes of those deaths, it said.