More and more women in the music business say they have had enough.
A draft of a letter circulating among high-ranking women in the music industry calls for major changes at the Recording Academy, which presents the Grammys, including publishing the demographics of its voting members and creating a plan to include more women, people of color and members of the LGBTQ community.
"We need a leader to think outside of the metaphorical box and start demanding all voices be heard," reads the draft, a copy of which was sent to NBC News.
Twenty-one women have signed the letter, which was released Thursday evening. Among those who signed it are Marcie Allen, president of MAC Presents, music industry attorney Rosemary Carroll, Marsha Vlasic of Artist Group International and rapper Pharrell Williams' manager Caron Veazey.
The letter adds that if the group's demands cannot be met, Neil Portnow, the academy's president, should step down.
"Neil, if you do not have the necessary skill set, foresight and point of view to gracefully and courageously move this system forward to represent women, people of color and the LGBTQ community in a way that is not only revolutionary, but necessary, we ask that you step down," the letter states.
The letter comes after dozens of women, including musicians, managers and executives, publicly criticized Portnow, 70, for producing a Grammy awards ceremony that underrepresented women.
Only one woman, Alessia Cara, took home a Grammy in a major category during Sunday night's telecast -- for best new artist -- while the only woman nominated for best album, Lorde, was also the only artist nominated in that category not invited to perform solo on stage.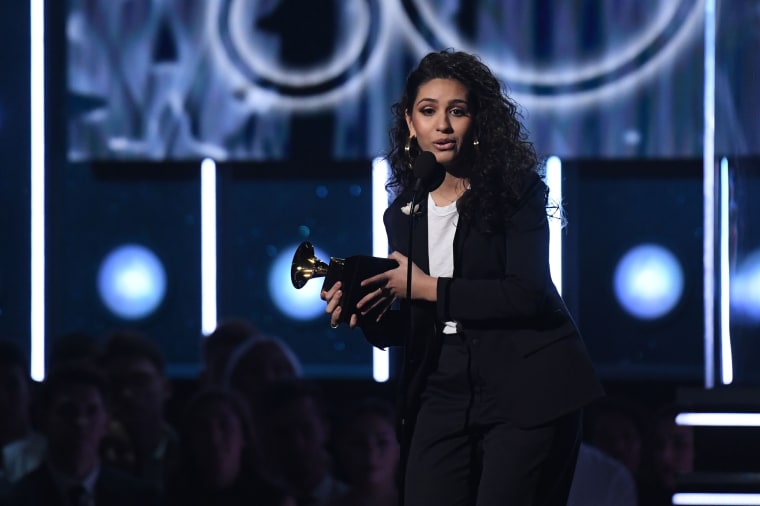 Portnow tried to push back from the criticism directed at him over the show by suggesting that women in the industry need to "step up." Portnow later apologized, saying his remarks were taken out of context, but the outcry for his ouster has only grown.
He apologized for the remarks in a statement Thursday afternoon and said The Recording Academy is establishing an independent task force to "identify where we can do more to overcome the explicit barriers and unconscious biases that impede female advancement in the music community."
"After hearing from many friends and colleagues, I understand the hurt that my poor choice of words following last Sunday's GRAMMY telecast has caused," Portnow said in the statement. "I also now realize that it's about more than just my words. Because those words, while not reflective of my beliefs, echo the real experience of too many women. I'd like to help make that right."
Marcie Allen, president of Mac Presents, a prominent music industry firms that pairs sponsors and artists, called for Portnow's exit in an email sent to NBC News.
"Step aside. Stop talking. Try listening," Allen wrote. "The tone deafness to which you have addressed an entire gender only further widens the gap of understanding."
"The welcome mat was yanked from underneath plenty of feet in high heels Grammy night. High heels in which you probably could not climb one of the thousand of stairs we climb daily," she wrote.
Other women in the music industry who have called for Portnow to step down include musician Vanessa Carlton, who has promoted a petition signed by more than 11,000 people demanding Portnow's resignation.
Other influential industry figures and artists have used social media to add their voices. Lou Taylor, president of Tri Star Sports and Entertainment Group, and the business manager for Britney Spears and Jennifer Lopez, posted her criticism of Portnow and Ken Ehrlich, the executive producer of the Grammys, on Instagram.
"I step up and step in every day!" Taylor wrote. "There are countless women who help provide the foundation that this business is built on -- Here let me help you Neil and Ken -- maybe next year we will have a new Academy president and a new producer."
Pink, who will sing the national at the Super Bowl on Sunday, tweeted her thoughts in a letter posted to Twitter.
Neda Azarfar, a spokeswoman for the academy, declined to comment on the calls for Portnow to step down.
Calls for inclusivity, diversity and awareness of sexual harassment and assault in the entertainment industry have hit the movie business with campaigns like #OscarsSoWhite and #MeToo. The music industry, until now, has been mostly unscathed, but awareness of its gender imbalance has grown. A recent study by the University of Southern California showed that women accounted for just 9.3 percent of nominees over the last six Grammy awards.
At the Grammys this year, women wore white roses in support of the #metoo movement, and the singer and actress Janelle Monáe wore a Time's Up lapel pin.
Monáe introduced a performance by Kesha, who has become a symbol of resistance in the music business after launching a long-running court battle against her former producer, Lukasz Gottwald, known as Dr. Luke, whom she has accused of emotional and sexual abuse. He has denied the claims.
Allowing Kesha to perform was viewed by some as an empty gesture by the academy given the absence of women holding trophies onstage.