A mall brawl led to gunfire at a Wisconsin mall Saturday, leaving one man injured and hundreds of shoppers panicked on one of the busiest shopping days of the year, police said.
Police are searching for the suspect who opened fire inside of East Towne Mall in Madison during a fight that involved "several" men Saturday afternoon, said Madison Police Department spokesman Joel Despain.
It was unclear what the fight was over.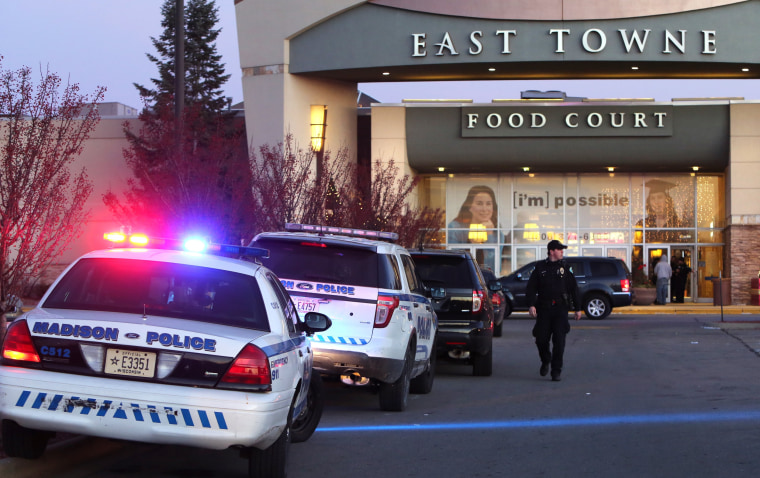 The suspect fired at least one round, and a 19-year-old, who had also been involved in the scuffle, was struck in the leg, Despain told NBC News.
The 19-year-old has been hospitalized and is being treated for a non-life-threatening wound, according to a statement from the Madison Police Department.
The 840,000-square-foot mall, which was likely packed with "thousands" of people on the Saturday before Christmas, was evacuated and remained closed early Saturday evening, Despain said.
A message on the shopping center's website said the mall was "temporarily closed due to a safety concern," but the mall was reopened at about 6:30 p.m. (7:30 p.m. ET).
"It's been described to me as a fairly chaotic scene, as you might imagine with what has gone on in Paris and California," Despain said, referring to recent terror attacks. "Any time you have someone shooting in a public place, it's going to cause panic, and that's what we had here."
"At no time was this an active shooter randomly shooting at people in the mall," Despain added. "At no point was this an act of terrorism."