A gunman opened fire at a bank in downtown Cincinnati on Thursday morning, fatally wounding three people and injuring two others, law enforcement officials said. The suspect was later killed by police.
The shooter opened fire at the loading dock of the Fifth Third Bank building at around 9:10 a.m, Police Chief Eliot K. Isaac said at a news conference.
The gunman, identified by police as 29-year-old Omar Enrique Perez, then went into the bank's lobby and was firing inside, Isaac said.
"As the officers approached the lobby area of the Fifth Third Center, they encountered a lone gunman actively firing shots in the first-floor lobby," he said. "Four of the responding officers engaged the shooter with their firearms, striking him multiple times," he said.
Five people in all were shot by the suspect, police said. One victim was dead at the scene and four other shooting victims were transported to a hospital, where two of those people died, Isaac said.
The two wounded people were in critical and fair condition, University of Cincinnati Medical Center said. The suspect was dead at the scene, Isaac said. The police chief said that the gunman acted alone.
"There was definitely a lot of blood," an eyewitness, Zach Fritzhand, told the Cincinnati Enquirer.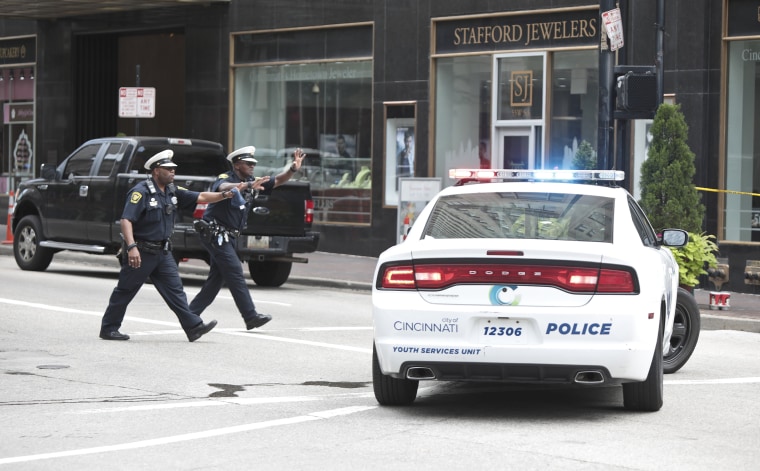 A motive for the shooting is still under investigation.
Isaac said that the gunman was armed with a 9 mm semi-automatic pistol and had multiple magazines carrying "a significant amount of ammunition," which he believed was around 200 rounds. Police believe the firearm was legally purchased, he said.
"There may be a possibility that there's some mental health issues involved here but, again, the investigation is only hours old," Isaac said. "We're still trying to determine motive. There's nothing that's given us conclusively as to why he would do such a horrific thing."
Perez is not a current or former employee of the bank, and investigators are not aware of any employment of any of the surrounding businesses, Isaac said. Police on Thursday afternoon had not discovered any past negative interactions with the bank, he said.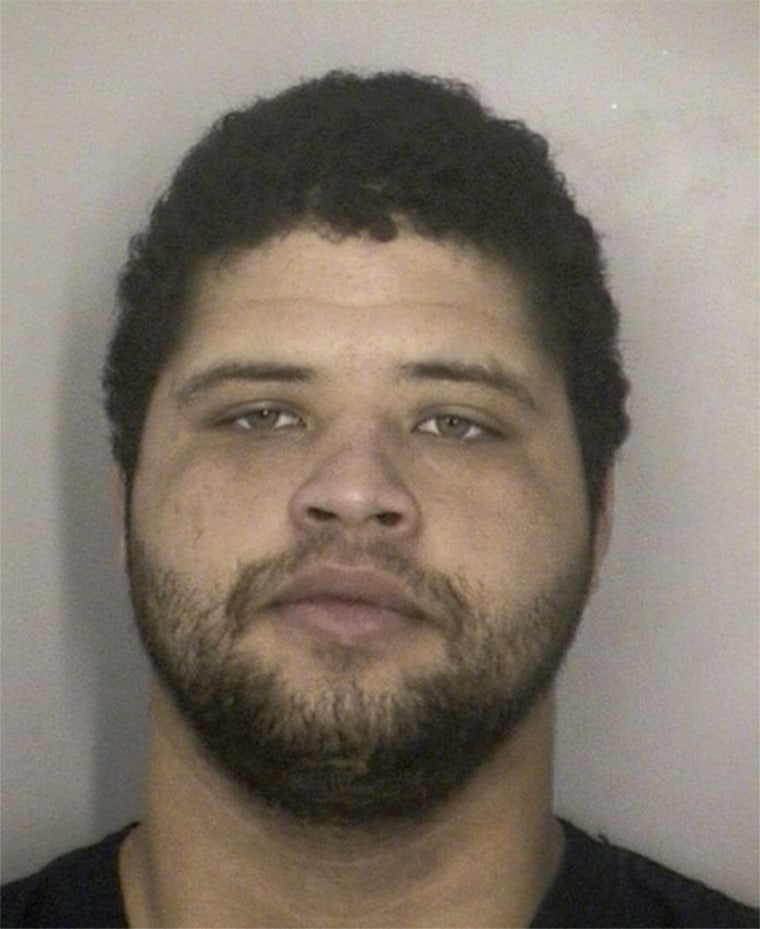 Police conducted a search of the suspect's home in North Bend, Ohio, Isaac said. He has lived in the area since 2015, he said.
John Cranley, the city's mayor, said the violence "could have been much, much worse" were if not for the rapid response of police, adding that officers appeared to be on the scene within "seconds."
He thanked first responders for doing a "heroic job."
"It's heartbreaking. This is not normal, and it shouldn't be viewed as normal," Cranley said, adding that "there is something deeply sick at work here" and the country needs to reckon with gun violence.
Ohio Gov. John Kasich tweeted that he had been in touch with local officials about what he described as a "senseless act."
A woman who works near Fountain Square, a restaurant and entertainment hub close to the scene, told NBC News she was alerted to the gunshots by co-workers in her office.
"My co-workers and I saw [an] injured woman lying under the flag pole with a white shirt covered in blood," said Courtney Bellish, 22.
The three people killed were identified by the Hamilton County Coroner's office as Pruthvi Raj Kandepi, Richard Newcomer, and Luis Felipe Calderón.
Newcomer, 64, was a superintendent for the Gilbrane Building Company who worked with tradespeople and was part of a project on the building's third floor, company spokesman Wes Cotter said.
Newcomer "was simply in the wrong place at the wrong time" when the shooting took place, Cotter said. "We couldn't be more grief-stricken."
Jaenetta Cook, who manages Servatii Bakery on the building's first floor, said she hurried to lock the door when she heard the first two shots. Then, she heard more that "sounded as if they were getting closer and closer," the Associated Press reported. Cook said she and two other employees hid in the bathroom for the duration of the shooting.
"I made it out to see my kids, to see another day," she said in relief.
Leonard Cain told the Cincinnati Enquirer that he saw a woman wearing headphones get shot as she entered the building. He said she dropped to the ground, and everyone started running.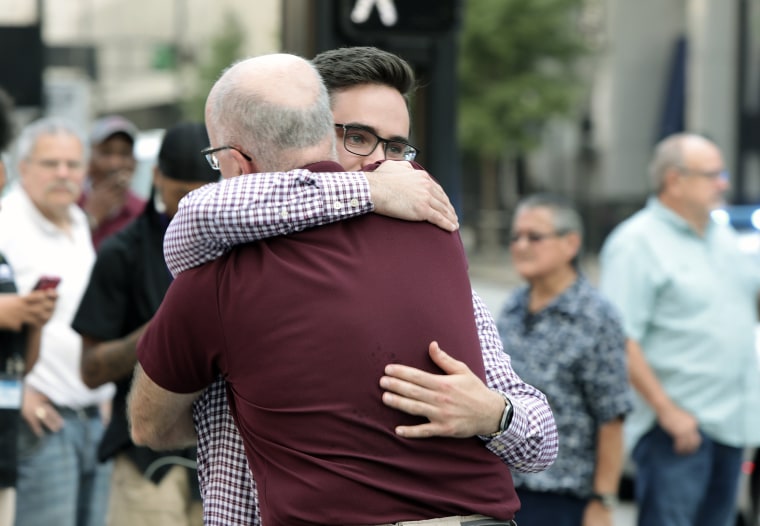 In a statement posted on Twitter, Fifth Third Bank said its "thoughts and prayers are with everyone caught up in this terrible event."
Fifth Third operates around 1,200 banking centers in 10 states. Isaac said that video was captured by police body cameras and there is footage from the bank and around Fountain Square.
The Cincinnati Reds baseball team tweeted that a moment of silence would be held at Thursday night's home game against the San Diego Padres in honor of the victims before the singing of the national anthem.
"The thoughts and prayers of our entire organization go out to the victims of today's tragedy, as well as their families and friends," the team said in a statement on Twitter. "We also thank the first responders of our great city, who put themselves in harm's way each and every day for the safety of all."
Isaac thanked the efforts of the responding officers, and said they stopped what could have been a larger shooting.
"Their bravery and heroic actions stopped this shooter before his rampage continued to do more harm," he said.