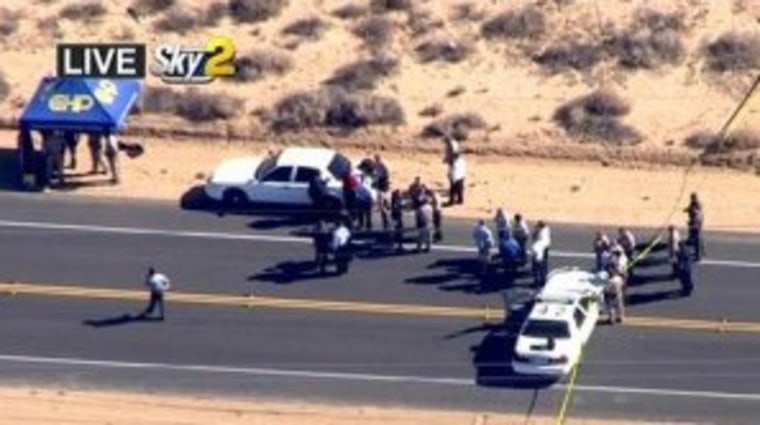 RIDGECREST, Calif. -- Police were investigating a deadly shooting in this Mojave Desert city when they got a chilling call — from the killer.
Sergio Munoz said he wanted to deliver a "package" to police and kill officers, but to avoid being outgunned at the station he would instead "wreak havoc" elsewhere.
Munoz kept his word Friday during a nearly hour-long chase. With two hostages in the trunk of his car, Munoz sped along some 30 miles of desert highway, taking shots at passing motorists and trying to run oncoming cars off the road before police finally killed him in a hail of gunfire.
Investigators were puzzling over what triggered the rampage by Munoz, 39, a reputed heroin dealer with a criminal record stretching back at least two decades.
There were signs that his life had been unraveling.
The sister of the man wounded in a pre-dawn shooting that began the deadly day said Munoz was a heroin dealer who had been staying at her brother's house for about two weeks.
Dawn Meier told The Associated Press her brother, Thaddeus Meier, told her Munoz was a good friend he wanted to help out so let him crash, but that Munoz had been using and dealing black tar heroin.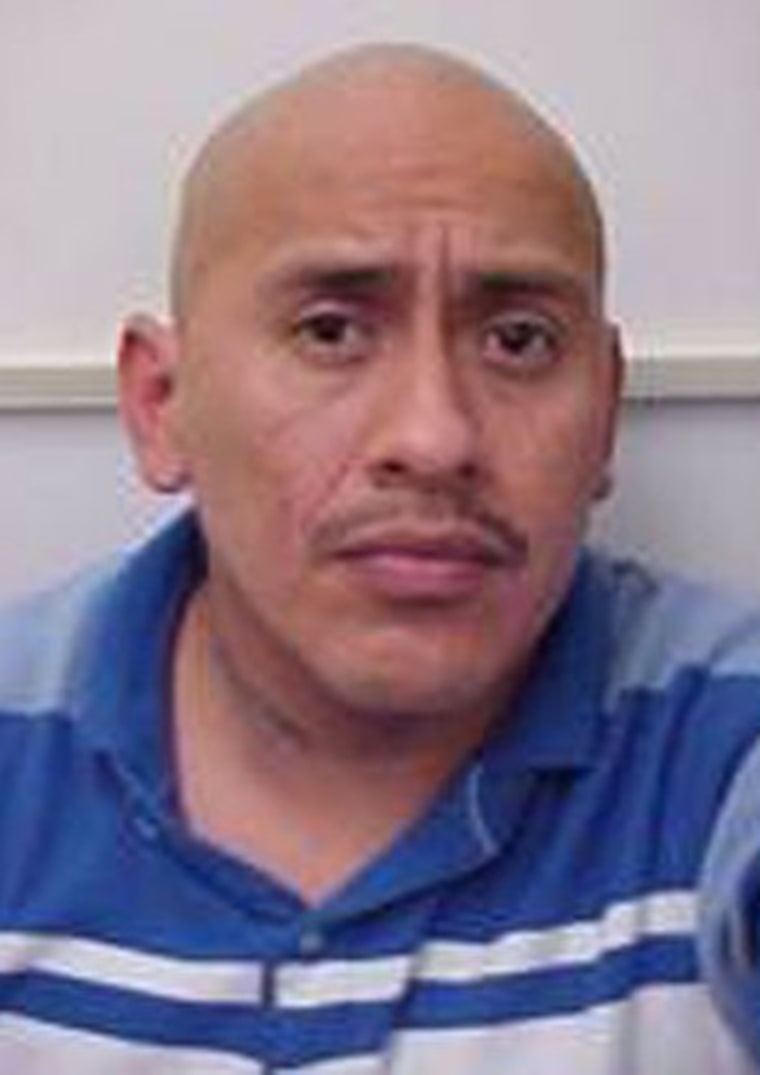 She moved out of the house a week ago to join her boyfriend, who lived next door, after he insisted she get her 7-month-old son away from the drug-related traffic.
Her boyfriend, Derrick Holland, said that on Thursday he heard Munoz complaining in the yard about how his life was falling apart and he was losing everything "due to drugs."
Ridgecrest police said Munoz had lost his job recently.
Early Friday morning, Munoz showed up and told Thaddeus Meier, "We're going to reduce all of the snitches in town," Dawn Meier said her brother recounted from the hospital.
When her brother declined, Munoz shot him at least twice, then shot and killed Meier's girlfriend.
Later that morning, Munoz called a police officer on his cellphone, Kern County Sheriff Donny Youngblood said at a press conference.
Munoz said he had a package for police and wanted to come to the police station and "kill all the officers but they had too many guns," Youngblood said.
Police now believe the "package" was the hostages.
Nearly two hours later, a sheriff's deputy spotted Munoz's car and a pursuit began through the shrub-dotted desert about 150 miles north of Los Angeles.
Munoz ran traffic off the road, firing at least 10 times at passing vehicles with a shotgun and a handgun. No motorists were hurt, Youngblood said.
At one point during the chase, Munoz pulled over and the car's trunk popped open, revealing a man and woman inside. They appeared to shut the trunk, the sheriff said. Munoz got back in the car and sped off.
In the end, Munoz pulled over again on U.S. 395, turned in his seat and began shooting into the trunk. As many as seven officers opened fire and killed the man.
The hostages were flown to a hospital in critical condition, but were expected to survive.
Munoz is a felon with convictions dating back to 1994, when he was sentenced to more than two years in prison for receiving stolen property.
In May, he was arrested for possessing ammunition as a felon, but the felony charge was dismissed. Munoz was most recently arrested Sunday for investigation of possessing controlled substance paraphernalia and a felony charge of possessing ammunition as a felon. Dawn Meier said police found a syringe at the home where the slaying would happen five days later.
Ridgecrest is a city of about 27,000 people adjacent to the vast Naval Air Weapons Station China Lake, which sprawls over more than 1,700 square miles of desert. U.S. 395 runs through the western Mojave, below the eastern flank of the Sierra Nevada.
Ridgecrest Mayor Dan Clark called the incident disturbing, especially because the small city is relatively crime free.
Related: