The Las Vegas man accused of fatally shooting a mother of four in an incident first classified by police as a "road rage" case was sentenced to life in prison with the possibility of parole Thursday.
Erich Nowsch, 21, said "I've never been in trouble my whole life" and sobbed after the sentence was read, NBC affiliate KSNV reported.
Nowsch had pleaded guilty to fatally shooting Tammy Meyers, 44, in front of their home on Feb. 12, 2015, but later tried unsuccessfully to withdraw the plea.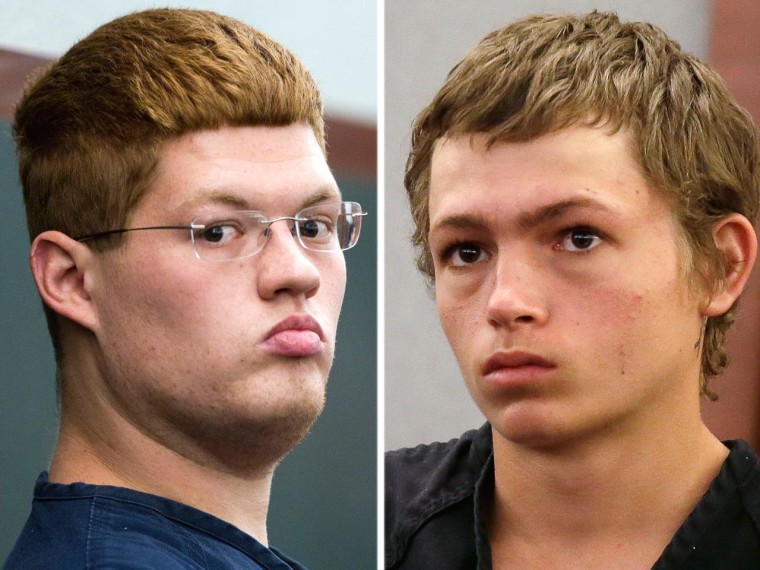 The shooting came at the end of what may have been a case of mistaken identity in which Meyers with her armed son went looking for the driver from another road-rage incident earlier that day — and came upon Nowsch in a similar-looking car and followed it, a prosecutor has said.
Nowsch allegedly opened fire on Meyers' car on the road and later shot at Meyers and her son, Brandon, outside their home. Meyers was shot in the head and died two days later. Brandon Meyers returned fire outside the home but no one was hit, authorities have said.
Nowsch told police he thought he was being targeted by someone who had threatened him, according to a video of the confession made public in August of 2015.
Meyers' husband, Robert, said Thursday that Nowsch "had a way out" and could have left, KSNV reported.
Nowsch in March pleaded guilty to second-degree murder with a deadly weapon, attempted murder with a deadly weapon and discharging a firearm from a vehicle. Months later Nowsch later tried to change his plea to not guilty, claiming "ineffective counsel," but a judge denied that request .
Derrick Andrews, 28, who drove Nowsch the night of the shooting, pleaded guilty to one count each of voluntary manslaughter and accessory to commit murder and was sentenced to between 5 and 15 years in prison.