Firearms belonging to the suspected leader of a neo-Nazi group who was thought to be preparing for a "race war" have been seized under a "red flag" law in Washington state, according to court documents.
Authorities removed five rifles, three pistols and other gun components from Kaleb James Cole, 24, under a state law that allows authorities to take guns from people deemed to be a risk to themselves or others for up to a year, authorities said. Cole has not been charged with any crime.
Seattle City Attorney Pete Holmes believes the seizure, which court documents indicate happened Sept. 26, may have prevented a massacre.
"This is a hate-filled human being, but unfortunately one who possesses really alarming numbers of weapons," Holmes said.
Attempts to reach Cole at phone numbers listed in public records that may be linked to him were not successful Friday evening. It was not immediately clear if he has an attorney.
Prosecutors filed a lawsuit against Cole invoking the state's red flag law and seeking an "extreme risk protection order." Seventeen states and Washington, D.C. have laws allowing family members or police to remove weapons from people who may be dangerous, according to The Pew Charitable Trusts.
The National Rifle Association has opposed some current protection order laws, arguing they deprive gun owners of due process.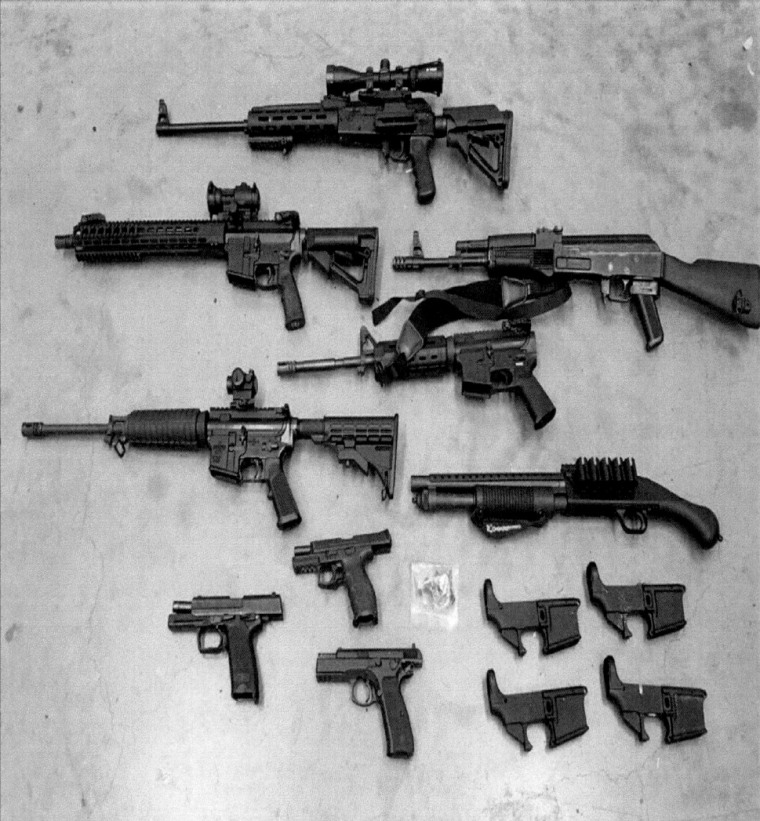 Cole is a self-admitted member of the "Atomwaffen Division" — which the Southern Poverty Law Center says is a terroristic national socialist organization that believes in using violence for "apocalyptic, racial cleansing" — and is thought to be the leader of the Washington state chapter, Seattle police said in its petition for the court order.
Police believe Cole participated in recent firearm training and recruitment efforts at "hate camps," which officials say he helped organize.
"It appears that he has gone from espousing hate to now taking active steps or preparation for an impending 'race war,'" Seattle police said in the petition.
Included with the police petition were a cellphone photo of Cole giving the Nazi salute, and another of him and another person standing in front of the Auschwitz death camp in Poland.
Cole was stopped as he arrived at Chicago's O'Hare Airport in December 2018 after a 25-day trip to eastern Europe, and officials then noted that he had been identified in an article as being Atomwaffen's Washington state chapter leader, Customs and Border Protection said in documents attached to the petition.
Cole allegedly admitted his membership, and CBP wrote in its report that he "stated that he shares a fascist ideology, 'strong dominate the weak.'"
But that report also said that Cole told officials he discourages members from doing anything illegal and that his group is not interested in the overthrow of the U.S. government. He said he owned an AK-47 and several handguns for protection. Cole was released after being questioned, the report says.
Cole was deported from Canada earlier this year because officials there felt he was a member of an organization that may engage in terrorism, Seattle police said in its petition for the extreme risk protection order. Cole is said to have been barred from Canada for life.
King County Prosecutor Dan Satterberg told NBC affiliate KING of Seattle that the in addition to the weapons seized, which included what he characterized as military-style assault rifles, components and tools that could be used to make untraceable firearms were also found.
Satterberg said that much of the material presented to the judge was information already on the Internet and involved statements by Cole.
"It wasn't anything super-secret that we had to tell the judge. It was just: 'here's what this guy's about, he's leading other people in practicing and informing a potentially violent cell that would act on their white supremacist views,'" Satterberg told the station.
"So, that was enough to convince this judge that at least temporarily — let's take a time out. Let's take these guns out and see what we've got here," he said. "It isn't a crime, he's not being charged, he's not in jail ... it is a way to slow things down."
The issue of red flag laws, like the Washington one under which Cole's weapons were seized, has been raised in Congress following mass shootings this year in Gilroy, California, El Paso, Texas, and in Dayton, Ohio.
The NRA's Institute for Legislative Action denied media reports that suggested the group supports red flag laws as they exist in some states, and it said it opposes such laws because they do not protect due process rights.
"We will only support an ERPO process that strongly protects both Second Amendment rights and due process rights at the same time," the NRA said in January.
CORRECTION (Oct. 21, 2019, 9:15 p.m. ET): A previous version of this article misstated the location of the Auschwitz death camp. It was in Poland, not Germany.