Pioneering television news anchor Gwen Ifill died Monday after a battle with cancer. She was 61.
One of the nation's most prominent black journalists and a longtime newscaster at PBS who previously worked at NBC News, Ifill was in hospice care when she passed away.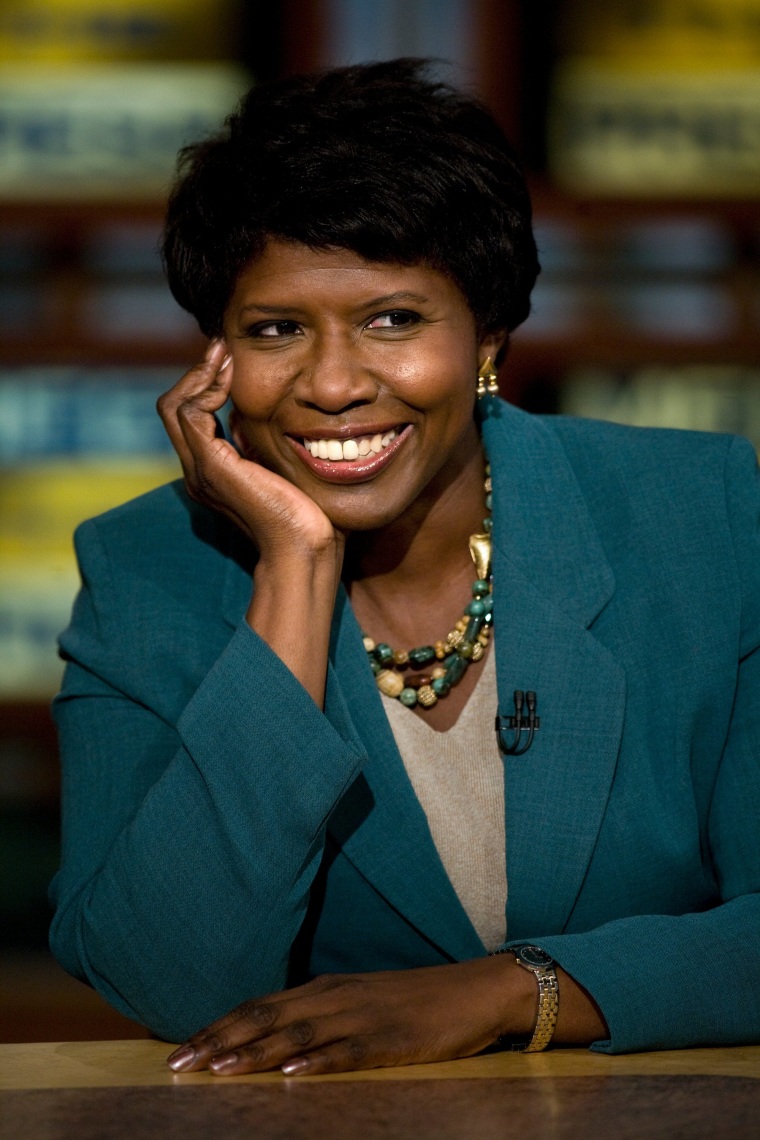 "Gwen was a standard bearer for courage, fairness and integrity in an industry going through seismic change," Sara Just, PBS News Hour's executive producer, said in a statement.
"She was a mentor to so many across the industry and her professionalism was respected across the political spectrum. She was a journalist's journalist and set an example for all around her."
Ifill was the host of PBS' Washington Week and co-host of PBS NewsHour. She covered seven presidential campaigns and moderated the vice presidential debates in 2004 and 2008. She was also the author of "The Breakthrough: Politics and Race in the Age of Obama," which was published on inauguration day 2009.
"Gwen was a friend of ours, she was an extraordinary journalist," President Obama said after offering condolences to Ifill's family and to the reporters gathered at a White House press conference. "I always appreciated Gwen's reporting even when I was at the receiving end of one of her tough interviews."
Obama called her a "powerful role model for young women and girls" who "blazed a trail" for female reporters everywhere.
"Gwen covered politics and the presidential race with class, wisdom and insight, separating her from the pack," Sarah Glover, president of the National Association of Black Journalists, said.
Ifill's death sparked a bipartisan outpouring of condolences from other politicians, ranging from House Speaker Paul Ryan to House Minority Leader Nancy Pelosi.
Donald Trump, whose presidential campaign was marked by a contentious relationship with journalists, posted on his Facebook page: "We are saddened by the passing of Gwen Ifill and extend our deepest condolences to her family and loved ones. Gwen was a broadcasting pioneer, shattering barriers throughout her career and blazing a path for future generations following in her considerable footsteps. Her presence and legacy will be felt forever"
Sharon Rockefeller, president and CEO of the flagship public television station WETA in Washington, informed her colleagues of Ifill's death earlier.
"Gwen was an extraordinary and special person — one of the nation's leading lights in journalism, a gracious and inspiring colleague, and a warm and steadfast friend," Rockefeller said in a letter to staffers. "As she bravely battled cancer, Gwen was lifted by the well wishes, flowers and emails from so many who love and respect her."
Born in New York City, Ifill was the daughter of a Methodist minister who moved with her family from church to church up and down the east coast.
After graduating from Simmons College in Boston with a journalism degree, Ifill began her career writing for the Boston Herald-American, jumped to the Baltimore Evening Sun and later the Washington Post. At the New York Times, she covered the White House.
In 2013, when she and Judy Woodruff were named the first even female co-hosts of PBS News Hour, Ifill told the New York Times she hoped that one day this won't be such a big deal.
"When I was a little girl watching programs like this — because that's the kind of nerdy family we were — I would look up and not see anyone who looked like me in any way," she said. "No women. No people of color. I''m very keen about the fact that a little girl now, watching the news, when they see me and Judy sitting side by side, it will occur to them that that's perfectly normal — that it won't seem like any big breakthrough at all."
This is a developing story. Please refresh for updates.