The first male gymnast to publicly accuse Larry Nassar of sex abuse slammed the disgraced doctor on Tuesday, calling what he allegedly endured almost two years ago "sickening" and "shocking."
"I hope he rots in hell," Jacob Moore, 18, told "Today."
Moore came forward Monday after joining several female athletes in a federal lawsuit against the now-imprisoned physician and two former employers, USA Gymnastics and Michigan State University.
He said he was inspired by his older sister, Kamerin Moore ─ who described how she was abused in a victim-impact statement at Nassar's sentencing in January ─ to add his name to the list of over 200 alleged victims. Kamerin Moore first revealed her brother's alleged abuse in her own victim statement.
Moore said he was 16 years old in April 2016 when he was abused by Nassar, a family friend, in the doctor's home while receiving acupuncture treatment for an injured shoulder.
Related: Eight times Larry Nassar could have been stopped
At one point during the treatment, Moore said, Nassar used acupuncture needles in his pubic area and partially exposed his genitals while another of Nassar's victims was in the room. Nassar allegedly asked the girl if she had ever seen a male body part before.
"I wasn't a dumb kid. I knew, kind of, what medical practices were, and that one was out of the ordinary," Moore told "Today." "Coming out of the treatment, I felt very uncomfortable."
It wasn't until allegations started surfacing against Nassar that Moore decided to search for any medical explanation for the experience.
Related: Gymnast Aly Raisman sues U.S. Olympic Committee over Nassar abuse
"Having found nothing, I kind of freaked out," Moore said. "It was just very shocking."
Nassar has been sentenced to spend the rest of his life in prison for molesting young girls under the guise of treatment. While Nassar only pleaded guilty to abusing seven people, over 230 have leveled accusations against him, including Moore's sister, Kamerin.
"Me and my sister shouldn't be able to relate over the fact that we've both been abused," Moore told "Today." "That's just really sickening to me that he would violate a trust like that, and the things that he did were just awful."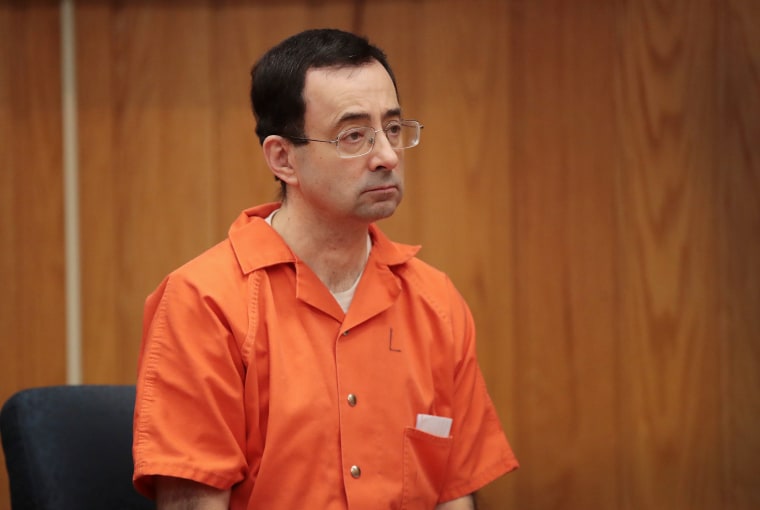 Since Nassar's sentencing, the board of USA Gymnastics has resigned, and the head of the U.S. Olympic Committee, Scott Blackmun, has stepped down, amid accusations that they didn't do enough to stop the abuse. Michigan State's president and athletic director have also quit.
USA Gymnastics would not comment specifically on the federal lawsuit, but said in a statement, "We are very sorry that any athlete has been hurt by the despicable crimes of Larry Nassar," adding that the organization was determined not to let anything similar happen again.
Related: Gymnastics doctor Larry Nassar gets 40 to 175 years for sex abuse
Michigan State University did not respond to a request for comment from NBC News, but in January said it was committed to continuing to support those affected.
Moore, a freshman at the University of Michigan, said he hoped he could in turn inspire any other victims, particularly men, who may have resisted going public.
"I hope to God that no one else is or has been affected by this that hasn't come out," Moore said, flanked by two lawyers during a news conference Monday.
"But if there are any out there," he continued, "then I don't want them to be scared to come out because of this stigma that guys can't be sexually abused or taken advantage of."