Elite gymnast Maggie Nichols revealed Tuesday that she is "Athlete A" — the first to report sexual abuse by team doctor Larry Nassar to USA Gymnastics — and blasted the organization for not responding faster or doing more to stop him from assaulting more young women.
In a response, USA Gymnastics said in a statement that after a private investigator it hired interviewed Nichols and a second gymnast it did not have "a reasonable suspicion that sexual abuse had occurred."
The organization said it did not contact the FBI until after an interview with a third victim — five weeks after the first report.
Nichols, who was a top contender for the 2016 Olympic team before an injury sidelined her, said the abuse and Nassar's grooming of her began when she was 15 years old and experiencing back problems during a training camp at the famed Karolyi Ranch in Texas.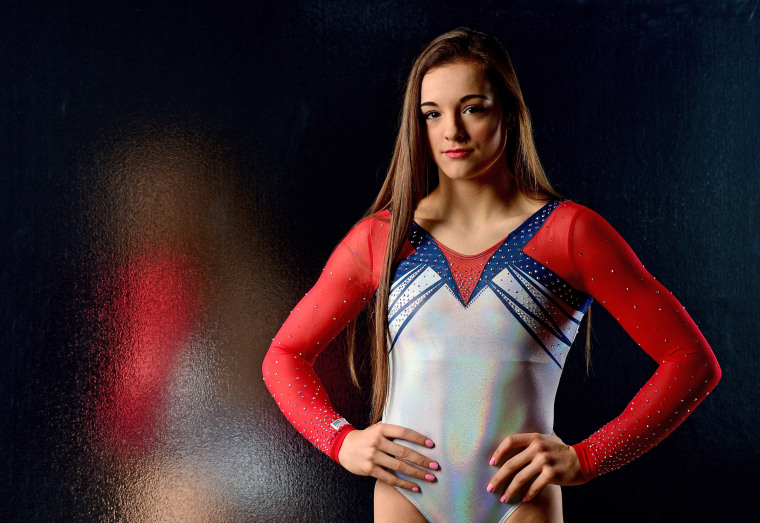 "I trusted what he was doing at first, but then he started touching me in places I really didn't think he should. He didn't have gloves on and he didn't tell me what he was doing. There was no one else in the room and I accepted what he was doing because I was told by adults that he was the best doctor and he could help relieve my pain," Nichols said in a statement.
"He did this 'treatment' on me, on numerous occasions. Not only was Larry Nassar my doctor, I thought he was my friend. He contacted me on Facebook complimenting me and telling me how beautiful I looked on numerous occasions. But I was only 15 and I just thought he was trying to be nice to me."
In the summer of 2015, Nichols mentioned Nassar's conduct to another gymnast. Her coach overheard her and questioned her about it — and then reported it to USA Gymnastics, the national governing body for the sport and the selector of the Olympic team.
USA Gymnastics hired a private investigator to look into the allegations, but it took three weeks for them to interview Nichols. And it wasn't until Aly Raisman and McKayla Maroney also confirmed abuse by Nassar that the organization called the FBI, five weeks after Nichols' report.
Nassar was fired, but put out a statement saying he was retiring that went uncorrected by USA Gymnastics, Nichols' attorney, John Manly, pointed out. And USA Gymnastics did not notify the U.S. Olympic Committee or Michigan State University, where Nassar had his practice, that he was suspected of sexual abuse.
Between the time that USA Gymnastics fired Nassar and an investigation by The Indianapolis Star newspaper more than a year later, numerous women and girls say they were abused by the doctor, police logs from Michigan State suggest.
More than 135 women have filed police complaints against Nassar, who also faces scores of lawsuits. In addition to Raisman and Maroney, Olympians Gabby Douglas and Jamie Dantzscher have also publicly accused him.
USA Gymnastics applauded Nichols for coming forward Tuesday and denied accusations by her lawyer that it tried to cover up Nassar's misdeeds.
"USA Gymnastics kept the matter confidential because of the FBI's directive not to interfere with the investigation," the statement said.
"USA Gymnastics cooperated fully with the FBI, including the agents' July 28, 2015, request to not do anything that might interfere with their investigation. USA Gymnastics interpreted that request to mean that it should not discuss the matter, and it refrained from doing so."
Nichols, who is now a gymnast at the University of Oklahoma, said in her statement that USA Gymnastics is not the only institution to blame.
"I want everyone to know that he did not do this to Athlete A, he did it to Maggie Nichols."
"I later found out that Michigan State University had ignored complaints against Larry Nassar from other girls going back 20 years and had investigated him for sexual assault in 2014," she said. "They never told USA Gymnastics. If they had, I might never have met Larry Nassar and I would never have been abused by him."
Michigan State Attorney General Bill Schuette, who prosecuted Nassar for molesting 10 girls, has not yet announced whether he will investigate possible negligence by Michigan State University. University President Lou Anna Simon said last month that a review by a lawyer hired by the school found no evidence of a cover-up.
USA Gymnastics forced out president Steve Penny and adopted new guidelines for handling sexual abuse as a result of the scandal, but many of the victims say the reforms have not gone far enough and that more officials need to be ousted.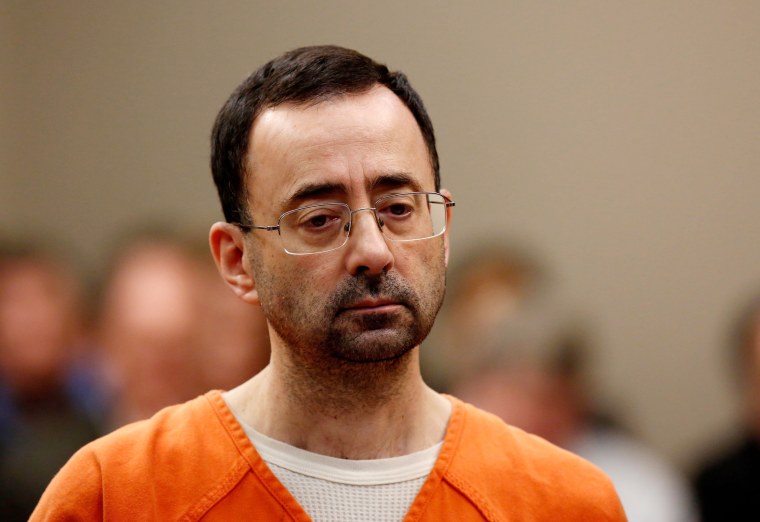 "I am making the decision to tell my traumatic story and hope to join the forces with my friends and teammates to bring about true change," Nichols said in her statement.
"Up until now, I was identified as Athlete A by USA gymnastics, the U.S. Olympic Committee and Michigan State University. I want everyone to know that he did not do this to Athlete A, he did it to Maggie Nichols."
Nassar, whose attorneys are under a gag order, has not been charged with abusing any of the high-profile gymnasts; the statute of limitations has passed for many of them. He did plead guilty to possession of child pornography in federal court and was sentenced to 60 years, and he is still awaiting sentencing on 10 state charges of sexual assault.