Olympic gymnast McKayla Maroney's mother says the gold medalist's sexual abuse at the hands of a team doctor plunged her into an "emotional abyss" so deep the family feared she would kill herself.
Erin Maroney and her daughter bared their anguish in letters to the federal judge who will sentence Larry Nassar on Thursday for possession of child pornography. The Maroneys are asking the court to give him the maximum punishment.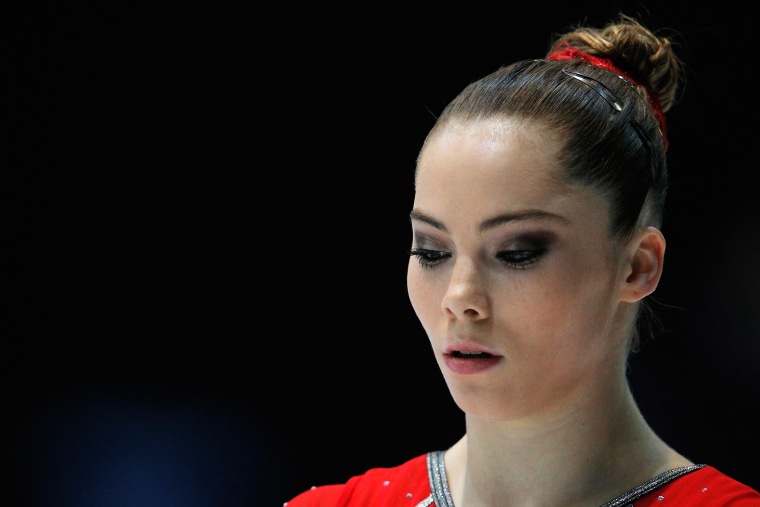 "This experience has been shattering to McKayla," Erin Maroney wrote to the judge. "She has transformed from a bubbly, positive, loving, world class athlete into a young adult who was deeply depressed, at times suicidal and essentially descended into an emotional abyss.
"At times I was unsure whether I would open her bedroom door and find her dead. Her father and I have been living this nightmare for years and until recently we felt hopeless."
"The revelation of McKayla's abuse has devastated our family. It has devastated McKayla's siblings and worst of all it has destroyed her emotionally and nearly snuffed out the inner light of this beautiful loving human being."
McKayla said in her letter that she may never fully recover from the trauma.
"Dr. Nassar was not a doctor," she wrote. "He in fact is, was, and forever shall be, a child molester, and a monster of a human being. End of story! He abused my trust, he abused my body and he left scars on my psyche that may never go away."
McKayla, a member of the 2012 "Fierce Five" Olympic squad that competed in London, said on Twitter in October that she was repeatedly molested by Nassar starting when she was 13. She is one of three members of that team and about 140 women total to lodge accusations that Nassar abused them under the guise of medical treatments.
Nassar, 54, has pleaded guilty to sexual assault charges in connection with 10 former patients, none of them Olympians, in state court in Michigan and agreed to a sentence range of 20 to 40 years.
Under his plea agreement with the feds, Nassar said he would accept a sentence of between 22 and 27 years in the child pornography case, but prosecutors are urging the judge to consider a sentence up to 60 years, which is the maximum.
Erin Maroney said she wonders if Nassar had pornographic images of McKayla that he managed to erase before investigators seized his computer equipment.
"These are questions that keep my husband and I up at night. I know this also haunts my daughter. Will she wake up one day to find an image of her 13-year-old self being assaulted on the internet?" she wrote. "This is what our family must live with and it will never go away."
She said that two years after McKayla first told her story to an investigator for USA Gymnastics, she is still learning gut-wrenching details of the encounters with Nassar.
"I also learned a few weeks ago from my daughter that at the world championships in Tokyo the Defendant drugged her, made her lay nude on a treatment table, straddled her and digitally penetrated her while rubbing his erect penis against her," she wrote. "She was only 15 years old.
"She said to me, 'Mom I thought I was going to die.'" I cannot tell you the anguish her Dad and I feel over this, and the responsibility we feel for not being aware of this, or being able to stop it."
Even worse, the Maroneys said, is their feeling that the U.S. Olympic Committee, USA Gymnastics, which appointed Nassar as team doctor, and Michigan State University, where he had his sports-medicine practice, could have stopped the abuse years earlier.
"A question that has been asked over and over is: How could have Larry Nassar been allowed to assault so many women and girls for more than two decades?" McKayla wrote. "The answer to that question lies in the failure of not one, but three major institutions to stop him."
All three institutions say they have beefed up their efforts to protect young athletes.
Nassar, who long claimed that his "treatments" were medically sound and not sexually motivated, said last month that he was pleading guilty because he believed it was time for the community "to heal."
"While Mr. Nassar wishes he could rewind the hands of time and make different choices, he realizes that this is not possible," his lawyers wrote in a presentencing memo. "Nevertheless, Mr. Nassar has already done much soul searching about his life, and he is using this time to engage in continued growth."