The gymnastics doctor at the center of a sexual-abuse scandal that rocked the Olympic sport pleaded guilty on Tuesday to federal child pornography charges after striking a deal that some of his accusers denounced as "outrageous."
In the plea agreement, Larry Nassar agreed to a sentence of 22 to 27 years. Each of the three counts carry a maximum penalty of 20 years in prison, meaning the judge has the discretion to give him up 60 years when he's sentenced Nov. 27 in Grand Rapids, Michigan.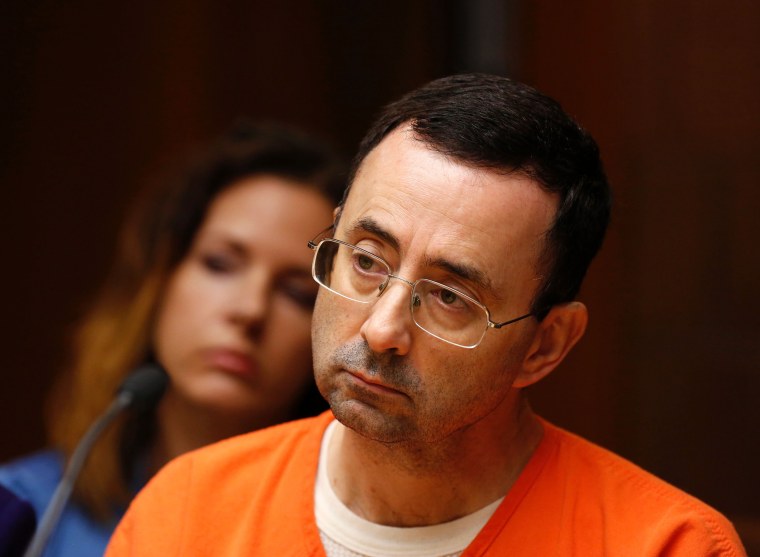 The agreement also means Larry Nassar, 54, will not face federal criminal charges for allegedly molesting two former gymnasts at out-of-state and overseas locations, although prosecutors said the deal "does not preclude" them from pursuing additional charges against the doctor for other individuals.
Attorney John Manly represents more 100 accusers, including members of the national and Olympic teams who were allegedly assaulted overseas. He said the feds should have brought abuse charges before accepting a plea from Nassar, who will be tried on state charges for alleged abuse that occurred in Michigan.
"My clients feel betrayed," Manly said.
Nassar, who had his practice at Michigan State University, was the team doctor for USA Gymnastics for two decades until he was fired in 2015 in response to what the organization called "athlete concerns."
Allegations of sexual abuse didn't become public until an investigation by the Indianapolis Star last summer that opened the floodgates to complaints that now number more than 100.
Federal agents then seized computer equipment from Nassar's home and office — including hard drives he threw in the trash — that yielded tens of thousands of images of child pornography.
Among the material was GoPro video that allegedly showed him fondling children in a pool, but under the agreement, he won't face abuse charges in connection with those youngsters.
Wearing orange jail clothing, he admitted downloading the pornography, possessing it and destroying evidence.
"I plead guilty as stated," he said.
Outside court, his attorneys said he still denies molesting former patients and plans to battle the state charges at trial in Michigan.
But Manly that said doesn't help his clients who say Nassar preyed on them under the guise of medical treatments at international competitions.
"It's outrageous," he said.
Jeanette Antolin, who was on the national team from 1995 to 2000, said Nassar abused her in Canada, Switzerland and China.
"I sacrificed my childhood to compete for the United States throughout the world," she said in a statement.
"The doctor they assigned to treat me betrayed my trust. Now the Federal Government is giving him a free pass for his alleged assaults on me and many other child athletes. That's not justice."