The sex-abuse scandal roiling the gymnastics world has taken a new turn with the parents of an elite athlete filing a lawsuit against the U.S. Olympic Committee.
The unnamed gymnast's family is being represented by famed attorney Gloria Allred, who is making her first foray into the ever-expanding case, and by John Manly, who has more than 100 clients who say they were molested by former team doctor Larry Nassar.
Nassar is scheduled to plead guilty Tuesday to federal child pornography charges, but he has denied sexually assaulting patients under the guise of pelvic treatments, saying his invasive techniques were medically sound.
He still faces two state trials on sexual assault charges, but his plea agreement says he will not face federal charges for molesting gymnasts — which angered Manly.
"It's important to send a message: When you go the Olympic games and you molest a child, you're going to get prosecuted," Manly told NBC News.
The new lawsuit, which was first reported by the Wall Street Journal, concerns a gymnast who competed in national and international competitions and trained at the Texas ranch used as a training facility by USA Gymnastics, which oversees the national and Olympic teams.
Nassar sexually abused the gymnast numerous times between 2009 and 2013 at the ranch and other locations, the lawsuit filed June 30 in Los Angeles alleges. It says the U.S. Olympic Committee and USA Gymnastics failed to protect her and other young athletes in their charge.
The U.S. Olympic Committee said it had not been served with the lawsuit and could not comment on the specific allegations. It called the accusations against Nassar "astounding and heartbreaking" and said did not learn of any alleged abuse until it was reported to law enforcement.
"We will support any and all efforts to shine a light on the facts and to identify and address any systemic failures that contributed to the abuse that was suffered by these young women," it said in a statement.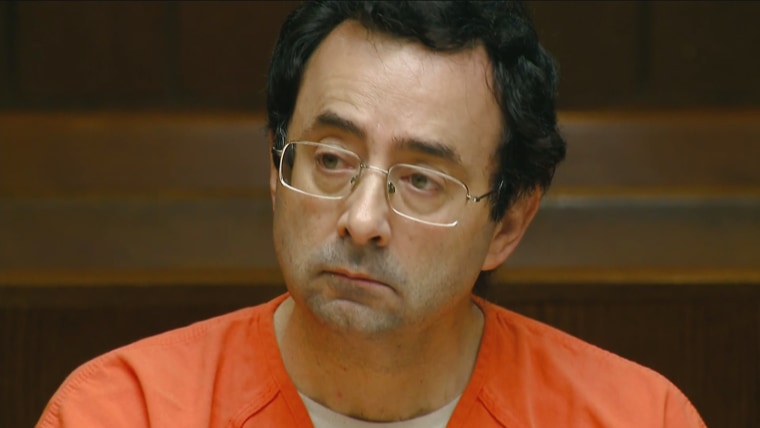 USA Gymnastics said it had just learned of the suit and had no comment. Last month, it adopted a raft of new policies after an internal investigation found a "complete culture change" was needed to make the protection of kids a priority over winning medals.
The scandal broke last summer after an investigation by the Indianapolis Star into USA Gymnastics' handling of sexual abuse complaints over the years. Two of Nassar's accusers came forward, and that opened the floodgates.
He has been jailed in Michigan — he had his practice at Michigan State University — since investigators discovered tens of thousands of pieces of child pornography on his hard drives, including GoPro video that allegedly showed him fondling children in a pool.
He has agreed to plead guilty to three counts: downloading the pornography, possessing it and destroying evidence, according to a copy of the agreement obtained by NBC News. Each count carries up to 20 years in prison, but prosecutors agreed to a reduced, unspecified sentence, according to the document.
Manly said prosecutors and FBI agents met with several of his clients in the last two weeks and told them Nassar would not be charged in federal court with traveling across state or international lines to abuse gymnasts.
He questioned the wisdom of the plea bargain, arguing that the feds had a very solid child-pornography case against Nassar and didn't need to cut a deal with him.
"To get to the Olympic games, you literally give up your childhood and adolescence to compete for your country. And we all owe them a debt," he said. "This is a breach of faith."
Nassar's attorneys had no comment and the U.S. Attorney's office for the Western District of Michigan did not respond to inquiries.