A high-profile gymnastics doctor who allegedly molested dozens of patients, including an Olympic medalist, faced two of his accusers in a Michigan courtroom Friday and heard them describe his "degrading" treatments.
The women testified at a preliminary hearing in Ingham County that will determine if there's enough evidence for Dr. Larry Nassar to stand trial on sexual assault charges.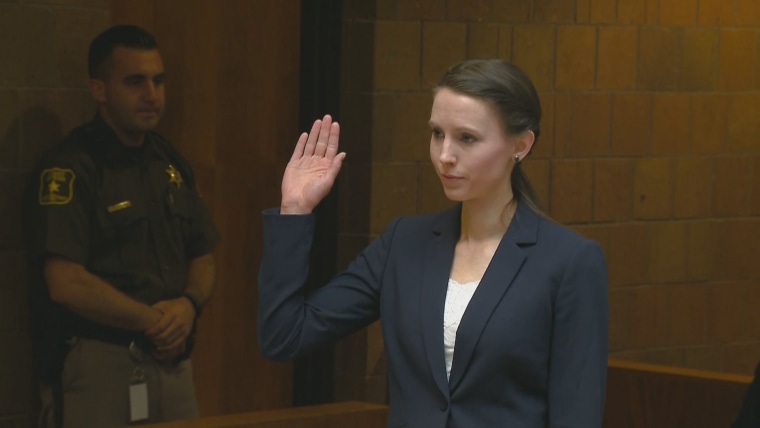 With Nassar sitting feet away in a striped jail jumpsuit, both told a story that has become very familiar since the scandal first broke in August and plunged Nassar's former employers, USA Gymnastics and Michigan State University, into crisis.
A 22-year-old woman who competed through a local club recounted how Nassar repeatedly penetrated her with ungloved hands while treating her in the basement of her home, starting when she was about 13 years old. She said she knew he did the same to other gymnasts.
"We all talked about how it was uncomfortable and we really didn't like it and it didn't help, but it happened to all of us, so we thought it was normal," she said.
Last spring, a friend called her and confided "she was feeling strange about it," she said. "We kind of concluded that it probably wasn't right."
But she didn't contact police until another ex-gymnast went public with her complaints about Nassar in August, unleashing a scandal that rocked the sport at its highest levels.
That woman, Rachael Denhollander, also testified Friday against Nassar. She said she first saw him in 2000 when she was 15 years old and that he digitally penetrated and rubbed her genitals at several appointments under the guise of pelvic treatments and sports massage.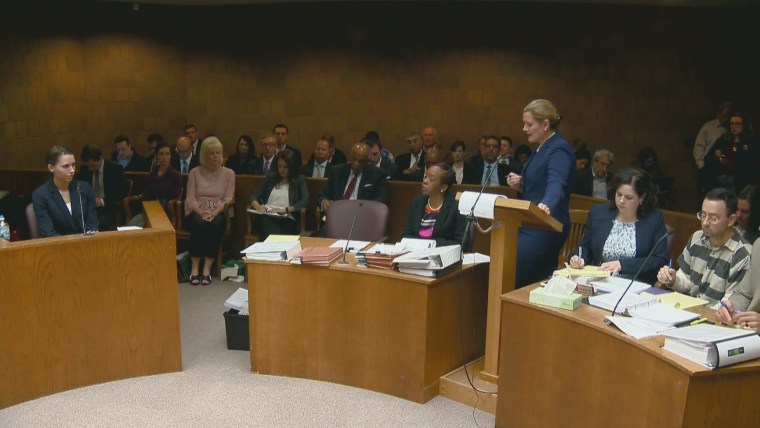 "He was not wearing a glove," Denhollander said, explaining that her mother was in the room but could not see Nassar's movements from where she was standing.
"It felt very uncomfortable, very humiliating and very degrading. But my presumption was this was what I needed to do to get better."
Denhollander said she knew something was wrong when he began groping her breast during one appointment without warning or explanation. She said she saw he was aroused.
"I froze," she said. "Because I knew that was sexual assault."
Now a married mother of three and an attorney, Denhollander said she did not return to Nassar and she eventually began to research the treatment she had received.
For years, she said, she was silently tormented by memories of those appointments. When she was dating her husband, she feared even holding his hand. She won't make appointments for her children with male doctors.
"My trust had been used against me as a weapon, and I never wanted to trust again," she said.
Denhollander said she didn't report Nassar for years because she didn't think she would be believed. She first told her story to the Indianapolis Star, which was investigating USA Gymnastics' handling of sexual abuse allegations. Nassar was a long-time team doctor for the organization, treating many of the sport's Olympic stars.
Related: How Michigan State Handled the Sex Assault Allegations Against Larry Nassar
Her account opened the floodgates, with more than 80 girls and women who have similar stories filing complaints with police since her story appeared. She said she went public because "the only thing I had left was my ability to advocate for change," but called the spotlight "hellish."
"I feel like I have relived my abuse with an audience," she said. "No sexual assault victim wants attention drawn to the parts of their body they want to hide forever."
During cross-examination, Nassar's attorney grilled Denhollander about her civil suit against Nassar and Michigan State, pointedly asking if she knew that money damages could hinge on the severity of the injury she suffered.
Denhollander said she had not exaggerated anything her account and pointed out that she had told numerous people about the alleged abuse years before she filed a police report or joined a lawsuit five months later.
Nassar, 53, has also been charged with repeatedly molesting a family friend at his home, starting when she was 6 years old. Federal authorities also charged him with possession of child pornography after finding more than 37,000 images on his computers.
He has pleaded not guilty to all charges and his lawyers maintain his techniques were medically sound.