A Michigan doctor accused of sexually abusing dozens of patients, including an Olympic medalist, was ordered held without bond Wednesday after an FBI agent detailed some of the evidence against him, including footage that allegedly shows him abusing girls.
Dr. Larry Nassar, who was a doctor for USA Gymnastics for almost 20 years, was arrested last week on federal child pornography charges. He had previously been charged with sexually abusing a young girl at his home and is named in more than 60 police complaints and three lawsuits.
At a detention hearing, FBI agent Rod Charles provided new details of the child porn case, according to NBC affiliate WOOD-TV:
More than 37,000 images and videos of child pornography, some featuring girls as young as six, were seized from his home.
Some of the material was on a drive and disks found in a trash bin outside his house.
A Go Pro contained video of Nassar allegedly molesting girls in a pool.
Nassar pleaded not guilty to the charges. He has also pleaded not guilty to state charges that he sexually abused a child over the course of six years.
Related: Doc Accused of Gymnast Abuse Defends Procedures
Charles described that victim as a family friend and said Nassar would lure her into games of hide-and-seek and then expose himself to her. The agent also detailed the accusations of three others who say Nassar abused them when they were under the age of 15.
More than 60 women have filed complaints with police alleging they were abused under the guise of invasive medical exams. And on Wednesday, a woman named Tiffany Thomas Lopez filed a lawsuit against Nassar and Michigan State University, where he had his practice until he was fired in September.
Lopez, 36, said Nassar began treating her when she was a freshman softball player at Michigan State in 1998. She alleges that he molested her at least 10 times and that university staffers ignored her complaints.
During treatment sessions, Nassar inserted his finger into her vagina — sometimes gloved and sometimes not — and pressed on a pelvic bone, Lopez said. Sometimes a female trainer was in the room.
"I felt uncomfortable because I didn't think that was necessary," she said.
She said she expressed her concerns about Nassar's treatment to two trainers. When one of them heard the specifics, she "gasped and said, 'What?'...and she turned bright red and told me that was completely inappropriate and I needed to say something," Lopez said.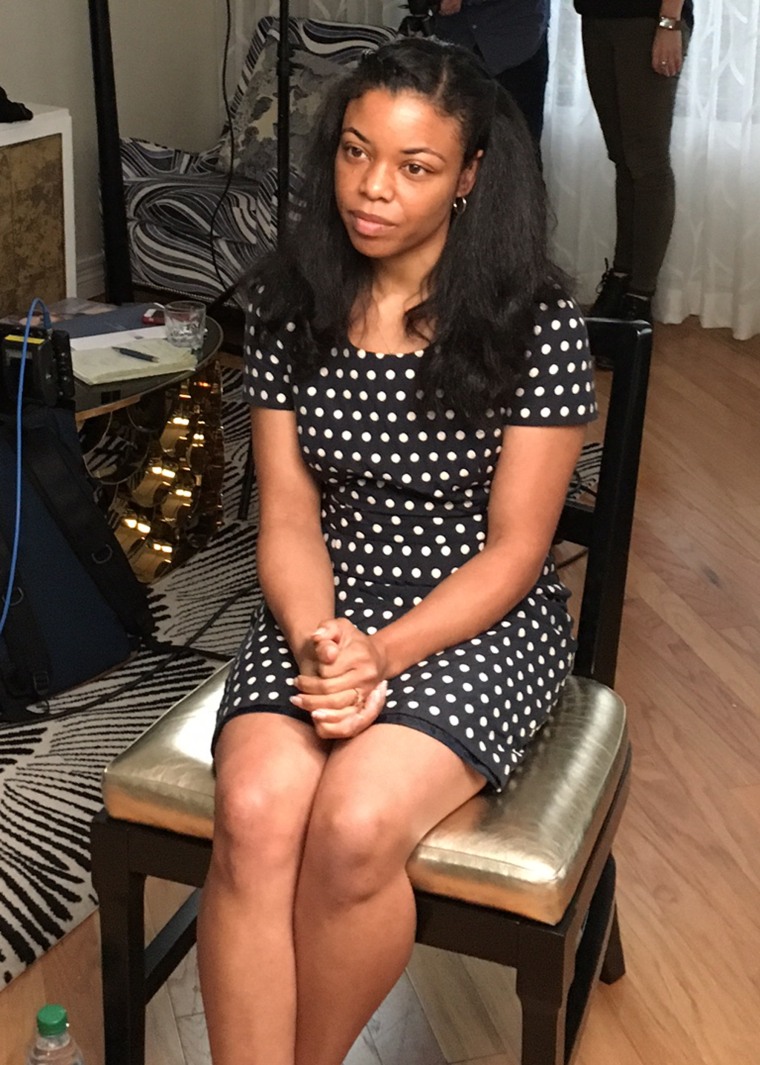 "I remember us crying together," Lopez said.
But when Lopez met with a supervisor in March 2000, she said, the reaction was far different.
"She says, 'He's a world-renowned doctor. He treats elite athletes, athletes just like yourself,'" Lopez said. "It was basically — you need to be grateful you are getting this treatment. She made me feel like I was crazy."
Lopez said she began refusing treatment, stopped playing softball and eventually left Michigan State and returned home to California.
"I felt like I wanted to disappear," she said.
Michigan State has said the first time it received a complaint about Nassar was in 2014. It investigated the incident, and prosecutors declined to bring charges, the school says.
Nassar's personnel file, obtained by NBC News through a freedom of information request, shows that the school put restrictions on the doctor after an internal sexual harassment investigation in response to the 2014 complaint.
"We will have another person in the room whenever we are approaching a patient to perform procedures of anything close to a sensitive nature," William Strampel, the dean of the College of Osteopathic Medicine, wrote in a July 2014 email to Nassar spelling out the measures they had agreed upon.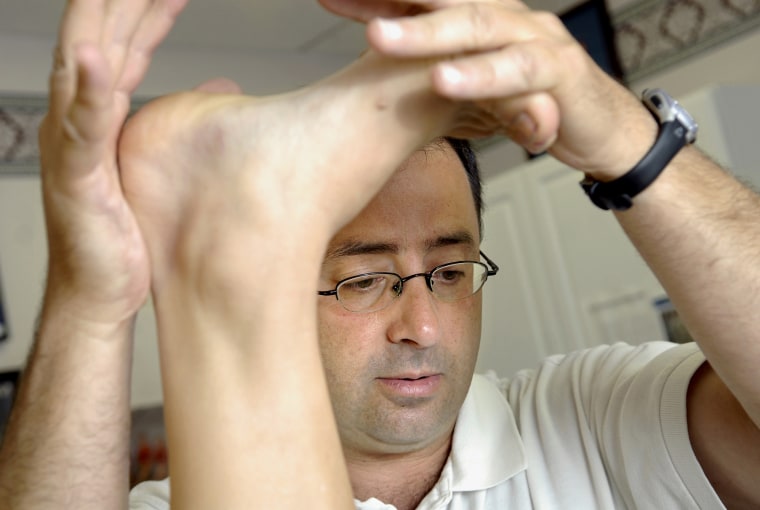 "The procedure which caused the patient emotional distress because of her interpretation will be modified in the future to be sure there is little to no skin to skin contact when in these regions," Strampel added. "Should this be absolutely necessary, the procedure will be explained in detail with another person in the room for both the explanation and the procedure."
Strampel ended the email by saying, "I am happy this has resolved to some extend (sic) and I am happy to have you back in full practice."
Jason Cody, a spokesman for Michigan State, said the investigation into Nassar found no violation of policy. "There was no reason based on those investigations to remove Nassar from the staff," he said. "However, based on the investigation, we did feel it was prudent to reinforce with Nassar the proper protocols for certain medical procedures."
Nassar continued to treat patients until the allegations against him first became public in an Indianapolis Star investigation in September. He remained at Michigan State even after he was fired by USA Gymnastics in the summer of 2015 amid "athlete concerns" that prompted the organization, which governs the sport and selects the Olympic teams, to report him to the FBI. The school says USA Gymnastics never told them of those concerns.
After the scandal exploded, and dozens of former patients began filing complaints against Nassar, Michigan State terminated him, citing violations of the 2014 agreement by performing the procedure without gloves and alone with two patients.
"This is a serious breach and is not acceptable," the university said in an email to Nassar, also noting he had failed to disclose a 2004 police complaint against him about alleged sex abuse.
Nassar responded two days later with an email that said he was heartbroken and vowed he would "overcome this."
"I am so sorry this situation has become so public in the media casting such a shadow over myself and MSU," Nassar wrote. "I understand your position and appreciate all the support you have given me."
Two months passed before Lopez heard about the charges against Nassar and decided to come forward.
"It's hard to relive the trauma," she told NBC News. "But it feels good in a sense to know I'm validated. I'm not crazy. What happened was definitely real.
"But I feel disappointed in Michigan State. I really bled green for them and they let me down and they let a lot of other girls down."
She said that she thinks constantly about the women who say they were abused by Nassar after she left Michigan State and struggles with feelings of guilt.
"I think about how if I would have stayed on them and made them believe me, no one would have to suffer," she said, crying.
Lopez's lawyer, John Manly, is representing two other women — one of them an Olympic medalist — in other "Jane Doe" lawsuits against Nassar, Michigan State and USA Gymnastics. He has filed paperwork announcing his intention to file 15 more suits.
"The more it goes on, the more it starts to feel like a Sandusky situation," he said, referring to the sex abuse scandal at Penn State University.
University officials said they had not seen Lopez's suit and could not comment on it
"I can tell you we take allegations of sexual abuse very seriously," Cody said. "Our police, the lead investigative agency in the Nassar case, are devoting significant resources to the criminal investigation against him and are vigorously reviewing all complaints and working through them with the state Attorney General's office and federal U.S. Attorney's Office."