At the sentencing hearing for Larry Nassar, 156 women vented at the once-respected doctor they say molested them. But there was just as much anger for the institutions where he worked, Michigan State University and USA Gymnastics, which are accused in lawsuits of ignoring two decades worth of opportunities to stop abuse.
"This could have stopped in 1997," one accuser said.
With the U.S. Olympic Committee and the Michigan Attorney General launching independent investigations, more details about who knew what and when could come out in the future.
For now, here's a look at some of the moments when women say they reported Nassar's behavior but he wasn't prevented from abusing again:
1997
Larissa Boyce was a 16-year-old gymnast taking part in a youth program at MSU when, she said, she and an anonymous 14-year-old girl told coach Kathie Klages they were uncomfortable with how Nassar put his hands inside them.
Klages, a close friend of Nassar, "interrogated" the girls and told them they misunderstood what Nassar had done, Boyce said at the sentencing hearing. Klages also relayed the complaint to Nassar, who then tried to explain it away at the next appointment, according to Boyce.
"I apologized to you," Boyce said to Nassar in court. "I had been defeated."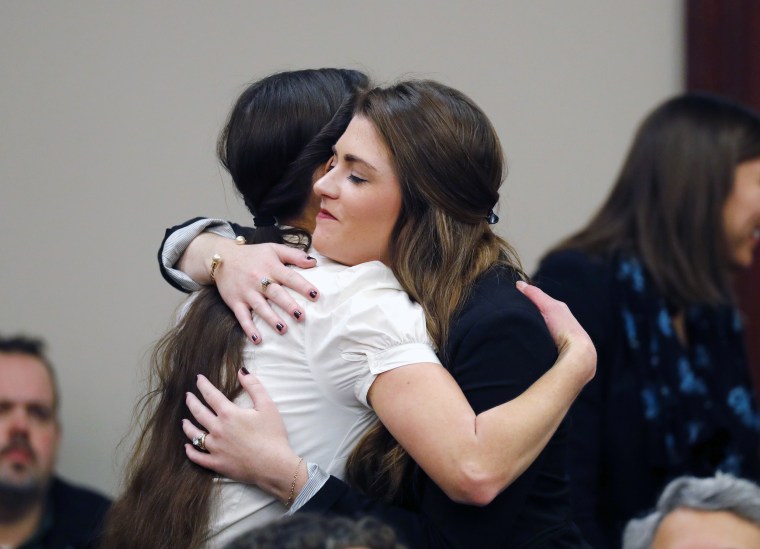 Klages, who was suspended and then allowed to retire last year for her passionate defense of the disgraced doctor, denied scuttling complaints.
"Had she ever received any information to cast doubt on the appropriateness of that trust in Dr. Nassar, she would have reacted immediately to protect her gymnasts," her lawyer at the time said. Her new attorney declined comment.
But Boyce said two decades of abuse could have been prevented if Klages had reported their complaint.
"I told somebody," Boyce said. "Instead of being protected, I was humiliated and told that I was the problem."
1999
MSU staff referred runner Christie Achenbach to Nassar for an injured hamstring. She was shocked when he rubbed her pelvic area and penetrated her with his fingers.
After calling her parents, she called her coach, Kelli Bert, she told the Detroit News. The coach, she said, told her he was a respected doctor and she should trust him.
Bert did not respond to a request for comment by NBC News but previously told the Detroit News that she did not recall the complaint and would have reported anything sexual.
2000
As a freshman softball player at MSU, Tiffany Lopez was referred to Nassar for an injury. As she told NBC News last year, she found intravaginal treatments uncomfortable and mentioned them to a trainer, Lianna Hadden, who expressed shock. Lopez then told another trainer, Destiny Teachnor-Hauk, who allegedly told her: "He's a world-renowned doctor. He treats elite athletes."
"She made me feel like I was crazy," Lopez said.
Teachnor Hauk and Hadden, who still work at MSU, did not respond to requests for comment.
2000-2001
MSU volleyball player Jennifer Rood Bedford said that her team referred to Nassar as "the crotch doc" because of his pelvic-centered technique.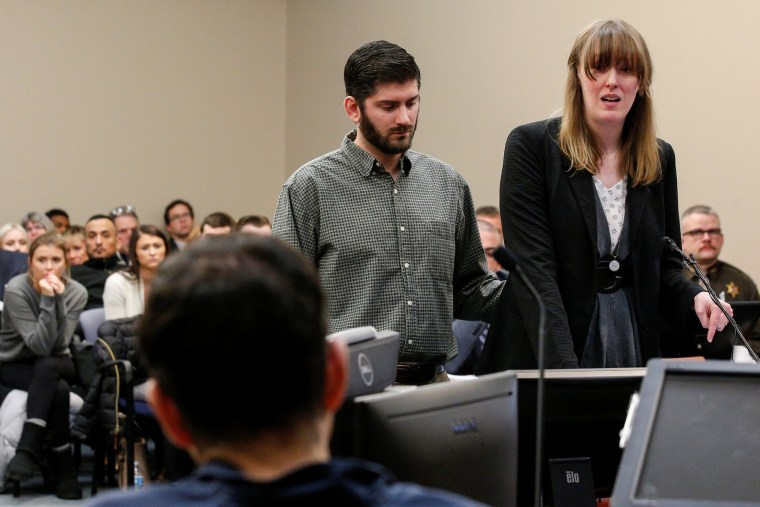 But she was still horrified after her first appointment with him — she only remembers it was before 2002 — and went to trainer Hadden to ask about making a general complaint a doctor making her uncomfortable.
She testified at the hearing that Hadden seemed to take her seriously but also told her that making a report would require an investigation and a statement that she believed what Nassar had done was unprofessional or criminal.
Bedford said she decided not to pursue it because she was too embarrassed to share details. "I didn't give her much to go on," she said. It's unknown if Hadden reported the possibility of abuse to anyone, even though Lopez had also complained to her about Nassar.
2004
Kyle Stephens, then 12, told her MSU psychologist that Nassar, a family friend, had been molesting her since she was six years old. Dr. Gary Stollak did not report her allegation to law enforcement or to university officials, Stephens said.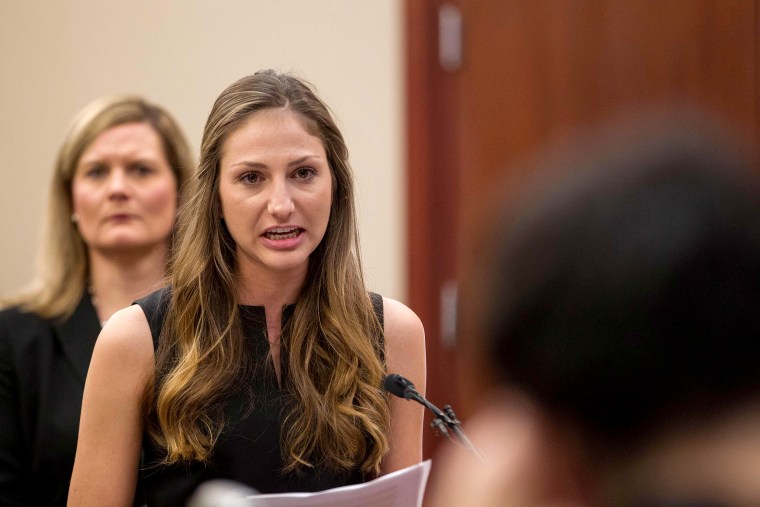 Instead, he arranged a meeting between Nassar and Stephens' parents where the doctor denied he abused her. As Stephens' said during the sentencing hearing, "My parents chose to believe Larry Nassar over me." As a result, her relationship with her mother and father was forever fractured, and she thinks her father's guilt over not believing her drove him to suicide in 2016.
At a preliminary hearing for the criminal case, Stollak said he had a stroke after retiring from MSU, suffers from memory loss and did not remember the matter.
That same year, Brianne Randall, then 17, went to Meridien Township Police and made a report against Nassar after an appointment. The police, she said during this week's hearing, spoke with Nassar and then set up an appointment between the doctor and her parents.
No charges were ever referred to prosecutors.
"Nassar's abuse went on for too long because nobody was listening," Randall said.
2014
After seeing Nassar for an old injury, MSU graduate Amanda Thomashow contacted an associate of Nassar in the sports medicine department, Dr. Jeffrey Kovan, to say she had been sexually assaulted. Kovan referred the matter to Kristine Moore, who was with MSU's Office of Institutional Equity and is now an assistant general counsel at the school.
Thomashow, who was signed up to take classes at MSU, met with Moore and an MSU police official. Documents obtained by NBC News show that Nassar admitted he had penetrated her with his hand but insisted it was medically necessary. Moore also interviewed four experts — all of whom had ties to Nassar — who said they didn't believe what he did was sexual.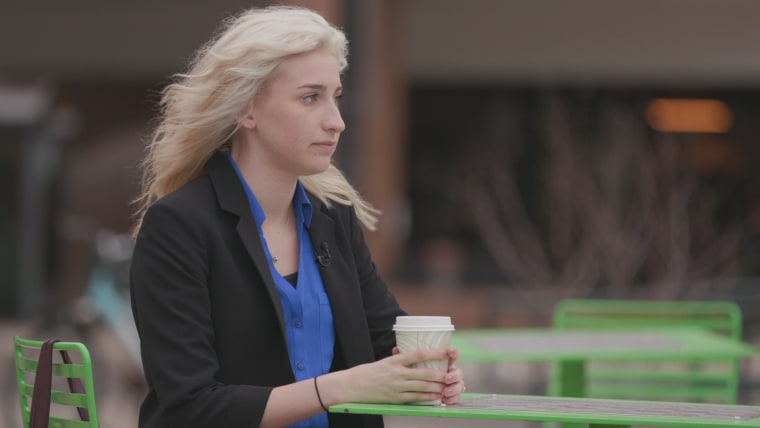 Moore concluded some of Nassar's behavior was troubling and that Thomashow suffered trauma but that what happened was not sexual. MSU police turned over their findings to prosecutors, who declined to press charges, and Nassar was welcomed back to full practice with some restrictions — though there is no evidence MSU enforced them.
MSU did not notify USA Gymnastics at any point that Nassar was under investigation.
"Michigan State University, the school I loved and trusted, had the audacity to tell me that I did not understand the difference between sexual assault and a medical procedure," Thomashow said at the hearing.
"The master manipulator took advantage of his title, he abused me and when I found the strength to talk about what happened, I was ignored and my voice was silenced."
2015
Maggie Nichols, a member of the U.S. national gymnastics team and a prospect for the 2016 Olympics, was overheard by her coach talking to another gymnast about Nassar's treatments. Alarmed, the coach reported it to officials at USA Gymnastics, the national governing body for the sport.
By USA Gymnastics' own admission, it did not inform law enforcement immediately. Instead it hired a private investigator who interviewed Nichols and then Olympic gold-medalist Aly Raisman, but the organization said it did not have "a reasonable suspicion" that a crime had occurred.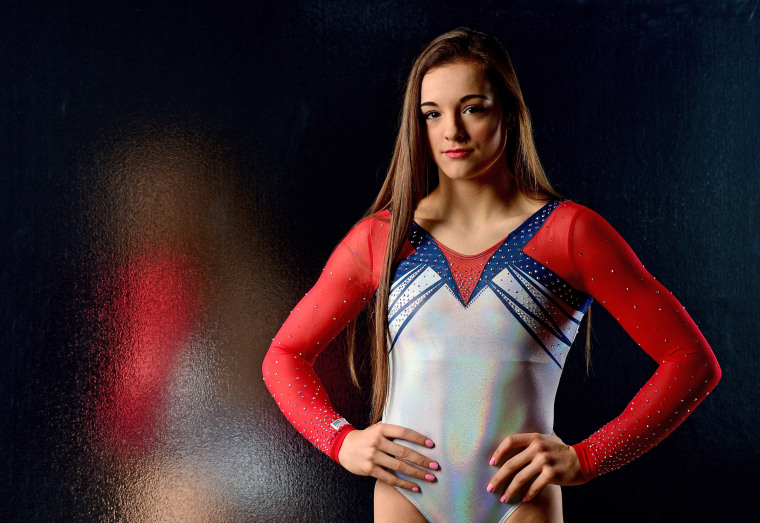 After interviewing McKayla Maroney, it finally contacted the FBI — five weeks after its initial report. USA Gymnastics quietly fired Nassar but did not notify MSU that he was under investigation and it never clarified his public explanation that he was retiring from his role as team physician.
According to MSU police logs, Nassar allegedly went on to abuse numerous young women from the time USA Gymnastics got the complaint to a September 2016 newspaper investigation that finally took him out of the examining room.
USA Gymnastics says it had interpreted the FBI's request that it do nothing to interfere with the investigation to mean that it should not alert a major educational institution where Nassar continued to see and, allegedly, molest patients until the scandal broke and he lost his university job.
MSU, meanwhile, has repeatedly cited the finding of the ex-prosecutor it hired to defend it against a pile of lawsuits.: "The evidence will show that no MSU official believed that Nassar committed sexual abuse prior to newspaper reports in the summer of 2016."
MSU President Lou Anna Simon resigned this week and pledged to cooperate with the AG's probe. USA Gymnastics is replacing three board members and new chief executive Kerry Perry pledged to make the safety of athletes the top priority and "create a culture that empowers and supports them."
Nassar, meanwhile, has been sentenced to 60 years in prison on child pornography charges and 40 to 175 years for molesting three girls, and is awaiting sentencing next week on three counts of criminal sexual conduct.