Flood alerts are in place for 21 million people across Southern California, including Los Angeles and San Diego, on Saturday. Flooding, downed trees and damaged power lines were likely into Saturday morning as the storm moves across the state, the National Weather Service said. 
The heaviest rain in the state was expected Saturday morning. So far, Topanga has received 9.36 inches of rain, while Pasadena and Los Angeles received 3.62 and 3.46 inches respectively. An additional 1 to 4 inches is possible. 
On the other side of the country, half a million homes and businesses also remained without power across southern Michigan on Friday night after an ice storm battered the region, and officials warned electricity might not return for many until Sunday.
In Michigan, about 500,000 utility customers were in the dark Friday, with outages reported from Lake Michigan to Lake Erie, according to poweroutage.us. Across much of the region, temperatures were expected to dip into the 20s overnight and plunge into the teens with the wind chill, the National Weather Service said.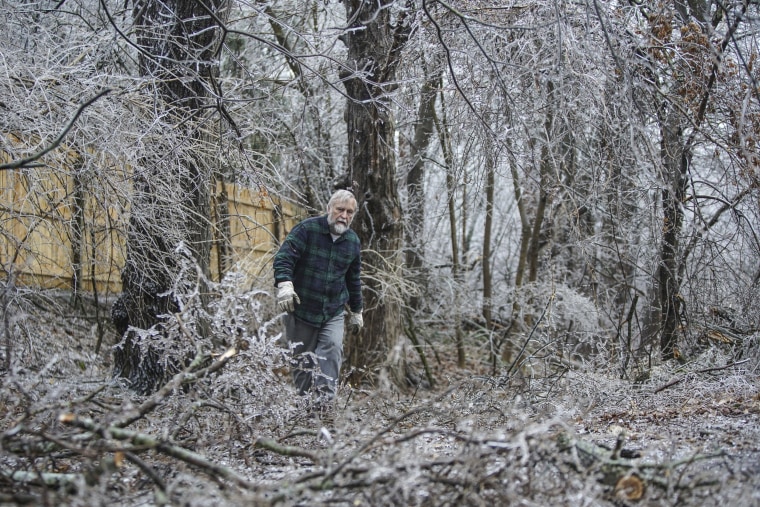 Almost 400,000 remained without power on Saturday evening, according to poweroutage.us.
Light snow was expected in much of the area, according to the agency.
In Lansing, city officials initiated a "code blue" cold weather response plan, with libraries, community centers and other buildings repurposed as warming centers. In Lenawee County, county officials also opened warming centers, and the Red Cross was operating a 24-hour shelter.
Officials told Kalamazoo residents to prevent frozen pipes by opening cabinets around their plumbing and running a "pencil-lead sized" stream of water from a faucet if their indoor temperature plummeted below 32 degrees.
In Jackson, south of Lansing, resident George Ellis was outside cooking on a gas-powered grill while a generator provided enough power to keep a refrigerator and a space heater running, NBC affiliate WILX of Lansing reported.  
When the station asked how he and his wife were doing, he responded with a single word: cold.
Garrick Rochow, chief executive of the state's largest utility, Consumers Energy, said Friday that the majority of the company's customers would see their power restored by Sunday. Rochow described the utility's response as "all hands on deck," saying that 540 crews were working across the state.
Detroit-based DTE Energy President Trevor Lauer estimated that 95% of that utility's homes and businesses would also have electricity by Sunday.
Speaking to reporters, Lauer described the major winter storm that walloped the area as "historic" and compared the quarter-inch of ice that fell on the electrical system to a "baby grand piano hanging on those wires."
Warmer weather is forecast to return this weekend, with temperatures expected to top 40 degrees Sunday.
San Francisco saw its lowest temperature on record Friday — 39 degrees, while parts of Northern California that rarely see snow reported several inches or more between Thursday and Friday, according to the weather service.
In Southern California, the first blizzard warning ever issued by the National Weather Service's San Diego office remained in effect until Saturday afternoon. The same warning was issued for the mountains of Los Angeles and Ventura counties for the first time since 1989, the weather service said.
Heavy snow and blizzard conditions will continue in parts of the Sierra Nevada and Transverse Ranges over Saturday. Snow reports so far include 45 inches in Soda Springs and 37 inches at Big Bear Lake. Additional snowfall accumulations of around one foot are likely, with more likely across the highest passes and peaks.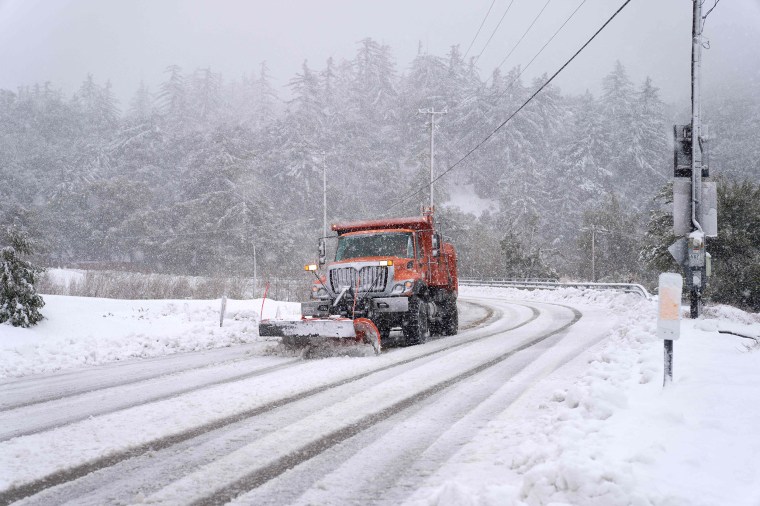 Over 113,000 people were without power in the state Saturday evening, according to poweroutage.us.
The storm is expected to arrive in the Central High Plains by Sunday night, the weather service said. This will put 4 million people at risk to receive severe weather, including in Oklahoma City, Abilene, Texas and Wichita, Kansas.
In this storm system, large hail and damaging winds will be the primary threats, with an isolated tornado also expected during the late afternoon and evening hours. 
As this system progresses east on Monday, there is a slight risk for severe weather across the Ohio Valley. This includes 5 million in the cities of Cincinnati, Louisville, and Lexington, Kentucky, with the primary concern of damaging wind gusts over 60 mph.