Halloween can be a deadly holiday for its core constituents, a new study finds.
The analysis of 42 years of National Highway Traffic Safety Administration car-versus-pedestrian fatality data discovered that children aged 4 to 8 face a tenfold increase in the risk of vehicular death while trick-or-treating on Halloween night compared with similar evenings on either side of Oct. 31.
"The combination of alcohol-fueled parties and many kids on the roadway at a time when it's getting dark earlier is a recipe for pedestrian harm," said Dr. John Staples, an assistant medical professor in the University of British Columbia who co-authored the study.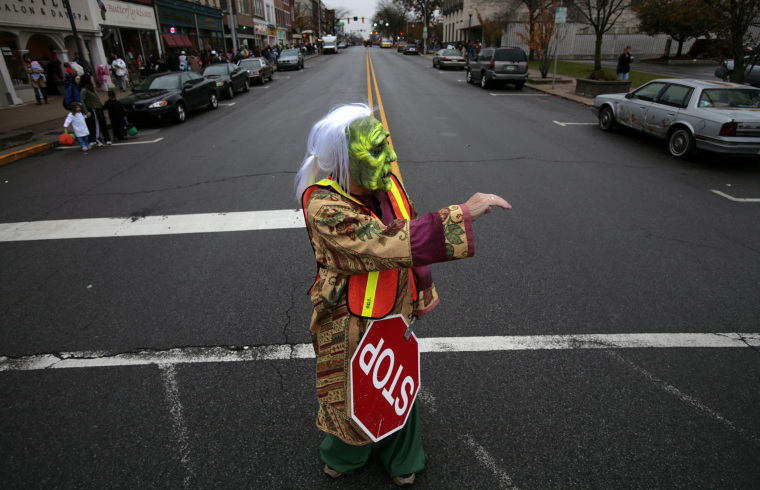 Fewer pedestrians are being killed than they were in 1975, when federal traffic safety officials began collecting their data. But the ratio between Halloween and similar nights on either side of the date is roughly the same, Staples said.
Researchers found that the risk of being killed by a vehicle for all ages increases by 43 percent on Oct. 31 compared to similar nights one week before or after Halloween — an increase that remained fairly constant throughout the span of the data, which covers 1975-2016, the doctor said.
"Lots of things have changed since 1975 — road design is safer, enforcement is better, vehicle design is better, there's less drunk driving," he said. "So the risk to pedestrians fell. We've been successful. But the ratio of fatalities on Halloween compared to control days in the same year has remained high."
The deadliest hour, researchers found, was 6 p.m.
Solutions include designing streets with pedestrians in mind, providing glowsticks and flashlights to trick-or-treaters, and even closing down high-traffic blocks to vehicles on Oct. 31, Staples said.
The Los Angeles Police Department was scheduled to announce its recommendations for a safer Halloween during a news conference Wednesday morning. According to an LAPD statement, its tips include "walking and looking both ways before crossing and choosing bright and reflective costumes that would stand out while trick or treating."
Staples added that drivers are the foremost ingredient to a safe Halloween.
"My message to drivers is don't drive dunk, high or distracted — and make sure you slow way down when you drive through pedestrian neighborhoods," he warned.