NEW YORK – It was one of the city's most memorable scenes from Superstorm Sandy: Nurses at a major medical center whisking newborns down several flights of stairs to safety after the hospital lost power amid punishing winds, rain and rising floodwaters.
As the storm whipped the city late last Oct. 29, more than 300 patients were evacuated from NYU's Langone Medical Center, including 20 babies from the neonatal and pediatric intensive care units as well as 22 newborns. The effort, which continued overnight, required staffers to carry some new mothers down flights of stairs using sleds, while nurses used hand-pumps to fill a few newborns' lungs with oxygen. Three women gave birth in the dark, hospital officials said, including one who delivered by the light of a glow stick. 
Today, these Sandy babies are thriving: taking their first steps, saying their first words and cutting their first teeth. NBC News visited with seven of these families to hear how their youngsters are faring -- and whether their dramatic entry into this world has left a mark on their budding characters.
Emma: 'Little trouper'
Emma Pimentel weighed less than two pounds when she was born, but you'd never know that from how she charges ahead with her walker as she prepares to take her first steps on her own, says her mom, Luz Martinez.
Emma was a three-week-old preemie on a ventilator in Langone's Neonatal Intensive Care Unit when Sandy struck. Nurses had to hand-pump oxygen into her lungs while she was evacuated uptown to Mount Sinai Hospital.
Her parents found her in a quiet corner at Mount Sinai, which was bustling with evacuees. "She was just laying there in the incubator like nothing was happening," said Martinez. "I saw her, and she gave me so much peace of mind."
Emma was later diagnosed with a congenital lung condition, in which part of her right upper lung fills up with too much air. It could cause heart and lung problems, but her physician, Dr. Robert Giusti of NYU, said it hasn't so far and that she is breathing comfortably. It's great news for her mom. "She's really catching up quick," Martinez said of the girl she calls her "little trouper."
"I tell her every day, 'Emma, you are here for a reason.'"
Stone: 'A lot of adventure to come'
Tamar Weinstock kept calm after the power was lost at the hospital. She joked with her husband and mother-in-law about the glow sticks being handed out as emergency light sources and marveled at the nurse calculating her contractions with pen, paper and a watch.
Weinstock wasn't sure if she would deliver at NYU or be evacuated first, but then she heard the staff in the hallway talking and someone said, "Alright, let's deliver this baby!"
Her son Stone emerged at 10:39 p.m. in the dark on Oct. 29. Within an hour, Weinstock was strapped to a sled and shuttled downstairs to an ambulance that took her family, with its newest member, to Mount Sinai.
"It was an adventure the way he came into the world," Weinstock said. "I just think that's probably a sign of a lot of adventure to come in our lives where Stone is involved."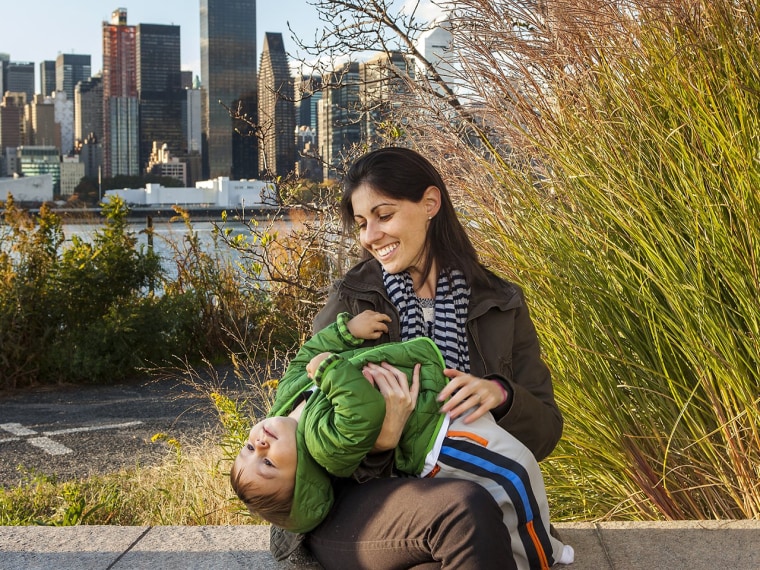 Micah: Extreme birth, and one 'active baby'
Julia Alemany was in labor when the hospital lost power on Oct. 29. Doctors gave her an epidural by the light of a cellphone, and then she was evacuated -- still having contractions -- down eight flights of stairs on a sled.
"Very slowly they belayed her down like a rock climber," said her husband, Doron Markus.
In the ambulance was their nurse, who stayed on even though she'd finished her shift. An EMT told stories to help Alemany stay calm. Their doctor, who'd been at home, caught up with them at Mount Sinai and delivered Micah the next day.
"It was a collective effort of a lot of people involved," said Alemany. As for Micah, he was initially a calm kid, "and we used to say, 'Oh, the calm after the storm,'" Alemany joked.
But things have changed. "He's a handful," she said. "We believe that because he was born in such extreme circumstances, he is a very active baby."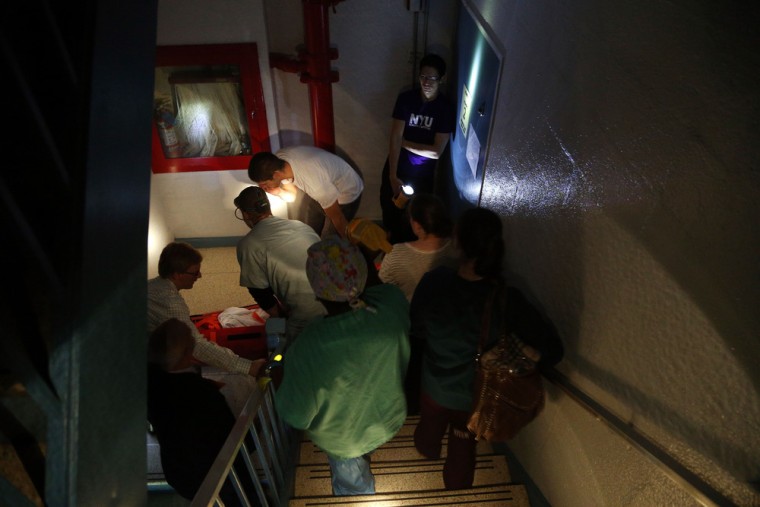 Alice: A star is born
Alice Rosenbaum came into the world on Oct. 28, the day before Sandy hit New York -- and just in time for her first TV interview and Twitter hashtag.
That's because her parents, Chuck Rosenbaum and Kim Landman, who could see the swirling floodwaters from their hospital room, were part of a small crowd who chose to stay at Langone rather than be evacuated.
They left the next morning, with Chuck emerging from the hospital holding Alice up in the air. Then began the media tour.
In a national interview at three days old, Alice was cooperative, with her eyes open and on the camera. "She seemed to be camera ready from the start," Chuck said.
The early signs of stardom have lingered.
"She's a bit of a diva," Kim joked. "She knows what she wants and she lets you know immediately."
Freda: Feisty and determined
Freda stood up and took off walking in early October, without ever having practiced with her parents, says her mom, Julz Donald.
It was the latest sign of a determined spirit that Donald and her husband Mark Potts think comes from Freda's birth on the day Sandy blew through New York.
"I think that some of the storm definitely rubbed off on her," said Donald. "She has definitely got a feisty kind of positive determination about her."
Donald said she gave birth to Freda before noon on Oct. 29, and the family was resting in their 13th floor hospital room as the storm began to ramp up.
When the lights went out, staff gave them a flashlight, and they hunkered down until they evacuated the building before dawn.
That flashlight is tucked in Freda's birth box, on standby for a future bedtime story for a little girl born on a big day.
William:'Laidback' in storm and life
William Donovan was born with a serious heart disease, coming off a ventilator in Langone's Congenital Cardiovascular Care Unit only two days before Sandy hit, says his dad, Jeremy.
On the night of the storm, Jeremy rushed to the hospital to check on his three-week-old son. He found William just as his 15th floor unit was evacuating and went along for the ambulance ride to Mount Sinai.
William, hooked up to an IV carried on a pole, was unfazed, his father said.
"He slept through the entire endeavor. He has had more stressful nights at the supermarket than he did in the hurricane," Jeremy said, laughing. "He was pretty laidback during the whole thing."
William returned to Langone not long after it fully re-opened in January for his second open heart surgery. He'll need a third and final operation around age 2, and is making good progress, said one of his NYU physicians, Dr. Achi Ludomirsky.
To date, William has maintained his cool persona – with one exception. "He really doesn't get worked up about anything," Jeremy said, "unless he's hungry."
Maria: 'Little munchkin' with a special name
After more than two days of on-and-off contractions, Daria Shurba and her husband Dmitry welcomed baby Maria into the world early on Oct. 29. Daria had been praying that her "little munchkin" would arrive before Sandy.
"Luckily, my daughter was smart enough to decide to come out right before the hurricane," she said, laughing.
But their ordeal didn't end there: After the blackout, they felt the building shake and the windows rumble as Sandy passed over. They joined other patients in a hallway, sitting in chairs and holding flashlights.
The Shurbas eventually evacuated to Lenox Hill Hospital. As they left there a day later, Dmitry urged Daria to see if she could add Sandra as a middle name to the birth certificate that they'd already filed.
"This is something that she should be proud of," Daria said. "That she is one of those hurricane babies and she did great."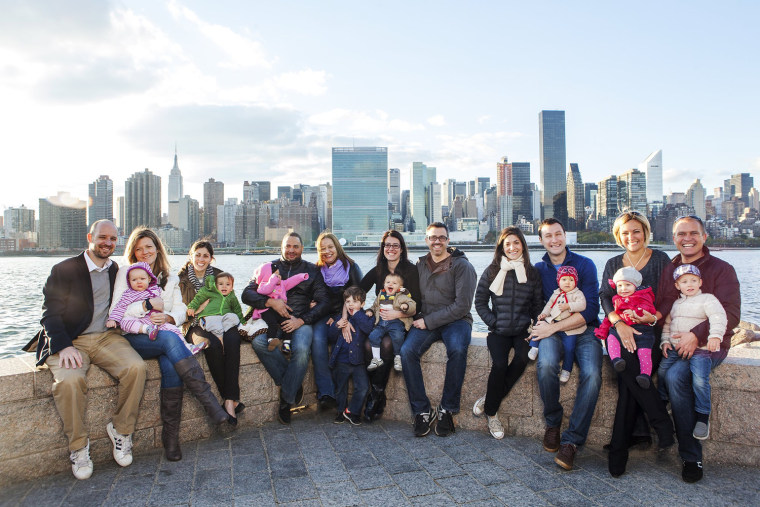 Related: