Despite outrage from the public, some experts and activists believe the Cincinnati Zoo was right to fatally shoot an endangered gorilla after a toddler fell into the animal's enclosure.
All accredited zoos, such as Cincinnati's, have protocols in place for when an animal threatens staff or visitors. In this case, the zoo had to decide whether to tranquilize 17-year-old Harambe, a 450-pound western lowland gorilla, or to use greater force, said Ed Hansen, CEO of the American Association of Zoo Keepers.
A lethal shot comes with the risk of accidentally shooting the person you're trying to save, but a tranquilizer dart could have taken up to 30 minutes to work and comes with other risks, Hansen said.
"The tranquilizer possibly could have worked, but the key term there is 'possibly.' And if you were to fire a dart at an animal, he could react violently to the first opportunity that presents itself, and that would have been that small child," Hansen told NBC News. "Unfortunately for the gorilla, the only really positive way to ensure the safety of the child was to dispatch the lethal force."
The Dangerous Animal Response Team first tried to coax Harambe out of the exhibit, according to zoo director Thane Maynard, but the team was only able to cajole the female gorillas away from the three-year-old, who slipped through the railing and plummeted more than 10 feet into the exhibit's moat.
Harambe alternated between gently pawing the boy and dragging him. The team resorted to killing him.
"We stand by our decision," Maynard said. "We'd make the same decision today."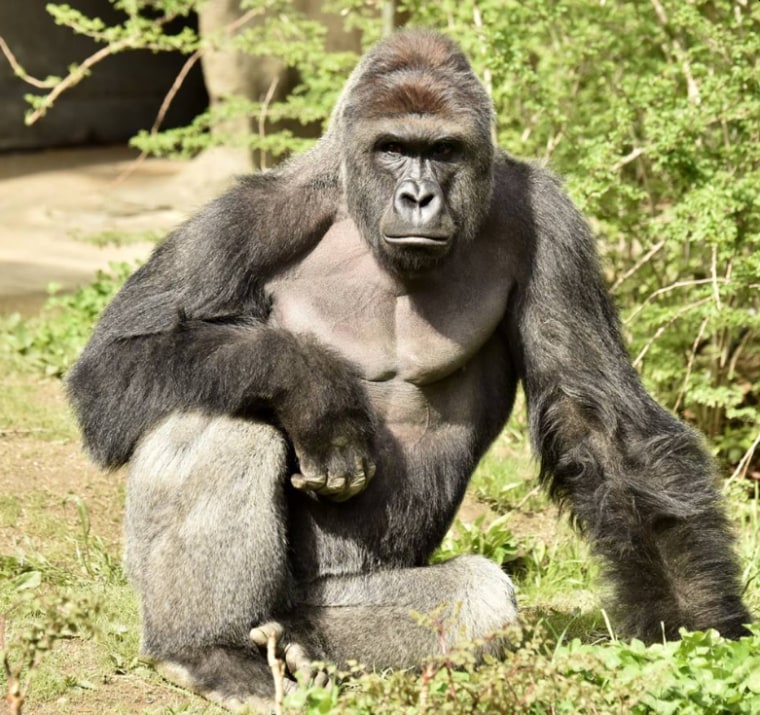 Maynard said Monday that the Cincinnati Zoo had received an outpouring of support from colleagues around the world — including famed primatologist Jane Goodall.
On Tuesday, the Jane Goodall Institute published the email Goodall had sent to Maynard, which read in part: "Dear Thane, I feel so sorry for you, having to try to defend something which you may well disapprove of ... it is a devastating loss to the zoo, and to the gorillas."
Critics felt the zoo should have done more before killing Harambe, one of fewer than 175,000 western lowland gorillas worldwide. And many urged authorities to hold the boy's parents criminally responsible: An online petition called "Justice for Harambe" had more than 330,000 signatures Tuesday.
"Once again, an innocent animal pays the ultimate price for human stupidity," wrote a commenter on the Cincinnati Zoo's Facebook page, where the zoo posted that it was "heartbroken" over Harambe's death.
The boy, who was not identified, was briefly hospitalized and is recovering, his family said. The mother, an administrator at a local daycare, has not been charged.
Cincinnati police are investigating whether criminal charges should be filed, Hamilton County prosecutor Joseph Deters said Tuesday.
Related: Killed Gorilla Seem to Protect Child Who Fell in Enclosure: Witness
It's not unprecedented for children to survive falling into a gorilla enclosure without the gorilla being put down. In 1986, a 5-year-old in England was knocked unconscious after he fell into the exhibit at the Jersey Zoo. When he woke, his cries startled the gorilla, and zookeepers were able to move in and save him.
Then in 1996, a 3-year-old tumbled into the gorilla enclosure at Chicago's Brookfield Zoo, also losing consciousness. A female gorilla named Binti Jua picked him up and brought him directly to the exhibit's door, right over to zookeepers.
The Cincinnati incident came barely a month after another zoo was pummeled by critics for its handling of a face-to-face encounter between a human and one of its animals.
In April, a zoo keeper in Palm Beach, Florida, was attacked by a Malayan tiger, and the zoo chose to tranquilize the endangered cat. Keeper Stacey Konwiser, 38, was airlifted in critical condition to a hospital, where she later died of her injuries.
Related: Palm Beach Zoo Under Fire for Tranquilizing Tiger in Fatal Mauling
While gorillas aren't carnivores like tigers are, Hansen of the American Association of Zoo Keepers said Harambe posed just as much of a threat of injuring the boy, either on purpose or inadvertently.
"It's just the nature of the species. All animals in the zoo are wild animals, and their behaviors are instinctive," he said.
Harambe's former caretaker, Jerry Stones, who is facilities director at Gladys Porter Zoo in Brownsville, Texas, said he didn't think the gorilla intended to kill the child. But he agreed that Harambe's actions would have been unpredictable.
"All of a sudden, he had something in his home that was something he had never had to deal with before. Was it something dangerous, was it something to play with, what was this thing?" Stones, who met Harambe when he was just 21 days old, told NBC News. "He's so big that he could accidentally hurt that child, even if he didn't mean to. Consequently, he had to pay the price, no matter how fair or unfair everybody believes it is."
Stones said Harambe's death was "just like losing a member of your family," but he didn't second-guess the zoo's decision.
The incident is the first time anyone has fallen through the barrier at Cincinnati Zoo's Gorilla World since the exhibit opened in 1978, Maynard said.
Animal rights group PETA criticized the zoo for not having a stronger barrier and argued wild animals shouldn't be taken out of their natural habitats to begin with.
"Even under the 'best' circumstances, captivity is never acceptable for gorillas or other primates, and in cases like this, it's even deadly," PETA said in a statement. "This tragedy is exactly why PETA urges families to stay away from any facility that displays animals as sideshows for humans to gawk at."