The investment bank Morgan Stanley said Thursday that it had severed its ties with former Rep. Harold Ford Jr., a managing director at the bank, citing an accusation of misconduct.
Ford, who is also a political commentator on MSNBC, forcefully denied the accusation and threatened to sue both the bank and the woman who accused him, identified in his statement as a journalist.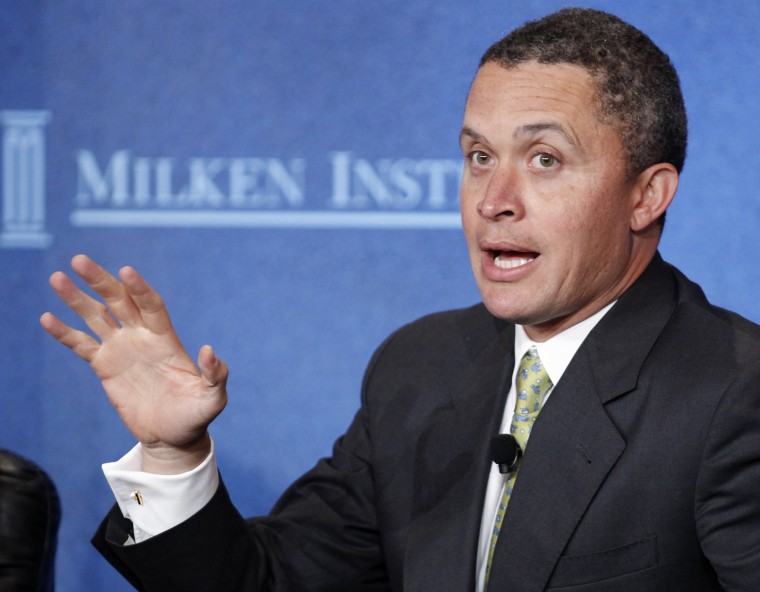 The Huffington Post, which first reported the allegations, said the journalist accused Ford of forcibly grabbing her one evening after a business meeting, and then continuing to email her after the incident, leading her to ask that the contacts stop. NBC News has not confirmed the details of the accusation nor spoken to the accuser, who was not identified in the Huffington Post.
MSNBC said Ford would not be a guest on its programs while the accusation was under investigation.
Morgan Stanley released a statement saying it fired Ford after an investigation of the complaint.
"He has been terminated for conduct inconsistent with our values and in violation of our policies," Morgan Stanley said in a statement sent to NBC News. The statement did not disclose details of the allegation.
Ford said the incident "simply did not happen."
"I have never forcibly grabbed any woman or man in my life," he said, in a statement released by his spokesman, Davidson Goldin. "Having drinks and dinner for work is part of my job, and all of my outreach to the news reporter making these false allegations was professional and at the direction of my firm for business purposes."
He added: "I support and have tremendous respect for the brave women now speaking out in this important national dialogue. False claims like this undermine the real silence breakers. I will now be bringing legal action against the reporter who has made these false claims about me as well as Morgan Stanley for improper termination."
John Singer, a lawyer for Ford, said in a statement: "Morgan Stanley has still not told Harold directly of his termination, and unlike every other circumstance I've been in, the company has refused to provide me with a reason. This all demonstrates how this was a matter of convenience during a hyper-sensitive time and not based on real facts."
Ford, formerly a Democratic congressman representing the Memphis area of Tennessee, frequently appears on MSNBC"s "Morning Joe," among other shows. A spokesperson for the cable network issued the following statement:
"We are looking into the report about Harold Ford Jr. During that time he won't be a guest on MSNBC."