Harrison Ford was "battered but OK" Thursday after his vintage World War II training plane lost engine power and crash-landed on a California golf course, authorities and family members said.
The 72-year-old actor, who was conscious and breathing when rescue crews reached him, was stabilized and taken to a hospital, where he was in fair to moderate condition, authorities said. Sources familiar with the incident told NBC News that Ford slammed into the plane's console and control stick and that he underwent surgery Thursday night. He suffered a broken arm and a nasty gash to his head, among other injuries, they said.
Ben Ford, the well-known restaurateur and the actor's son, said on Twitter that his dad was "battered, but OK" after the crash, which happened about 2:20 p.m. (5:20 p.m. ET).
"Harrison was flying a WW2 vintage plane today which had engine trouble upon take off. He had no other choice but to make an emergency landing, which he did safely," Ford's publicist, Ina Treciokas, told NBC News by email Thursday night.
"He was banged up and is in the hospital receiving medical care," Treciokas said. "The injuries sustained are not life threatening, and he is expected to make a full recovery."
An eyewitness, Howard Teba, an employee at Penmar Golf Course, said he put a blanket under Ford's hip.
"There was blood all over his face," Teba said. "Two very fine doctors were treating him, taking good care of him."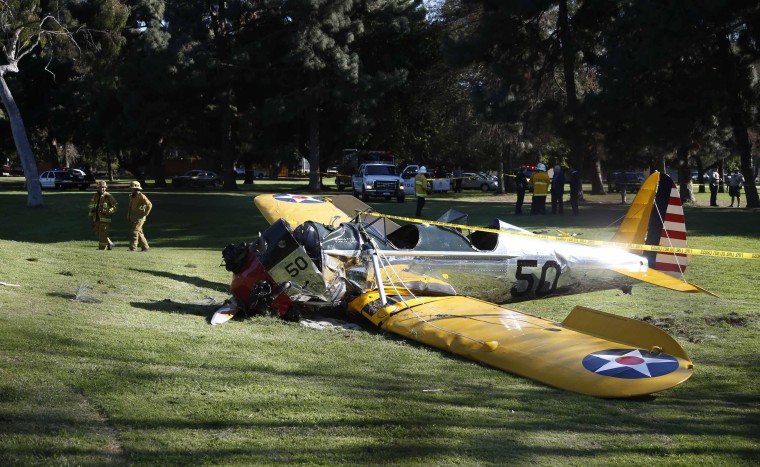 The plane, a single-engine Ryan Aeronautical ST3KR, crashed on the golf course shortly after takeoff from Santa Monica Airport, said Patrick Jones, an investigator for the National Transportation Safety Board. The pilot reported a loss of engine power, clipped the top of a tree and was trying to return to the airport, Jones said.
"I'm sure the pilot was glad there was a golf course here," he said.
"One thing you can say about the city planners of Santa Monica way back then when they put in a golf course: It was a wise choice," said Joe Justice, president of Justice Aviation, a flight school in Santa Monica. "There are many airports that do have golf courses nearby ... and many pilots are grateful."
An avid flyer of both planes and helicopters, Ford was in a bad crash of a Bell chopper in 1999 Santa Clara, California. In 2008, he told National Geographic, "Well, there was a mechanical failure while we were practicing power recovery autorotations. It was more or less a hard landing. Luckily, I was with another aviation professional and neither of us was hurt — and both of us are still flying."
The Federal Aviation Administration is joining the NTSB investigation, Jones said. He said the investigation could take as long as a year because the plane was a vintage model that didn't have a "black box" data recorder.
SOCIAL