Before you could pilot a bomber or a transport plane for the Army in World War II, you had to learn the basics of flight. And if you showed up as a cadet in 1942, you might very well have trained on what was known as the PT-22.
Harrison Ford was flying a vintage model of such a plane, known commercially as the Ryan Aeronautical ST3KR, when he lost engine power on Thursday and ditched on a golf course in Los Angeles, resulting in a broken arm and a gash to the head.
Even crashed and crumpled, the actor's plane had the unmistakable markings of its illustrious past — gleaming aluminum body, yellow markings on the wings to indicate a trainee, the white star in a blue circle signifying the Army Air Forces.
"There's just an allure. It's just pretty," said Jeff Underwood, the historian of the National Museum of the U.S. Air Force, in Dayton, Ohio. "It just looks futuristic. Even though it's 70 years old today."
In the early 1940s, faced with the task of building a world-class air force from almost nothing, the Army bought about 1,000 of the PT-22 to use as one of its training models.
The Army liked the plane's updated Kinner radial engine, which it believed would stand the rigors of training better than previous designs, according to a reference guide published by Jane's, a British company that specializes in military and aviation information.
RELATED: Harrison Ford 'Saved Several Lives' by Avoiding Suburbs in Plane Crash
Ford's plane was built in 1942, according to Federal Aviation Administration records — the year he was born. It was certified as airworthy through October of this year.
It was so well-kept that Patrick Jones, an investigator with the National Transportation Safety Board, paid the plane a compliment on Friday as he briefed reporters on the crash: "It was restored. It was an award-winning restoral."
The onset of World War II coincided with the Army's move from biplanes, with their boxy look and double-deck set of wings, to monoplanes like the PT-22, which could fly faster and were more durable and efficient.
Training on one was not a simple matter. It took eight to nine months on the PT-22, for those who didn't wash out, and that was before the Army would let a young airman near a specialized craft like a bomber.
It was far more complicated than training as a civilian aviator. "They had to take all kinds of tests," Underwood said. "They had to learn how the engines worked. They had to learn everything about the airplane before they could touch the controls."
"If you entered the Army in 1942," he said, "you might not get to Europe or the Pacific until 1944."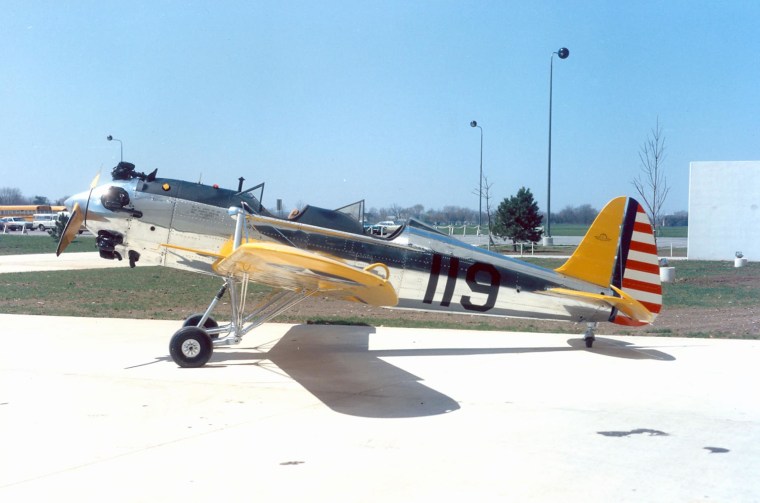 After the allied victory, some of the Army Air Forces' PT-22s were sent to the smelter, to be used for scrap. Others, like the one Ford was flying on Thursday, were sold to the public, to recoup some of the costs of the war.
Sportsmen liked to buy them, Underwood said, though they were expensive to maintain. Taking off and landing over and over causes strain on any aircraft, especially when the people doing the flying are inexperienced.
RELATED: Ford Is Meticulous in Flight Preparation, Aviator Says
They are even more expensive to keep up today. The government requires regular inspections, and just keeping the engine up requires skilled mechanics and hard-to-find parts. They must be carefully stored, too.
"This is too nice an airplane," Underwood said. "It's like having a Ferrari. You don't just park your Ferrari on the street."