The Washington women whose SUV accelerated off a California cliff last month, killing them and at least three of their children, were under investigation by authorities concerned that the children may have been abused. It wasn't the first time such concerns had been raised.
The Washington State Department of Social and Health Services, or DSHS, said it unsuccessfully tried to contact the family of Jennifer Jean Hart and Sarah Margaret Hart, both 38, on March 26, the same day authorities were alerted to the wreckage of the crash in Mendocino County, on the north coast of California.
Norah West, a spokeswoman for DSHS, told NBC News that Child Protective Services had identified the three children who were killed — Markis, 19, and Jeremiah and Abigail, both 14 — as potential victims of alleged abuse or neglect.
Three other children — Hannah, 16, Devonte, 15, and Sierra, 12 — are presumed to be dead but are still the subject of an active search, California authorities said late Monday afternoon. They have said that the crash may have been intentional, based on the absence of skid marks and other indicators.
DSHS unsuccessfully tried two other times to get in touch with the family before the Clark County Sheriff's Office obtained a search warrant for the three-bedroom split-level house on NW 389th Street in Woodland, about 25 miles north of Portland, Oregon.
Clark County authorities said the search warrant sought information that not only could help explain the crash — including any possible suicide notes — but also could help investigators find the missing children. According to the search warrant, deputies took an iPhone and an Apple MacBook laptop computer from the home.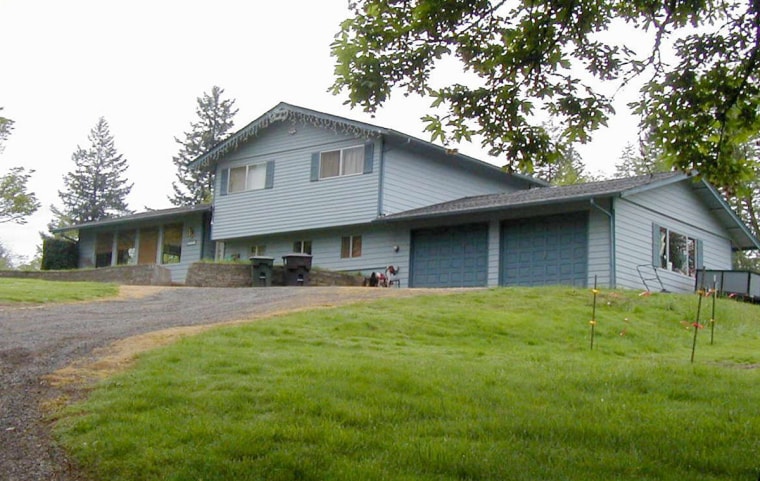 Bruce DeKalb, a neighbor, called Child Protective Services about the family before the crash. He said he and his wife, Dana, often saw the children and were alarmed by how thin they were.
The DeKalbs told NBC affiliate KGW of Portland that Devonte would come to their door to ask for food, claiming that his mothers didn't feed him and that they would withhold food as punishment.
"They were all small," Bruce DeKalb told the station. "The one girl, who was 12, looked like she was 7. Both of her teeth were missing, front teeth."
The DeKalbs said that another time, one of the girls showed up in the middle of the night trying to run away from home.
"She said that she wanted us to take her to Seattle and [her parents] weren't treating her right and don't make her go back," Bruce DeKalb told KGW. He added that the Harts "told us what we wanted to hear, life went on for another eight months, and here we are today."
A friend of the family, Max Ribner, disputed such characterizations, saying, "Sarah and Jen were the most loving, caring two moms that we could have ever seen on this Earth, caring for six beautiful adopted children."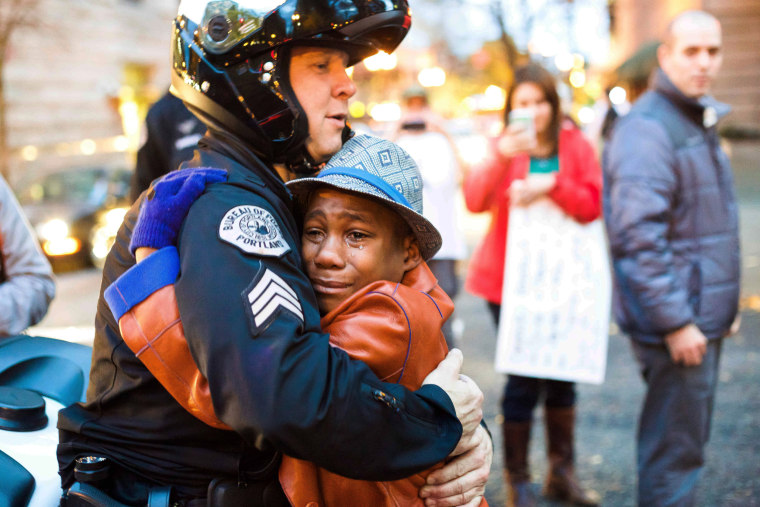 The case has drawn international attention, partly because Devonte, who is black, was photographed in 2014 crying in the arms of a white police officer during a protest in Oregon over the police shooting of Michael Brown, an unarmed black teenager, in Ferguson, Missouri. The image went viral.
Portland police Sgt. Bret Barnum, the officer photographed hugging Devonte, who was then 12 years old, said in a statement that he was deeply saddened by the crash but that he was "uncomfortable speaking about the Hart family tragedy until the investigation is complete."
The investigation now goes back to December 2010, when police in Alexandria, Minnesota, where the Hart family was then living, investigated a report from a school that one of the girls, who was then 6 years old, had bruises on her chest and her back. According to a criminal complaint, a teacher told officers that the girl reported that "Mom hit me."
According to the complaint, Sarah Hart accepted responsibility for the bruises, telling officers that she bent the girl over the bathtub to spank her. She told officers that she and her wife almost never resorted to corporal punishment but that she "let her anger get out of control" over the girl's behavior.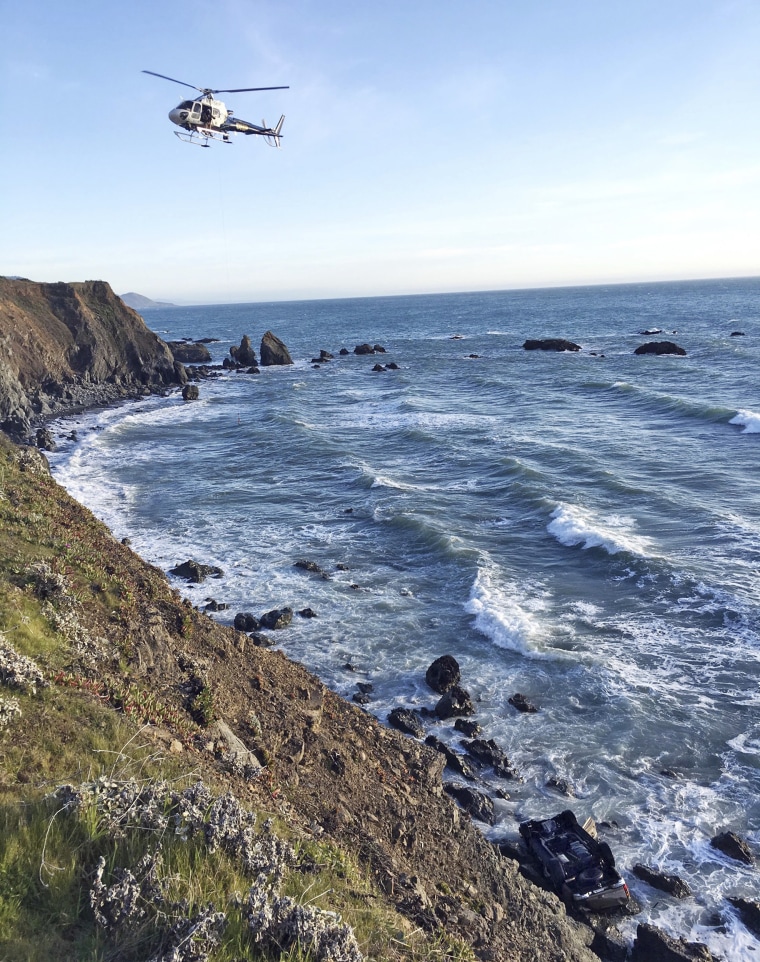 Hart pleaded guilty in early 2011 to misdemeanor domestic assault and served a year's probation. Neither Hart appears to have any other criminal record.
Property records show that the Harts bought the Washington house last May. Dana DeKalb, their neighbor, told KGW that they weren't especially neighborly.
Even though the family had been in the NW 389th Street home for almost a year, Dana DeKalb met Jennifer Hart only twice, and "she wasn't friendly at all," she told KGW.
When she heard about the crash, DeKalb said, "my gut was, it was them."