The search continued Wednesday for three missing children of the family whose car plunged off a California cliff last week, as investigators came closer to piecing together a timeline of their final days.
The California Highway Patrol released a surveillance image from a Safeway in Fort Bragg taken March 25 — a day before the Hart family's SUV was found crashed at the bottom of a rocky shoreline about 15 miles to the north.
Authorities have said no skid marks were found at the top of the dirt turnout where the GMC Yukon pulled off, and believe the crash may have been intentional.
The surveillance photo shows mom Jennifer Hart, 38, purchasing bananas and other groceries. It's unclear where her wife, Sarah, also 38, and their six adopted children were at the time.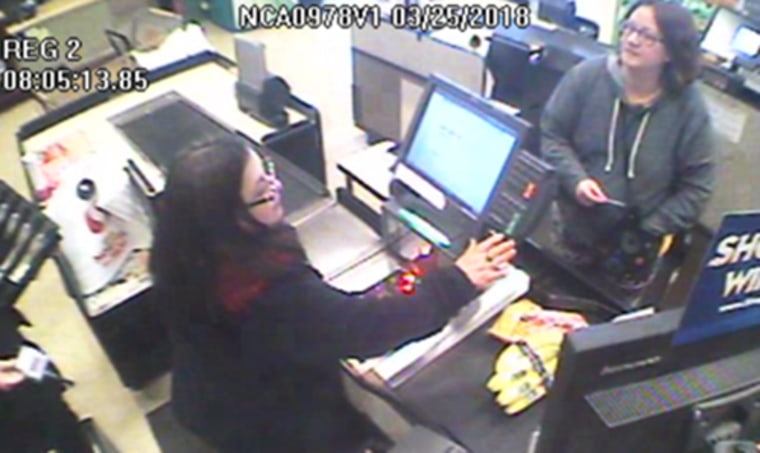 The CHP said in a news release it was analyzing the store's footage with FBI agents in an attempt to enhance the blurry viewing quality.
The investigation has included interviewing neighbors and searching the family's home in Woodland, Washington, about 25 miles north of Portland, Oregon.
Based on the surveillance footage as well as cellphone pings, police have come up with the family's travel itinerary: They were south of Portland at around 8:15 a.m. local time on March 24, then continued moving south along a coastal route, crossing into Northern California. By 8 p.m., they were in the Fort Bragg area.
They remained there until about 9 p.m. the next day. At some point, they decided to venture north along Highway 1. And on March 26, just after 3:30 p.m., a passerby called police about an upside down SUV that had fallen 70 feet to the embankment below.
Crews arrived at the scene and retrieved the bodies of Jennifer and Sarah, as well as three of their children, Markis, 19, Jeremiah, 14, and Abigail, 14.
Three other children — Devonte, 15, Hannah, 16, and Sierra, 12 — have not been found but are tentatively presumed dead. While more than 70 members of a search crew set off Wednesday morning to find evidence of the missing siblings near the crash site, police have not ruled out that the children could be elsewhere.
"As of this date it is still unclear if the missing children were inside the vehicle during the incident," the CHP said.
Devonte gained national attention in 2014 in a photograph of him hugging a white police officer.
Investigators, meanwhile, have provided no motive for why the Harts would have intentionally driven off the cliff.
The CHP on Sunday confirmed reports that the car's speedometer was at 90 mph at the time of the crash, but warned it could have moved during impact or was accidentally manipulated during the investigation.
Just before leaving Washington, the parents were also under investigation by authorities concerned that the children were potential victims of alleged abuse or neglect.