Harvard Law School's verdict this week to open its admissions process could set off a national trend.
After announcing Wednesday that they will accept the Graduate Record Examinations (GRE) as well as the Law School Admissions Test (LSAT), the Ivy league school could be setting a different kind of legal precedent — one that could ostensibly change the face of law school admissions.
While the illustrious institution was not the first to experiment with this program — the University of Arizona started accepting the GRE last year — the school's firepower could start a national trend.
"When Harvard sneezes, everyone gets a cold," said Christopher Loss, an associate professor of public policy and higher education at Vanderbilt University.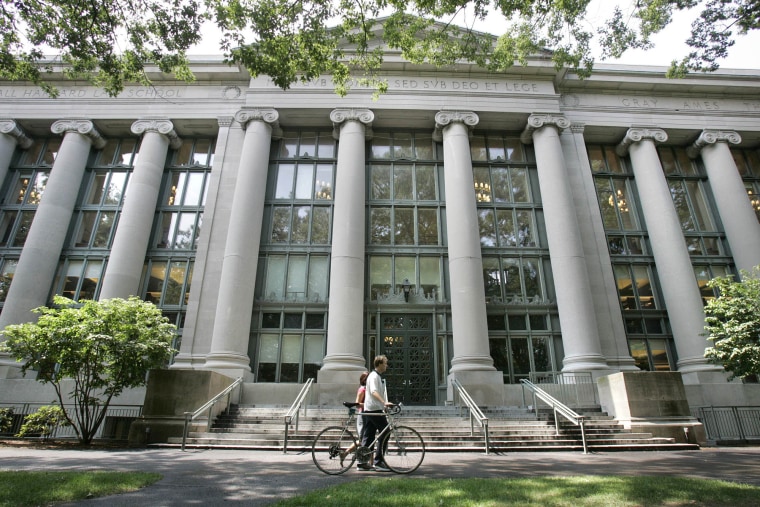 "This could give other law schools a bit more comfort to experiment with different formats for admission," he said.
The American Bar Association (ABA) is also considering if this is something that could be rolled out across the board.
The accreditation arm of the ABA will meet this weekend to consider a revision in the standard that would allow the GRE and potentially other tests to become more popular as an admissions tool.
The change could come as a breath of fresh air to students who can use a more universal exam to weigh their post-graduate plans.
"This would be great if it happens," said Allroy Stephens, 24, who is considering several graduate school options. "If I can take one exam, instead of spending all my savings on several... it's a lifesaver."
Harvard will start accepting the GRE this fall under a new pilot program to attract a broader array of candidates who may not find it fiscally feasible to pay for several graduate school exams.
"There has been a significant decline in law students nationally, and the big issue has been a question of cost"
The new move is "part of a wider strategy at Harvard Law School to expand access to legal education for students in the United States and internationally," said the school in a statement. "The Law School's decision to accept the GRE will alleviate the financial burden on applicants who would otherwise be required to prepare and pay for an additional test."
Many students mulling over graduate school take the GRE, which is offered every day, and applicable to most post-college programs. But law schools have traditionally required the LSAT, which runs only a few times a year and is structured and priced different from the GRE.
A prospective law student applicant can expect to pay at least $845 for testing and applications, which doesn't include other possible administrative fees, extra school fees, costs for traveling to interviews, or test prep materials/courses, according to the AccessLex Center for Legal Educational Excellence.
Test preparation courses and travel can run in the thousands.
Discrepancies in resources determining access to education is well documented, say experts on higher education
"There are many barriers to enrollment and success for students from low-income families and students from other groups that are underrepresented in higher education," said Laura Perna, a professor for the Graduate School of Higher Education at the University of Pennsylvania.
"Test fees and the costs of test preparation courses are often among these barriers — as has been documented more frequently at the undergraduate level," she said. "Allowing students more different opportunities to demonstrate their readiness may reduce the barriers to entry for students and help a university increase the diversity of the application pool."
Individuals with the means to costly preparation courses and the ability to retake exams several times have a different jump from those who only have one shot, said Robert Schaeffer, public education director at the National Center for Fair & Open Testing.
For this reason a number of undergraduate institutions have already offered test opt outs, he said.
"Over 925 accredited bachelor degree granting schools are test optional. Which means that all or many applicants will be considered without regard to any test," he said. "Instead the schools look at the students entire portfolio, including academic record, rigor of courses taken, in addition to non-academic factors like leadership skills and family background," he said.
And research shows it has produced a more "diverse range of applicants when it comes to race, geography, and academic interests," Schaeffer said.
This could be something that may be translated on the graduate level in a few situations, he added.
Law school has been traditionally been very rigid with application standards.
But there has been a steady decline in the number of people taking the LSAT in recent years, according to the Law School Admissions Counsel. Recent years have seen as much as a 13 percent decline in the number of LSATs administered.
This could be another motivation for Harvard, said Loss. "There has been a significant decline in law students nationally, and the big issue has been a question of cost," he said.
"This program was rolled out to increase applications by decreasing the burden of entry," he said.
"This program gives potential students another avenue of entry once limited to the LSAT. Including the GRE increases the likelihood of students applying to law school," he said.