A storm-battered Texas city has nixed part of a Hurricane Harvey repair grant application that required residents to vow in writing that they would not boycott Israel.
The Dickinson City Council voted on Tuesday to remove that provision of the Dickinson Harvey Relief Fund application, according to city management assistant Bryan Milward.
Dickinson, a Houston suburb that was ravaged by Harvey, had initially included the requirement because of a Texas law that blocks state agencies from contracting with or investing in companies that boycott Israel.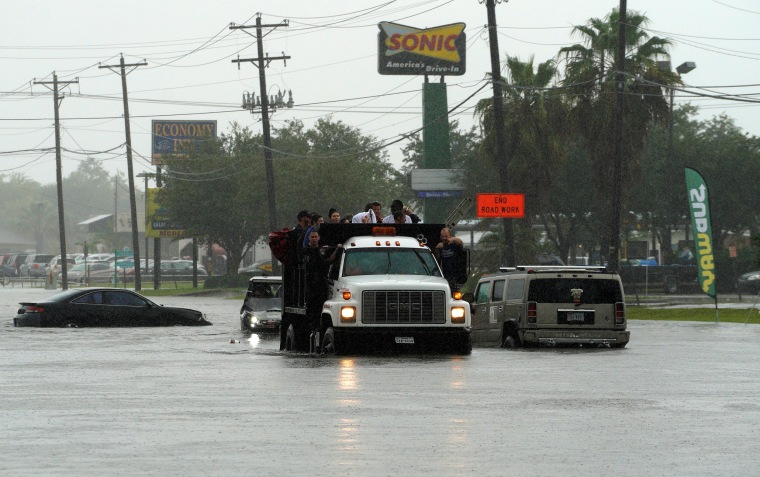 Milward said Dickinson-based businesses will still have to pledge to not boycott the Jewish state, in keeping with the state law. But individuals, like homeowners trying to rebuild in the wake of the storm, will be exempt from that requirement.
Gov. Gregg Abbott signed statewide anti-boycott legislation in May, declaring that "anti-Israel policies are anti-Texas policies." The so-called Anti-BDS (Boycott, Divestments, and Sanctions) law took effect on Sept. 1.
The American Civil Liberties Union had sharply criticized the anti-BDS provision of the relief application as a violation of free speech. A spokesman for the ACLU of Texas did not immediately return a request for comment Thursday.
In the last decade, the BDS movement has sought to punish Israel economically to protest the treatment of Palestinians. Its supporters lobby corporations and other institutions to cut business ties with the country. Critics say the movement threatens to delegitimize Israel.
The ACLU has pushed back on anti-BDS moves, filing a lawsuit earlier this month challenging anti-BDS legislation in Kansas.
"The Supreme Court ruled decades ago that political boycotts are protected by the First Amendment," the ACLU said in its statement on the Dickinson application, "and other decisions have established that the government may not require individuals to sign a certification regarding their political expression in order to obtain employment, contracts, or other benefits."