Mimi Haley, a former production assistant, broke down sobbing Monday as she described for jurors at Harvey Weinstein's trial how the former film mogul pushed her down and sexually assaulted her.
"I tried to reject him, but he insisted," said Haley, who is one of two plaintiffs whose allegations led to criminal charges against Weinstein. "Every time I tried to get off the bed, he pushed me back and held me down."
Haley told the jurors that she said "no, no, no" as Weinstein forced himself on her in his New York City apartment in 2006, adding that she told the disgraced producer she was menstruating in an attempt to get him to stop.
When she realized she was being assaulted, she said, her mind raced through different options: "I thought if I scream rape, will someone hear me? If I kick harder, will I be able to get away from him?"
Weinstein, 67, is charged with forcibly performing oral sex on Haley and raping another woman in a Manhattan hotel room in 2013.
He also faces a sex crimes case in Los Angeles, where he is charged with raping one woman and sexually assaulting another in separate incidents on two consecutive days in 2013.
Weinstein has denied all allegations of nonconsensual sex. He has pleaded not guilty in the trial being held in New York and has not formally entered a plea in the California case.
Haley, who previously spelled her last name as Haleyi, testified Monday about an alleged second sexual encounter a few weeks later in a Manhattan hotel room, where she "went numb" as Weinstein "took me by the hand and held me on a bed."
"I thought: 'Here we go again,'" Haley said, adding that Weinstein called her "a whore and a bitch" during the alleged assault. Only the first alleged assault formed the basis for the criminal trial, according to Arthur Aidala, one of Weinstein's lawyers.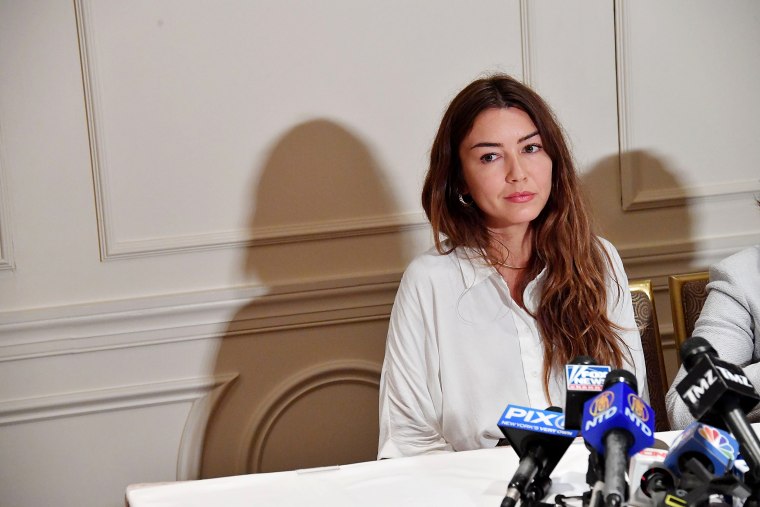 Haley told the court that she did not report the alleged assaults to the police, saying that "was not an option for me" because she was working for the television series "Project Runway" on a tourist visa. She said she was born in Finland and raised in Sweden.
Haley said she also feared Weinstein's influence in the entertainment industry, recalling that she thought he had "a lot more power and resources, and I didn't think I had a chance."
Download the NBC News app for breaking news
In a cross-examination Monday afternoon, one of Weinstein's defense attorneys pressed Haley on why she purportedly continued to keep in touch with the Oscar-winning producer even after the alleged assaults.
The defense attorney, Damon Cheronis, showed jurors a friendly email Haley sent to Weinstein after they both attended the Cannes Film Festival in 2008. He also pointed to other records showing that Haley wanted to pitch Weinstein on an idea for a television show.
Haley said that she kept in touch with Weinstein, testifying that he was a "very important figure" in the entertainment industry and saying: "I decided to just almost pretend it didn't happen and put it aside."
Haley's testimony came four days after "The Sopranos" actress Annabella Sciorra told jurors that Weinstein raped her sometime in 1993 or 1994 after pushing his way into her Manhattan apartment and restraining her on a bed.
Sciorra's allegations were ruled too old to support criminal charges, but her testimony was part of the prosecution's attempt to demonstrate that Weinstein is a serial sexual abuser who harassed and assaulted many women over decades.
If he is convicted, he could be sentenced to life behind bars.