In hours of emotional and graphic testimony, a key accuser in Harvey Weinstein's sexual assault trial described for jurors Friday how the former film mogul suggested he could help her fledgling acting career before forcing himself on her.
Jessica Mann broke down sobbing as she testified that the Oscar-winning producer raped her in a New York City hotel room in 2013 after injecting his penis with a drug that apparently induced an erection, describing the discomfort and shock of the alleged assault.
Mann, 34, testified earlier in the day that Weinstein had previously grabbed her arm inside a Los Angeles hotel room, seeming to grow angrier as she tried to fend off his sexual advances. She struggled to compose herself on the witness stand as she recounted what he told her: "I want to do something for you."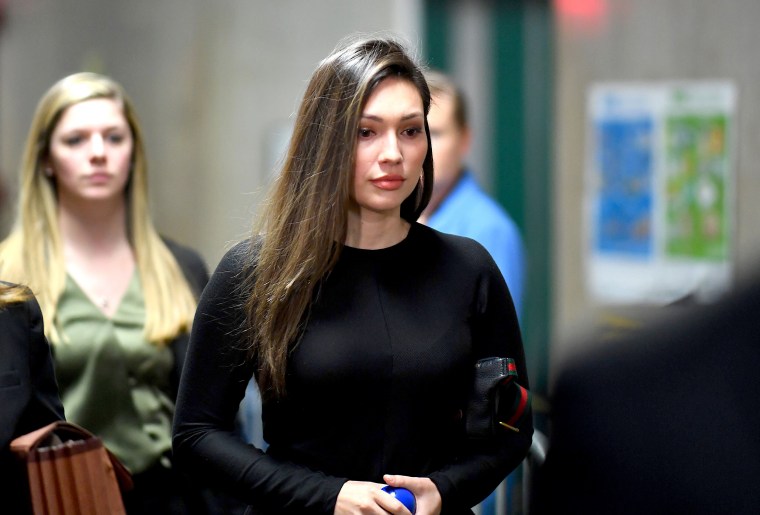 Mann testified that Weinstein told her to get on a bed and then performed oral sex on her. She said she faked an orgasm to "get out of it" and darted out of the room as soon as she could.
That experience was one of a series of unwanted sexual advances, she said. Mann told jurors that during one encounter he asked, "How do you like my big fat Jewish d---?"
Mann, who was a hairdresser at the time, said she lost contact with Weinstein in 2017.
Asked how Weinstein was treated at the Peninsula Beverly Hills hotel, Mann said, "As if he owned it."
One time the producer ripped her pants, grabbed her by the ankles and got on top of her to force sex, Mann testified as she sobbed. Another instance, she said, involved the mogul shoving his penis in her mouth.
After that time, she said, she cried, and Weinstein suggested she help bring him other women. "You can be my wing girl," she quoted him as saying.
Weinstein, 67, has pleaded not guilty in the case and denied all allegations of nonconsensual sex. The former Hollywood titan's lawyers have sought to raise doubts about the credibility of his alleged victims, pointing to friendly emails that some accusers purportedly sent to him after the incidents in question.
Before court adjourned for the day Friday the defense asked for a mistrial based on their argument that Mann had essentially described consensual sex. The request was denied.
During cross examination, defense attorney Donna Rotunno said Mann had engaged in "threesomes" with the producer, insinuating a more willful relationship than she described.
Mann said she did not want to engage in at least one threesome involving Weinstein and another woman and that she had curled up in a ball over it.
Rotunno asked why Mann patronized him at times during sex when, she testified, he didn't appear to perform. "I had compassion for him," Mann said.
The attorney asked if Mann had called Weinstein her boyfriend. She said she didn't use that term.
Dr. Barbara Ziv, an expert in sex crimes who took the stand last week as a witness for the prosecution, told the court that it is common for victims of sexual assault to stay in contact with their attackers, in some cases because perpetrators have threatened to seek revenge if victims report what happened.
The key accuser's testimony took place four days after the other alleged victim, Mimi Haley, described for jurors how Weinstein pushed her down and performed forcible oral sex on her in his New York City apartment in 2006. Haley, a former production assistant on "Project Runway," testified that he overpowered her.
"I tried to reject him, but he insisted," said Haley, who previously spelled her last name as Haleyi. "Every time I tried to get off the bed, he pushed me back and held me down."
Mann was expected back on the stand Monday at 9:30 a.m. for further cross examination.
In all, more than 80 women have accused the Oscar-winning producer of sexual harassment or assault going back decades, but the New York trial centers on allegations from two women.