Hasbro Inc. asked a federal judge to dismiss a lawsuit by Fox News anchor Harris Faulkner, who wants the company to pay her $5 million because it made an inch-tall plastic toy hamster named "Harris Faulkner."
Faulkner — a six-time Emmy Award-winner who anchors "Fox News Weekend" for the news channel — sued Hasbro in August for adding the hamster to its line of "Pet Pawsabilities" toys. She claimed that the plastic rodent with a levitating butterfly hat "willfully and wrongfully appropriated Faulkner's unique and valuable name and distinctive persona" for Hasbro's financial gain.
Related: Fox Anchor Harris Faulkner Sues Over Hasbro's 'Harris Faulkner' Toy Hamster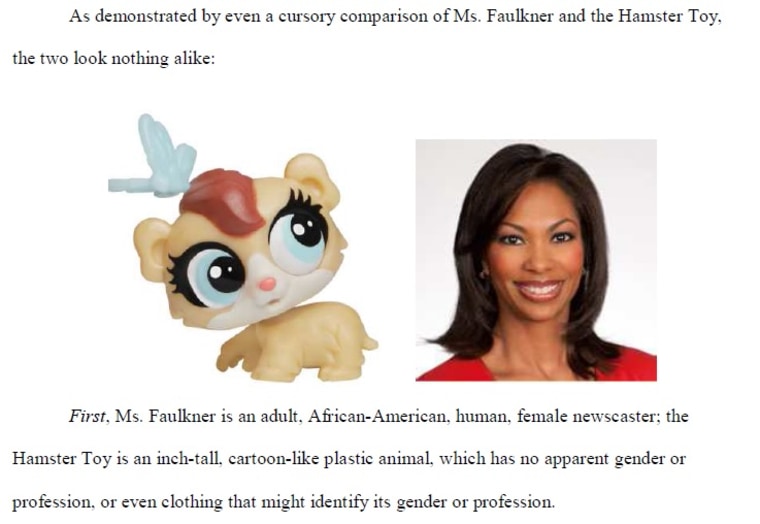 In documents filed Monday in U.S. District Court in Newark, New Jersey, Hasbro — which no longer sells the toy — said it will seek to toss out the suit at a Dec. 21 hearing.
The filing contends that the name is irrelevant. That's because, it says, "a side-by-side comparison of Ms. Faulkner and the Hamster Toy shows that the two bear absolutely no resemblance."
In a 37-page document with separate sections subheaded "The Fictional Hamster Toy Named Harris Faulkner" and "The Real-Life Adult Woman Named Harris Faulkner," Hasbro points out that Harris Faulkner (the anchor) doesn't have a white muzzle or a pink nose. She "is a human," it says.
"The Court should not accept Plaintiff's opinion that the inch-tall hamster toy bears Ms. Faulkner's resemblance, but instead must conduct its own comparison to determine whether the allegations are plausible as a matter of law," it says.