Nearly 50 years ago, Johnny and Ann Parham bought a beach house near New York City to provide a summer escape for them and their infant son.
It was a two-story, cedar-shingle cottage in the tiny town of Ocean Beach on Fire Island — a place known for its natural beauty, old-time feel and liberal spirit.
In the decades that followed, the Parhams enjoyed magical summers. They hosted large lobster dinners, helped to organize community events like the Golden Wagon Film Festival and spent long days at the beach with their son and, years later, their two grandsons.
Even though they were the only Black homeowners in town, Johnny and Ann never felt even a tinge of racism in Ocean Beach.
"This has always been a magnificent place for us," Johnny, now 83, said.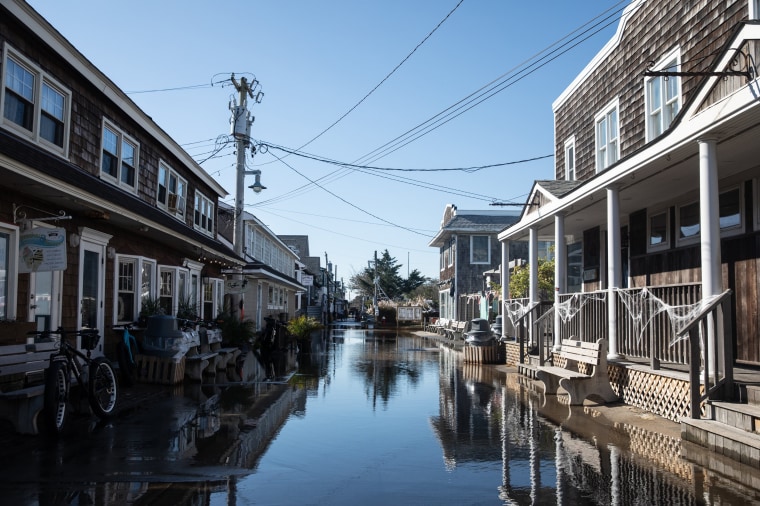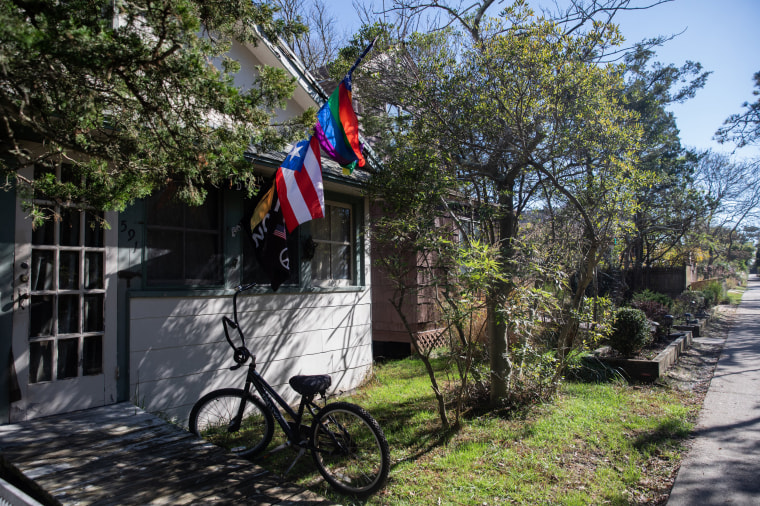 But then came the weekend of Aug. 22.
Just before 5:30 p.m., Ann Parham returned from a walk with her 12-year-old grandson to find a racial epithet scrawled on the footpath in front of their home.
"F--- [N-word]," read the words written in yellow chalk.
Ann was shocked. "It didn't seem real that that would happen to us," she said. "We've always felt so very comfortable here."
The incident has shaken not just the Parham family and the nine-block town where they are seen as community pillars. Residents across Fire Island have expressed support for the Parhams and denounced the racist act.
But the police have yet to make any arrests despite the existence of surveillance footage that captured blurry images of the presumed suspects: three young white men. The Parham family, meanwhile, is still rattled by the act of hate as well as a series of other incidents that followed.
For Johnny, who was active in the civil rights movement, the most troubling aspect of the crime is the likelihood that it was committed by someone who was not a day-tripper or short-term renter.
"This had to be manifested by someone who knew this was a house owned by African Americans, which would suggest to us that this was someone local," Johnny said.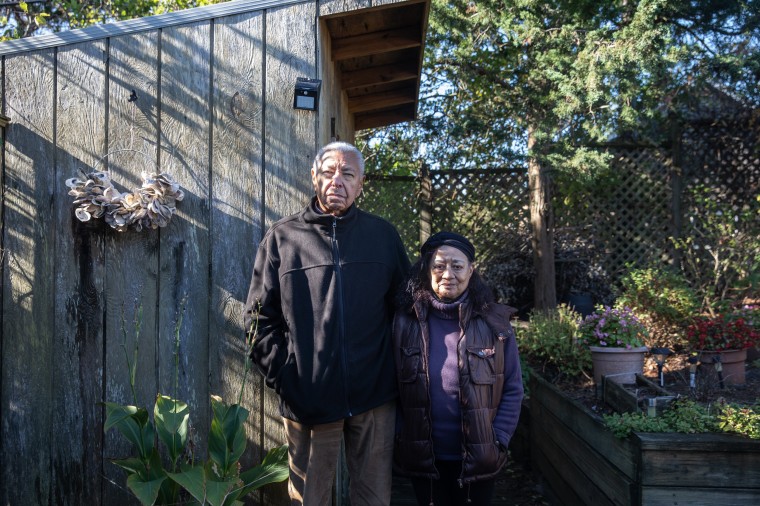 The town's police chief offered the same assessment.
"It had to be someone who knew that a Black family lived there," said Ocean Beach Police Chief George Hesse.
"It's a shame that after all these years and all of the things that he's accomplished in his life," Hesse added, "that he has to put up with this crap."
That a hate crime would target a Black family in a place as remote and historically tolerant as Fire Island reflects the virulent climate in the U.S. ahead of the 2020 presidential election.
A place from a bygone era
Located about 4 miles off the south shore of Long Island, New York, Fire Island has long provided a sun-drenched haven for New York area residents seeking a summer escape.
The 32-mile island is home to several small communities and a thriving gay scene. It feels like a place from a bygone era: Cars are banned and the narrow walking paths are often visited by groups of deer.
The family-friendly town of Ocean Beach is the most bustling community on the island, filling up with day-trippers and renters on summer weekends. Yet serious crime is rare. The most common calls to the Ocean Beach police force, which employs four full-time officers and 28 part-timers, involve bike thefts and drunken revelers acting up.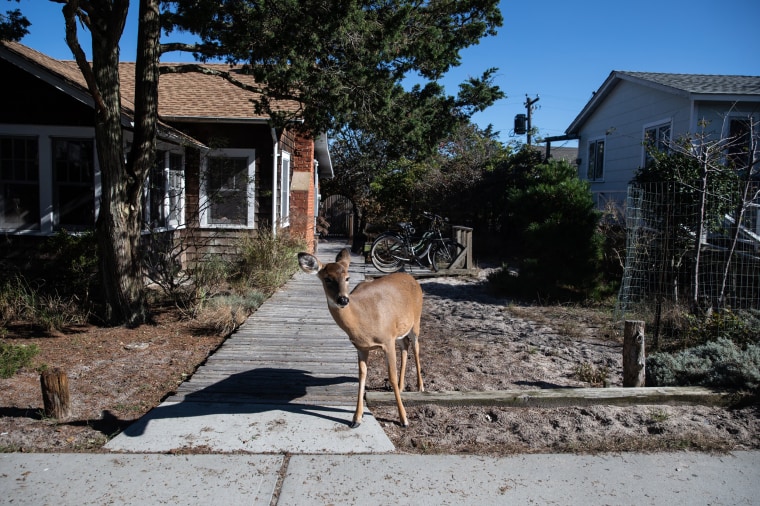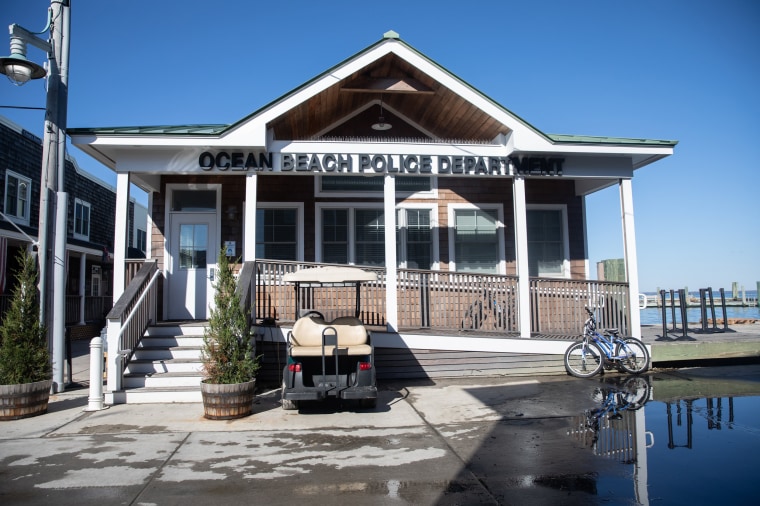 The Parhams began visiting Fire Island in the early 1960s. They were both from Atlanta, started dating in the 11th grade and had been together ever since.
"All we heard about Fire Island was there were gays there, so we figured there was a level of liberalism, at least in regard to renting," Johnny said.
Ann was a counselor in an anti-poverty program based in Manhattan. Johnny was a social-worker-turned-nonprofit-director who had been twice arrested while participating in civil rights demonstrations in Georgia and Maryland.
Johnny would go on to spend his career in leadership positions at organizations dedicated to improving educational and economic opportunities for African Americans: the National Urban League, the United Negro College Fund and the Thurgood Marshall Scholarship Fund. Ann became a guidance counselor in the New York City school system.
The Parhams rented a share house in the community of Kismet for a few years, but when Ann became pregnant, they switched to Ocean Beach because it had a drug store and a doctor. Many other African American families also rented there at the time, the Parhams said.
Eager to have a place for themselves, the Parhams purchased their summer home in November 1971. Their son, Johnny III, was just a couple months shy of his second birthday.
"Growing up in the city and coming out here, this was a place where I could really be a kid," he said.
Johnny III now has two sons of his own — Cole, 12, and Jack, 10 — who have spent many summers on the island just like their father did as a young boy.
Cole was staying with his grandparents on the weekend their walkway was defaced.
"I'm used to racism. My grandfather tells me stories about it all the time," Cole said. "But I've never experienced anything like this."
A neighbor's surveillance camera captured at a distance three young white men walking toward their house around the time the epithets were scrawled on the footpath. A second, blurrier video showed at least one of them in front of the house kneeling on the ground, authorities said.
The videos were turned over to the police, and investigators went to work trying to identify the trio.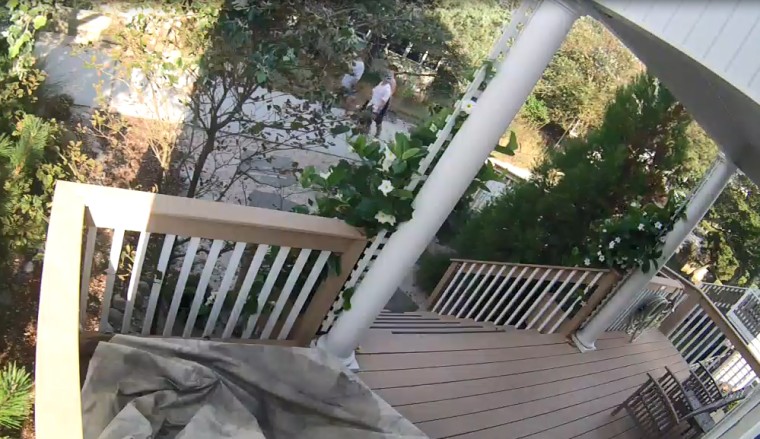 The Parhams soon installed a surveillance camera above their door — a move that would have been unthinkable before this past summer.
To show they were not intimidated, the couple ordered a Black Lives Matter banner and hung it up in their front yard. In a show of solidarity, their 95-year-old neighbor across the street, who is white, did the same.
"When your best friend is attacked, you need to show up and do something," the neighbor, Edith Mendolsohn, told NBC News.
"I'm outraged," she added. "It's revolting that anything like that would happen around here."
One evening in early October, two people found Mendolsohn's banner torn down from her fence and tossed on the ground. Johnny went outside and discovered that the Black Lives Matter banner had also been soiled with dog feces.
"How dare they!" Mendolsohn said in an interview at her home.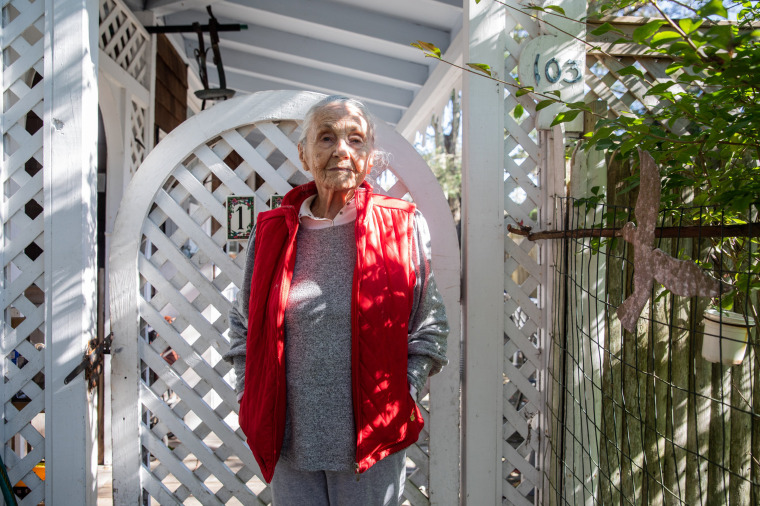 The Parhams were also incensed. By then, they were also frustrated that town officials had not addressed the hate crime incident in a more public manner.
Johnny staged a one-man march through Ocean Beach, walking up and down the town's nine blocks with a handmade sign that read, "Does racism have a home in Ocean Beach?"
"Racism is something that if allowed to exist without being addressed, it tends to metastasize," Johnny told NBC News. "This requires a Fire-Island-wide campaign of zero tolerance. You first go after the Blacks, then you go after the Jews, then you go after the gays. This is the way it works."
Not long after Johnny's march, Ocean Beach was forced to grapple with another racist act. A mock notice with an offensive message appeared on a walkway leading down to the beach.
It had the heading, "BLM: Fellow citizens of Fire Island from Kismet to Ocean Beach."
"If your home is a second residence you will be required to donate your beach house to an African-American family," read the notice, which was viewed by NBC News.
It added in part: "You will be contacted by a real estate agent appointed to assure that this section of Fire Island is 25% black one year from the Biden inauguration and 50% minority owned on the two year anniversary of Biden and sister Kamala assuming power. ... Resistance to this program will lead to demonstrations and a takeover of the beaches next summer."
Local authorities viewed the flier as unrelated to the tumult in Ocean Beach. Similar ones had popped up on Long Island, according to the police.
But it further rankled the tiny town.
As the community's private Facebook page swelled with comments about the racist act targeting the Parhams, the town's mayor released a letter addressing the incident, which was first reported by the Fire Island News.
"One of our most beloved longtime residents/family was the target of racially motivated writings and in the surrounding area there was an act of racial vandalism," it read. "This type of behavior cannot and will not be tolerated here in Ocean Beach."
In an interview with NBC News, Mayor James Mallott said he's working with the board of trustees to come up with language for a sign that will state the town's position on acts of hate and reflects "what we stand for here." It will be posted in a prominent place at the ferry station on Fire Island or at the one on Long Island, Mallott said.
"It's very sad for this little town to go through something like this," he said.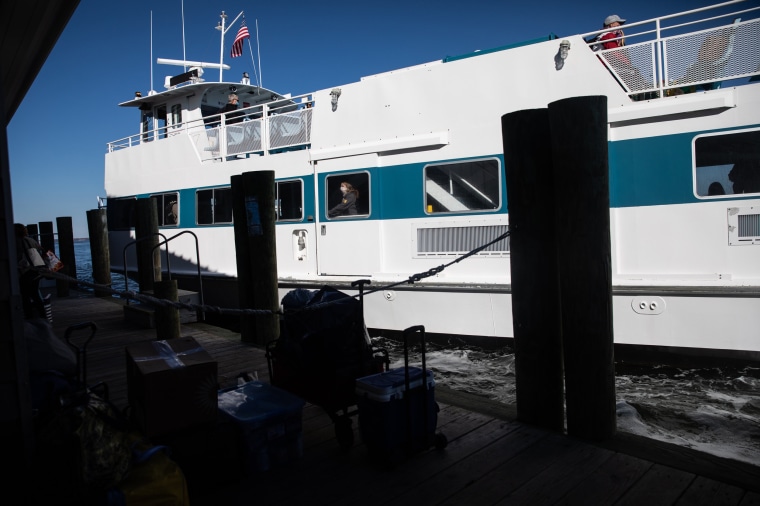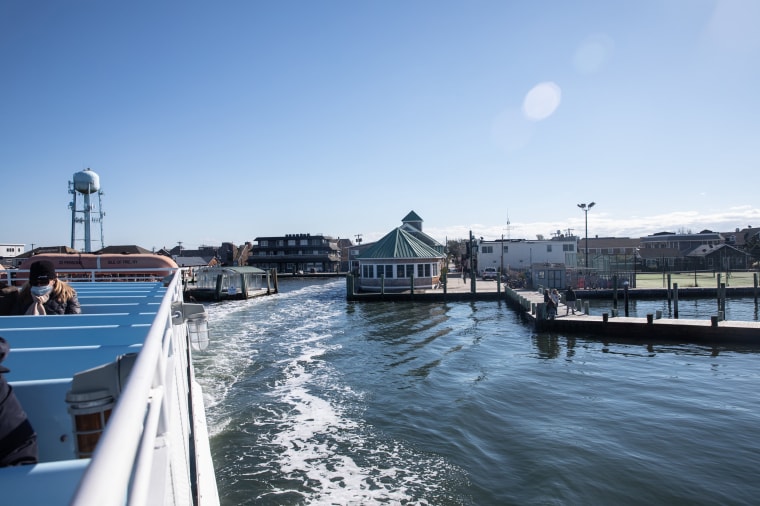 The police investigation, meanwhile, has stalled. Hesse said he and his officers have spent "hours and hours" reviewing surveillance footage from around town, but the clips yielded no leads.
"We came up with dead ends everywhere," he said. "And nobody has come forward to give us any inkling about who it may be."
The Suffolk County Police Hate Crimes Unit, which was called in to assist, confirmed that no arrests have been made and said anyone with information about the incident should contact police.
"Being Black in America, it doesn't come as a great shock to us. It really doesn't," Johnny said.
"But this is not just about us. We want to make certain that any other African Americans who come to Fire Island, especially Ocean Beach, will receive the kind of welcome we've enjoyed over the years."
Ocean Beach empties out after Labor Day. Only a hardy few remain on the island through winter.
On a recent stroll through town, the walkways leading to the beach contained more deer than people. Signs declaring Black lives matter and other messages of unity hung outside several homes on the Parhams' block.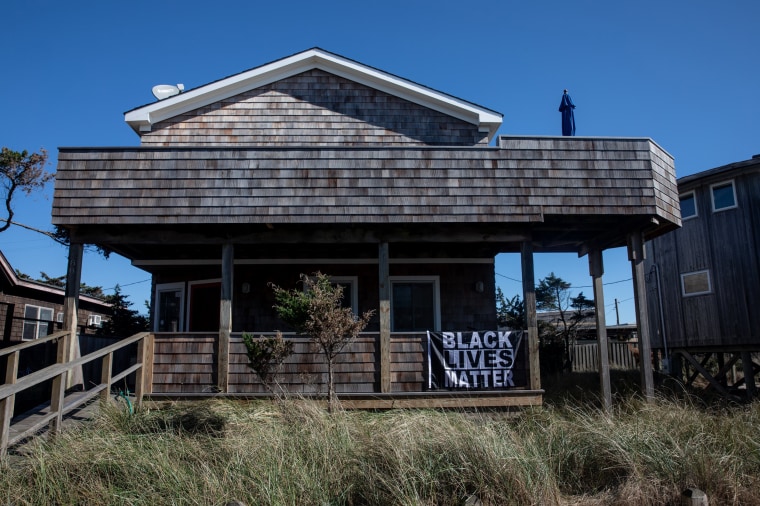 As a light rain fell, a group of women were putting up Halloween decorations along the town's main footpath. A handful of children whizzed past them on bikes and scooters.
One of the women, Kayle Becker, said it was alarming that "all of the hatred and vitriol that has been stirred up by this administration has reached a place like this."
"The reason people come here is it's like taking a step back in time," added Becker, who was renting on the island with her family. "Your kids are out riding in the scooter gang together without a care in the world. That really shatters the illusion that this place is immune to all of the evils of the rest of the world."
Last Tuesday, Johnny and Ann returned to their Ocean Beach cottage to prepare to close it up for the winter.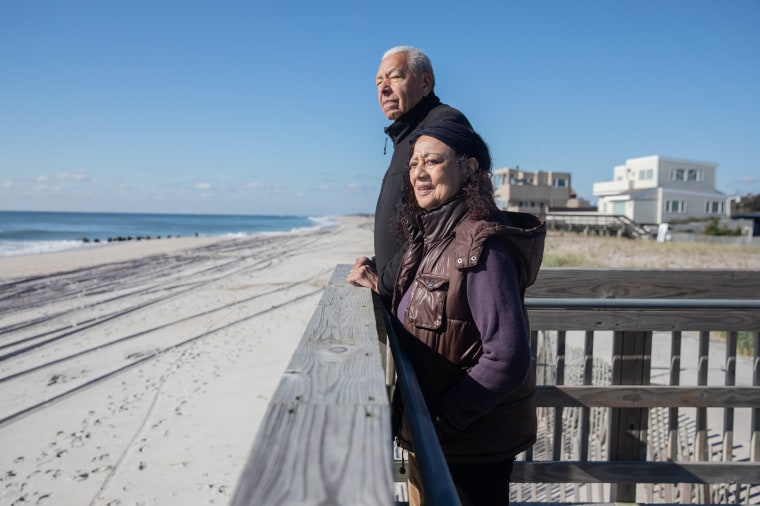 It's a ritual they do every year. The Parhams call in the plumber to drain the pipes to prevent them from freezing and bursting. They bring in the outdoor furniture. They draw the blinds. And they switch off the power.
But this winter, for the first time in 49 years, they plan to leave the power on. So the Wi-Fi will keep working and their new surveillance camera will continue recording.