WASHINGTON — The number of hate crimes committed in the U.S. rose 5 percent in 2016, compared to the year before, according to data gathered from local law enforcement agencies by the FBI.
Of the 6,063 incidents involving 7,509 victims, nearly 60 percent involved people targeted because of their race, with crimes against African-Americans by far the largest share in that segment. About 20 percent of the victims were singled out because of religious bias, and most of them were anti-Jewish attacks. Muslims were the second most likely to be targeted in that category.
Of the 17 percent targeted because of sexual orientation bias, most of the victims were gay men. Less than 1 percent of the victims were targeted over gender identity bias, and nearly all of them were transgender.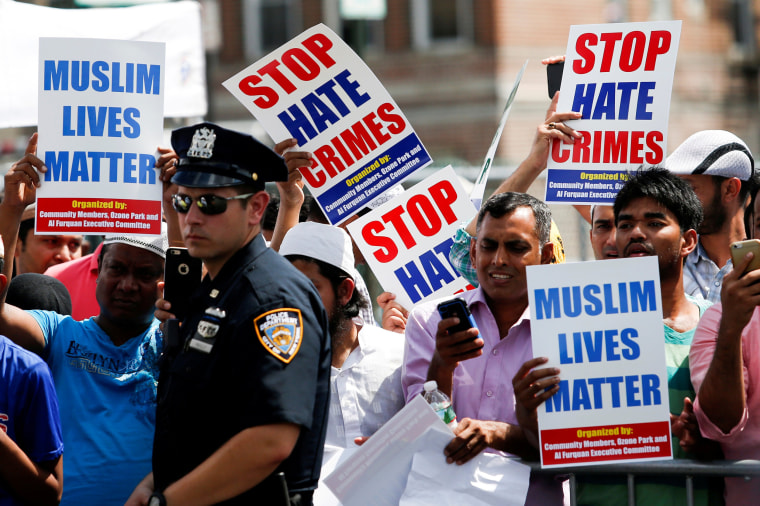 "Hate crimes can and do happen just about anywhere," the FBI said in releasing the data.
The largest share of crimes against individuals involved intimidation. About 19 percent of the total involved aggravated assault.
"It's deeply disturbing to see hate crimes increase for the second year in a row," said Jonathan Greenblatt, national director and CEO of the Anti-Defamation League. "They not only hurt one victim, but they also intimidate and isolate a victim's whole community and weaken the bonds of our society."
Attorney General Jeff Sessions said the task force he appointed on crime reduction is exploring ways to revise training for police and prosecutors, and to improve data collection on hate crimes.
"No person should have to fear being violently attacked because of who they are, what they believe or how they worship," he said.
An unrelated report released in February found the number of hate groups in the U.S. rose for a second straight year in 2016.
While there is no data linking hate groups to hate crimes, the Southern Poverty Law Center (SPLC) said in its annual census that the overall number of hate groups and extremist organizations grew by 35 in a year — to 917 in 2016, from 892 in 2015. And the number of anti-Muslim groups nearly tripled, to 101 last year, from 34 in 2015, the SPLC said.
The law center and other watchdog groups have blamed the spike in extremist groups and hate speech to the divisive presidential election last year. Amid a wave of bomb threats against Jewish centers in March, the SPLC said the heated campaign had fueled an increase in the "use of slurs and other derogatory language" across the U.S.