For more than a week, Missouri man Zakary Ingraham wrestled with the news that his 67-year-old father, Ron Ingraham, vanished while fishing off the coast of Hawaii. On Tuesday, a call from the Coast Guard jolted the younger Ingraham's emotions once again: They found his father floating in the water.
"Did you find his boat, too?" Zakary Ingraham asked the officer. "They said, 'Yeah, he's on his boat. He's alive.'"
Learning that his dad, a seasoned angler, had actually survived nearly two weeks alone at sea was "the best Christmas present ever," Ingraham, 43, told NBC News on Wednesday. "Twelve days, brother! How the hell do you do that?" he added. "I'm jumping out of my seat."
The elder Ingraham was last heard from Nov. 27, when he placed two distress calls saying his 25-foot sailboat, the Malia, was taking on water and in danger of sinking. After flying 59 sorties and scouring 12,000 square miles for the missing mariner, the Coast Guard on Dec. 1 said it was making "one of the most difficult" decisions to suspend the search.
The Coast Guard tracked down Ron Ingraham's ex-wife, and then his son, Zakary, to tell them searchers had come up empty. The younger Ingraham said he pleaded with officials to keep searching, but resigned himself to his father's fate.
Zakary Ingraham had left his native Hawaii in 1997 and eventually settled north of Kansas City in St. Joseph. He said he hadn't spoken to his dad in 20 years, but would ask family back home if they had a cellphone for him or knew of any social media accounts.
"I've been trying to find my dad for years, but I'm not good with computers, and I figured, he just doesn't have a cellphone," Ingraham said. "He doesn't have a house. He lives on his boat."
But the younger Ingraham found out his father was making his living fishing for local catch like akule and menpachi, often steering his sailboat from the island of Molokai to neighboring Lanai. His last known location on Nov. 27 was 46 miles west of Kailua Kona, a popular tourist village on the Big Island.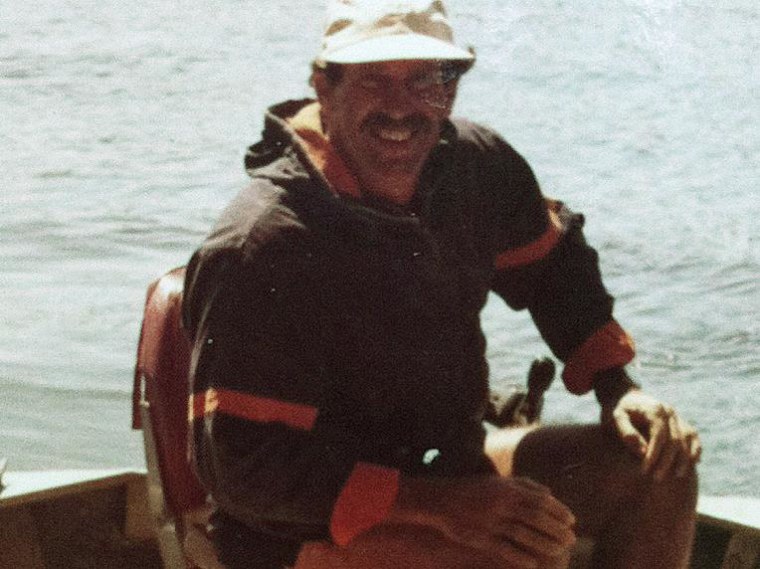 After the Coast Guard scrapped its search last week, an unexpected radio distress call came in Tuesday morning: "We got a mayday here. Mayday. This is the Malia. Anybody picking this up?" It was Ron Ingraham, according to audio obtained by NBC affiliate KHNL.
A U.S. Navy ship in the area picked up the missing fisherman. He was "weak, hungry and dehydrated" but miraculously "alive and uninjured" aboard his sailboat just south of Honolulu, officials said.
"A lot of joy around the command center to know that ... he's alive and he's going to be OK," U.S. Coast Guard Lt. Scott Carr told KHNL.
Crews were towing Ron Ingraham and his ship ashore early Wednesday. His son said he had not yet spoken with his father, but was anticipating hearing his voice for the first time in two decades. His dad's survival, he added, doesn't shock him.
"He's always been tough," Ingraham said. "When I was a kid, he caught a 916-pound Marlin by himself — hooked it to the side of the ship and everything. That's the kind of man he is."