HONOLULU — University of Hawaii students planned to start moving into their campus housing Tuesday, just days after a man fell to his death while trying to pull a distraught man from a ledge at a dormitory, police said.
Counseling is available for students at the Manoa campus, and in the coming weeks, staff will be checking on those living in the dorm where the two men fell Sunday, university spokesman Dan Meisenzahl said.
The 24-year-old man who died was trying to stop a 19-year-old who went out a window and onto the ledge, authorities said.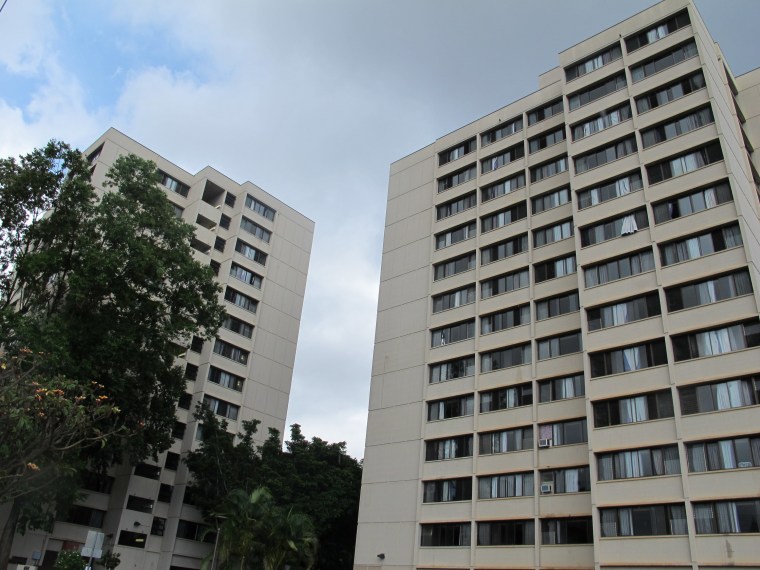 Both men fell from the 14th floor and were critically injured, police said in a statement. They were taken to a hospital, where the older man was pronounced dead. The other remained in critical condition, police said.
Neither man was a University of Hawaii student but came to the dorm when a student who lived there had people over, Meisenzahl said. Their names were not released.
The school is investigating whether any violations of the student code occurred, Meisenzahl added.
"It's a terrible tragedy — the last thing we want to happen ... whether they are students or not," he said. "Of course, our condolences go out to their friends and family."
Related: Notre Dame Student Dies After Falling From Roof One Day Before Graduation
The school year has not started yet, so only about 20 students — those in need of transitional housing between the summer and fall semesters — were living in the two towers that make up the Hale Wainani dorm.
During the school year, the dorm houses more than 600 students. Those arriving for the upcoming semester are scheduled to move in to the dorms Tuesday and Friday.
On Monday afternoon, there were mostly maintenance workers and cleaning staff outside the dorm getting ready for students to move in.
The university's flagship campus in Honolulu's Manoa neighborhood is generally a commuter school without much of a fraternity scene, Meisenzahl said. About 4,000 of its 18,000 students live in campus housing.