HONOLULU — The Hawaii emergency management worker who sent a false alert last month warning of an imminent missile attack says he was convinced the threat was real and "100 percent sure" he was doing the right thing.
"I did what I was trained to do," said the worker, who spoke to NBC News on Friday on the condition of anonymity because of threats against his life.
The mistake sparked panic on Jan. 13, sending Hawaii residents scrambling to seek shelter amid heightened tensions between the U.S. and North Korea over the regime's nuclear ambitions.
A preliminary federal investigation released last month said the recorded drill message began and ended with the phrase "exercise, exercise, excise." It also included language scripted for use during an actual missile alert: "This is not a drill."
But the emergency worker, who has been fired, claims he "didn't hear 'exercise' at all in that whole transmission." As soon as he realized his error, he "just wanted to crawl under a rock."
"It was incredibly difficult for me, very emotional," he said, adding that his team was immediately flooded with phone calls from frantic citizens.
Officials who led an internal investigation said last month that five other employees had heard the part of the drill message indicating it was an exercise.
The worker who sent the erroneous alert had a "history of confusing drill and real world events," retired Brig. Gen. Bruce Oliveira, who led the internal probe, said at a news conference earlier this week. The worker had mistakenly believed drills for tsunami and fire warnings were real emergencies, the state found.
Related: Hawaii false alarm: Ensuing chaos is teachable moment, experts say
But the worker disputed those findings in his interview with NBC News, insisting they were not accurate.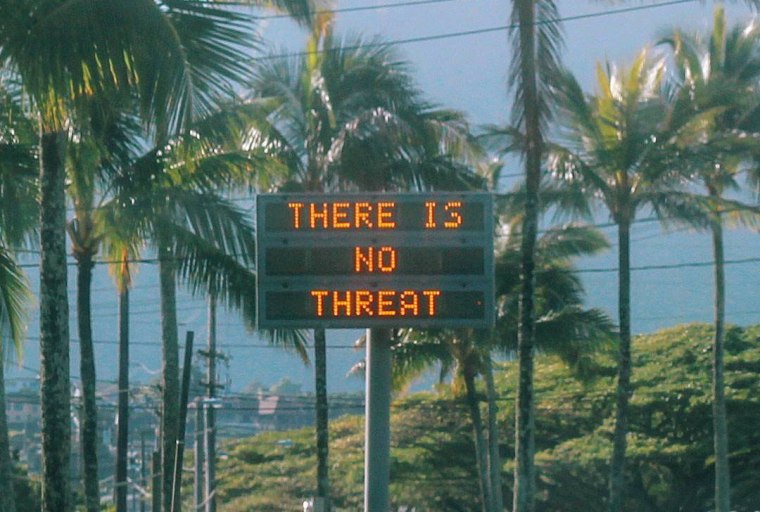 The preliminary report from the Federal Communications Commission found the drill was "run without sufficient supervision" and that "there were no procedures in place to prevent a single person from mistakenly sending a missile alert from the State of Hawaii."
"There was no requirement in place for a warning officer to double check with a colleague or get sign off from a supervisor before sending such an alert," the report said.
The worker said Friday that he believes the state emergency management agency deserves the blame for the mistake — and shouldn't be shouldering the responsibility in the first place.
"We weren't prepared to send out missile notifications," he said. "I think the military should do that."
But he said he still feels remorseful.
"I regret this ever happened," he said. "I feel terrible about it. I did what I thought was right at the time."
Jacob Soboroff and Aarne Heikkila reported from Honolulu. Daniel Arkin reported from New York