On a normal day, Heath Dalton would be making phone calls or meeting clients to assess their phone and bandwidth requirements for internet service. These days, he's rescuing abandoned pets and hauling buckets of water to put out fires started by flowing lava in Leilani Estates, the community hit hardest by an erupting volcano on the Big Island of Hawaii.
"The very first thing we do, we drive up to the streets to know which roads are blocked and see if anyone needs help," Dalton, 45, said Wednesday in a phone interview from his temporary home in nearby Keaau.
Dalton's life was turned upside down when his sand-colored, one-story dream home became engulfed in flames from the intense heat from a fissure that erupted in his neighbor's yard earlier this month.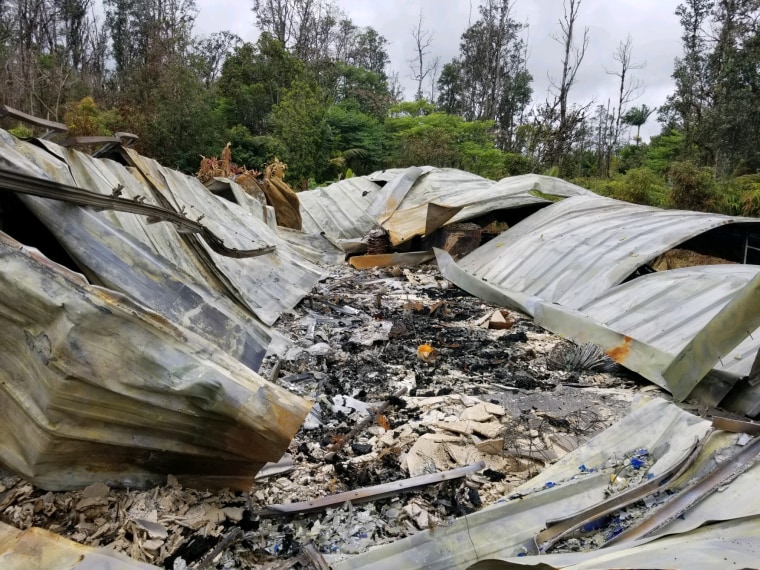 "I never knew that would be the last time that I would see our house," said his wife, Denise Dalton.
Dalton said he heeded a civil defense evacuation warning on May 3 and told his wife and two children to leave, but stayed behind to save what he could.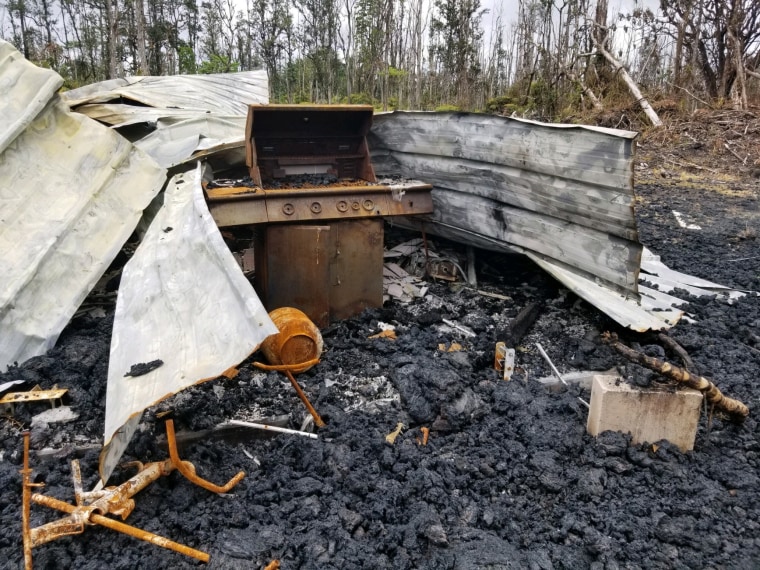 Denise Dalton, 39, rushed home from her job as an intensive-care nurse at Hilo Medical Center after her husband called her.
"I didn't even change out of my scrubs. I was grabbing things and throwing things into bags," she said.
She took as many toys, clothes, books and DVDs that she could for her children.
The family stayed at a friend's house until they were able to secure a rental home in Hawaiian Paradise Park in Keaau.
"The pictures on the computer, my kids' baby blankets, and the toys that our son got for his third birthday are gone," said Denise Dalton.
Her husband stayed behind and kept packing until the morning of May 4, without any sleep, and brought what he could to the family.
"I took a box of cheap toys so that the kids could have something," he said.
He tried going back home during the time the evacuation order was in effect but was turned away. When he returned on Sunday, May 6, he saw the front of his house on Kupono Street engulfed in flames, with lava all around.
Despite losing most of their belongings, Denise Dalton said her family has experienced generosity from a community facing the uncertainty of what the eruption of the Kilauea volcano continues to bring.
Lava spread to other areas of the Big Island on Wednesday, forcing officials to order more evacuations, The Associated Press reported. Overnight, the lava was moving fast enough to cover about six football fields an hour, U.S. Geological Survey scientist Wendy Stovall told the AP.
As of Friday, lava had destroyed 82 structures on Hawaii Island, including 37 homes.
Denise Dalton said she and her family had received donations from her co-workers at Hilo Medical Center and through a local charity center. She's received food, chairs and a coffee maker.
She said her daughter, Elle, 4, and son, A.J., 3, often ask about their home.
"All the hot lava got it?" her son once asked. "I say yes," she said. "Does he grasp it? I don't think so."
After losing their home, Heath Dalton has found a renewed sense of purpose. He's now trying to help his neighbors so that the same fate doesn't befall them.
"I've been able to get into Leilani," he said. "There's like three of us helping neighbors."
Dalton said he and his friends are helping neighbors move and giving guidance and directions to people who aren't familiar with the roads.
Kris Burmeister, one of Dalton's friends, lost his home in Leilani Estates on Monday night.
"Some of these people are losing everything and I'm trying to minimize that for as many people," said Burmeister, 42.
On Wednesday, though, Dalton gave himself the day off.
"After a little over three weeks, I want to spend time with family. I promised my wife that I would do a family day today," he said.
On June 2, their daughter is turning 5, and Denise Dalton has ordered a cake to celebrate. Elle's presents were lost in the fire, including special dolls bought on Amazon.
"Everything we've been trying to do is to try to keep everything as normal as possible," Dalton said.