A Hawaii man claims the false ballistic missile alert earlier this year caused him to suffer a heart attack, according to a lawsuit filed on Tuesday.
The botched alert was sent to cellphones on Jan. 13, claiming a missile was headed toward Hawaii, causing mass panic. It took the state 38 minutes to correct its mistake.
James Sean Shields and Brenda Reichel, who are both listed as plaintiffs in the complaint, were living in the Hawaii Kai neighborhood of Honolulu, Hawaii, in January, when they got the alert that read, "Ballistic missile threat inbound to Hawaii. Seek immediate shelter. This is not a drill."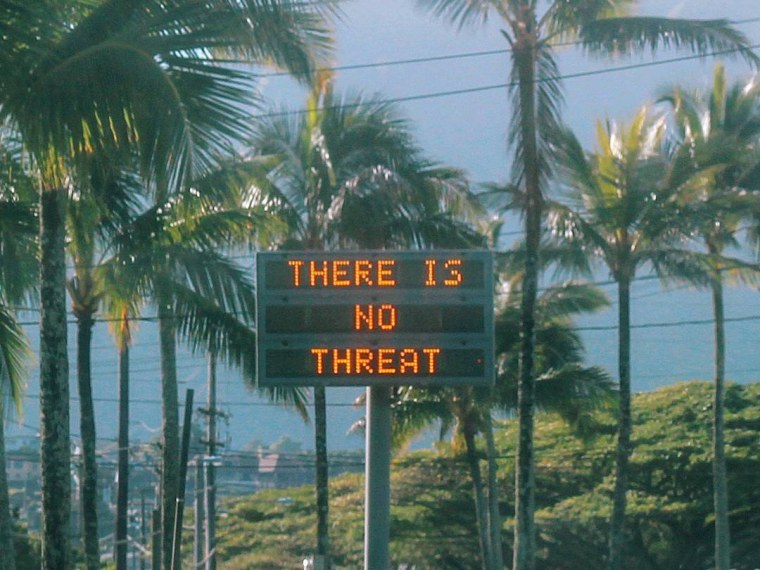 The couple was on their way to the Sandy Beach area of Oahu, and decided that if they were going to die, it should be together on the beach, according to the complaint.
WANT BREAKING ALERTS FROM NBC NEWS? SIGN UP HERE
"Both plaintiffs believed this message to be true and were extremely frightened and thought they were going to die," the complaint reads.
Reichel's son, a member of the Hawaii Army National Guard, also called the couple to tell them he believed the alert to be real.
At approximately 8:15 a.m. local time (1:15 p.m. ET), the couple reached the beach and began calling loved ones. It was around this time Shields began to feel a "severe and painful burning in his chest area" the complaint says.
Then at about 9:30 a.m. (2:30 p.m. ET) the couple arrived at Straub Medical Center where Shields went into cardiac arrest and had to receive life-saving CPR, defibrillation and later surgery, according to the complaint.
As the couple went through the medical ordeal, they were unaware a second alert had been sent by the state's Emergency Management Agency stating the first alert had been a false alarm.
The suit names the state of Hawaii, Vern T. Miyagi, the former administrator of the Hawaii Emergency Management Agency, 10 unnamed employees of the state of Hawaii, 10 John Does and 10 Doe entities as defendants.
Shields' and Reichel's attorney did not immediately return a request for comment.
The suit comes just days after the Department of Homeland Security's inspector general recommended changes to the nation's emergency alert system in light of the mistakes made with the Hawaii false missile alert.
The agency issued the report after U.S. Sen. Mazie Hirono, D-Hawaii, asked it to examine the Federal Emergency Management Agency's role in the false missile alert.
Multiple investigations blamed the alert on human error and inadequate management safeguards — factors outside FEMA's purview.